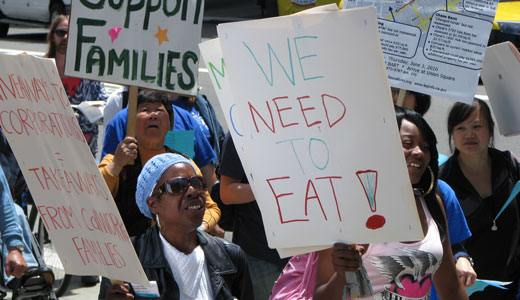 After months of negotiation, California Governor Jerry Brown June 27 signed overall legislation for a general fund totaling $95.1 billion – down from nearly $103 billion five years ago.
At press time, the governor's actions on specific implementation bills were not yet available.
Once again, most of the $8 billion in cuts to help close a nearly $16 billion budget gap came at the expense of the state's most vulnerable people.
Democratic legislators managed to blunt some of the severest cuts proposed by fellow Democrat Brown.
Among the cuts:
Medi-Cal, the state's Medicaid program, is cut by over $1 billion. Medi-Cal patients will now face co-pays for some services and elimination of others.
The Healthy Families program serving low-income children whose parents make too much to qualify them for Medi-Cal is to be eliminated and nearly 900,000 children are to be moved into Medi-Cal.
Low-income old and disabled people will be moved into managed care programs that critics say don't care properly for their current patients.
Participation in CalWORKS, the state's welfare-to-work program, will now be limited to two years, unless they qualify for six-month extensions because they live in a high unemployment area or are making progress in a program to help them find a job.The time limit used to be five years; last year it was cut to four.
Subsidized child care will be cut nearly 9 percent, though advocates say their fight-back avoided much deeper cuts proposed by the governor.
Hours of caregivers in the In-Home Supportive Services program will be cut by 3.6 percent – again, less than originally proposed. On the other side of the ledger, the budget contains legislation to create a new statewide authority to negotiate providers' pay, replacing the present county-by-county system under which rates vary from $8/hour to $14.78.
State workers are facing 12 days a year of unpaid leave.
On the revenue side, the budget depends on November passage of a ballot measure by the governor and the labor-community Restore California coalition, to temporarily raise taxes on incomes of over $250,000 and raise sales taxes 0.25 percent. It is hoped the measure will bring in $8.5 billion during the 2012-13 budget year.
If the initiative succeeds, the University of California, California State University and community colleges – all of which have suffered big cuts in recent years – will get substantial fund increases. If it fails to pass, "trigger cuts" would include slashing the K-12 school year and making further cuts to public higher education.
Recent poll figures show support running about 52 percent in favor and 35 percent opposed.
Signatures were gathered earlier this year to put the initiative on the ballot, because legislative Republicans have for years blocked any effort to legislate increased revenues. Though budgets can pass with a majority vote, raising revenues requires a two-thirds supermajority. Democrats control both legislative houses but lack that majority, and virtually all Republican legislators have signed a Grover Norquist "No new taxes" pledge.
Photo: Marilyn Bechtel/PW