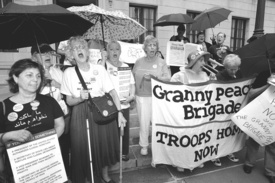 Key congressional Democratic leaders have called on President Bush to begin pulling U.S. troops out of Iraq by the end of this year.
The July 30 letter to Bush was signed by Senate Minority Leader Harry Reid (Nev.), House Minority Leader Nancy Pelosi (Calif.) and every top Democrat on committees that oversee military, intelligence and international affairs. They include Tom Lantos, ranking Democrat on the House International Relations Committee, and Jane Harman, ranking Democrat on the House Intelligence Committee, both from California, who had previously not called for ending the occupation.
It is seen as a significant move by Democrats as they head into the fall elections and seek to respond to the deep disquiet among the American public over Iraq. Longtime Connecticut Sen. Joe Lieberman is facing a stiff Aug. 8 primary challenge from Ned Lamont over Lieberman's support for the war. Polls show overwhelming sentiment for pulling troops out of Iraq.
The letter called for a "phased redeployment" of U.S. troops, telling Bush, "In the interests of American national security, our troops and our taxpayers, the open-ended commitment in Iraq that you have embraced cannot and should not be sustained." U.S. forces remaining in Iraq "should transition to a more limited mission focused on counterterrorism, training and logistical support of Iraqi security forces and force protection of U.S. personnel," the letter said.
A resolution along these lines, sponsored by Democratic Sens. Carl Levin, Jack Reed and others, was defeated in the Senate in June, along with one introduced by Sens. John Kerry and Russell Feingold that set a December date for withdrawal of all troops. Democratic leaders are seeking another vote on the phased withdrawal bill, possibly after Labor Day.
The Pentagon, instead of reducing troop levels in Iraq, as it had talked of doing recently with one eye on the fall elections, said July 28 that U.S. troop levels in Iraq had risen from 127,000 to 132,000 in the last week, the highest since late May. A day earlier, it said it was extending the deployment of 3,700 soldiers for up to four months.
To date, over 2,500 U.S. troops have been killed in Iraq, with another 18,000 or more wounded. Meanwhile, a new federal audit shows how the Bush administration and corporate profiteers colluded to use Iraq as a corporate slush fund.
A federal audit released July 28 found that the U.S. Agency for International Development (USAID), the government agency in charge of $1.4 billion in reconstruction money for Iraq, used accounting tricks to hide mammoth cost overruns. The projects include a children's hospital in Basra in southern Iraq, to be built by Bechtel Corp. The hospital project was hailed by Laura Bush and Condoleezza Riza as an example of the benefits the U.S. was bringing to Iraq. It was supposed to house sophisticated equipment for treating childhood cancer — a disease that has been on the rise in Iraq, and is linked to U.S. use of toxic depleted uranium in weapons and hardware. The U.S. has dropped Bechtel from the project and is handing it to the Army Corps of Engineers. But it is not expected to be finished before September 2007. Numerous other such projects have been left uncompleted.
At the same time, unemployment in Iraq is at 50 percent or more, and Baghdad's 6 million residents have electricity only a few hours a day, in summer heat well over 100 degrees.
The United Nations reported that more than 14,000 Iraqi civilians were killed in the first six months of this year, 3,149 in June alone. The Iraqi death toll since the U.S. invasion is estimated as high as 100,000 or more.
The Iraqi government said last week that since February, about 182,000 people had fled their homes due to sectarian violence and intimidation.
"The U.S. occupation is one of the main reasons" for the sectarian violence, veteran Iraqi journalist Faith Batti, a member of the Iraqi Communist Party's Central Committee, told the World during a visit to Michigan last week. "The U.S. is pouring petrol on the fire."
Batti said angrily, "We are trying to schedule the withdrawal. Now they are sending more troops? Is this the 'reoccupation' of Iraq?"
A solution for Iraq, he said, requires a "national democratic front" with two key points: meeting the needs of the people immediately, and ending the occupation as soon as possible — not "reoccupation."