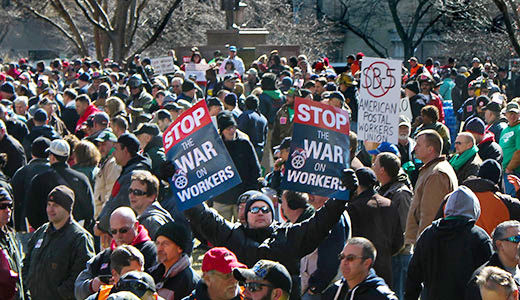 WASHINGTON – Two more companies have dragged the National Labor Relations Board (NLRB) into federal appellate courts, questioning the agency's right to rule in their labor-management disputes because NLRB allegedly lacked a quorum.
Their filings, in courts in Chicago and New Orleans, force NLRB to scramble to defend its powers in judging labor law cases, arguing it had the required three members to do so since January 2012.
In the Chicago court, FTS, a sand refinery factory in Oakdale, Wis., challenges NLRB's order that it recognize, provide data to and bargain with Operating Engineers Local 136, which won a recognition election. In the New Orleans tribunal, Arlington, Texas, auto parts supplier Flex-N-Gate contests NLRB's decision that the firm's labor law-breaking skewed a recognition election among 80 workers. UAW lost that vote.
Both FTS and Flex-N-Gate are defending themselves not just on the specifics but – more importantly-using a January ruling by a 3-judge federal appeals panel in D.C. That court ruled the NLRB lacked a quorum to decide virtually every case in 2012.
FTS and Flex-N-Gate are two of 60 companies, so far, citing that D.C. ruling, says NLRB Communications Director Nancy Cleeland. All 60 say that decision, Noel Canning, means NLRB illegally judged their labor-management relations cases.
The D.C. judges said Democratic President Barack Obama's "recess appointments" to two NLRB seats were illegal, leaving the board with only one legal member, chairman Mark Gaston Pearce, and unable to do anything. Obama had to name the recess appointees after GOP Senate filibusters killed his nominations for regular NLRB terms.
The board has asked the U.S. Supreme Court to take the Noel Canning case and resolve the mess. But even if the high court does so, the justices will not hear it before October at the earliest.
The objective of the GOP filibusters, and of big business in seeking the Noel Canning ruling, was to bring the NLRB to a grinding halt, preventing it from enforcing labor law, though that law is already weak and penalties against lawbreakers are small.
In both the FTS and Flex-N-Gate cases, the board told appeals judges it had the required three members in 2012, so its orders should be enforced and powers upheld.
"Noel Canning" the D.C. court's decision saying Obama's recess appointees were illegal, "is an outlier decision, and conflicts with decisions of three other (appeals) courts," NLRB's brief in the Wisconsin firm's case says.
"Indeed, the claims approved in Noel Canning are wrong as a matter of constitutional text, history, and purpose. They conflict with conclusions of every other court of appeals to address such challenges. And they would throw out nearly two centuries of long-accepted executive branch practice" in naming recess appointees.
"The board's order against" FTS "should be enforced, as the company failed to show the board improperly certified the union. The company bears the burden of proving the board's certification improper, and substantial evidence supports findings that the company failed to carry that burden."
The board's attorneys repeated the constitutional arguments in their brief in the Texas case. They also said Flex-N-Gate filed its constitutional claim too late.
"This court need not consider Flex-N-Gate's untimely arguments because it has forfeited them. Rather than raising any constitutional challenges in its opening brief, Flex-N-Gate elected to raise only labor issues. In so doing, it forfeited the constitutional challenges it is now belatedly advancing. Flex-N-Gate has no excuse for not raising in a timely manner arguments that were readily available to it," NLRB's attorneys said.
"Moreover, under clear Supreme Court case law and a plain reading of the governing statutes, appointments challenges like this are non-jurisdictional and do not go to this Court's authority to decide the dispute before it." No dates have been set for hearings of the FTS and Flex-N-Gate cases.
Photo: Andrew Samis/We Are Ohio