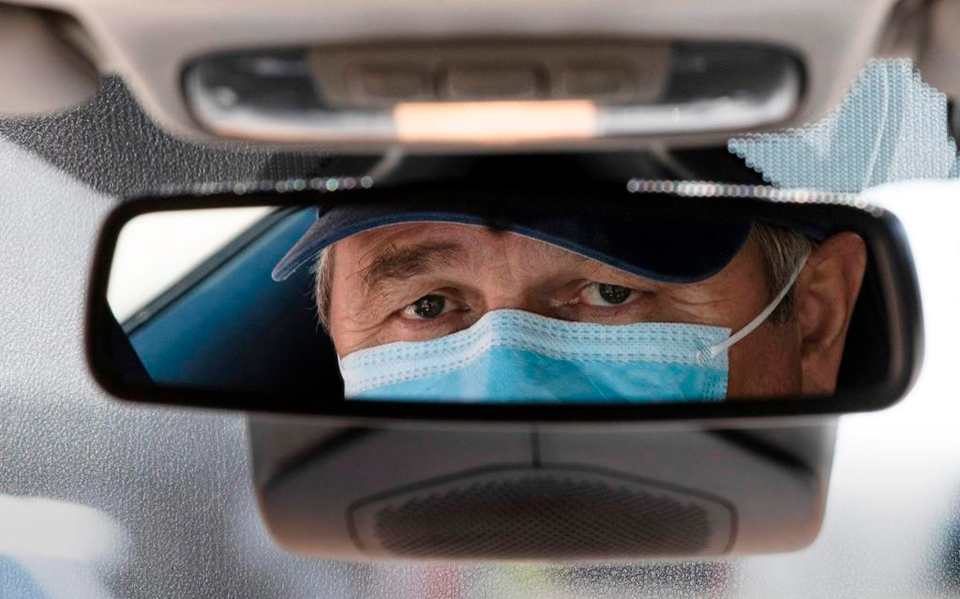 LOS ANGELES—As COVID-19 continues to claim more lives in the United States, app-based rideshare and delivery drivers organizing with Mobile Workers Alliance (MWA) are sounding the alarm on how gig companies are doing next to nothing to protect their workers and the public that uses their services.
It appears that rideshare giants Uber and Lyft have continued to resist compliance with Mayor Eric Garcetti's Worker Protection Order. This order directs employers to provide cloth face coverings, sanitizing agents, and access to sanitary restrooms for workers deemed essential during the COVID-19 pandemic. Drivers are calling on City Attorney Mike Feuer and the Los Angeles mayor to hold gig companies accountable and protect public health.
As the coronavirus has swept across the nation, service industry workers have been on the front lines providing essential services such as grocery and food distribution. Drivers working for app-based companies like Uber, Lyft, DoorDash, Postmates, and GrubHub have helped in transportation and food delivery, which has become crucial for a society where public transportation remains disrupted and going to public spaces is discouraged in order to flatten the coronavirus spread.
Drivers now find themselves between a rock and hard place—forced to choose between earning a living and trying to stay healthy. According to MWA, Uber sent a message to drivers following Garcetti's order, stating that while they may request a cloth mask through the app, the company "cannot guarantee masks for every driver."
In a telephone press conference held by MWA this week, driver Jerome Gage, who has driven full-time with Lyft for five years, explained that the company is only supplying one mask and one small bottle of hand sanitizer to each driver per week. "Lyft is providing first-come-first-serve supplies. [This] is not the action of a company taking this [pandemic] seriously," Gage stated.
Luz Laguna, who has driven for Uber Eats (Uber's food delivery service) for two years, explained that she is working "longer and longer hours" to keep a roof over her head. "I still have a higher risk of infection," Laguna expressed. "We are demanding that elected officials hold companies accountable. As long as [Uber and Lyft] are allowed to misclassify drivers as independent contractors, there will be deadly consequences."
Long before the pandemic, pro-worker groups were already in a fight with Uber, Lyft, and tech-companies similar to them over better benefits and compensation for workers. In 2019, the California legislature passed Assembly Bill 5 (AB 5), a law that makes it harder for companies to classify employees as independent contractors without health benefits, paid sick leave, or overtime pay. "Gig economy" firms like Uber and Lyft rely on workers in order to make huge profits but offer little to no benefits for the workers themselves.
AB 5 went into effect in January of this year with little enforcement, and the tech companies have continued to fight it. A ballot initiative campaign backed by Lyft, DoorDash, and Uber for November is underway aimed at exempting gig companies from AB 5. These companies have been suing the state to block the law until then.
MWA explained to the press this week that the companies' refusal to provide basic protective equipment to all workers during the pandemic "underscores the grim reality of the gig economy," which sees "billion-dollar Silicon Valley giants employ a predatory business model in order to cheat employees out of basic protections such as a minimum wage, paid sick days, and employer-provided health insurance."
"These companies treat us like we're disposable. We're not disposable, we are essential," asserted Uber Eats driver Brigida Perez at the press conference.
When workers are misclassified as "independent contractors," they miss out on virtually all labor law protection. They have to pay their own and the employers' shares of Medicare and Social Security payroll taxes and workers' comp. They also are not allowed to unionize. All of these provisions are more crucial than ever in a time when thousands upon thousands of people are dying from COVID-19.
On April 10, drivers sent a letter to City Attorney Mike Feuer demanding his office hold employers accountable. The letter has two major demands. The first is that "app-based gig employers provide cloth face coverings to all employees at no cost"; the second is that gig employers provide access to "clean, sanitary restrooms and provide all necessary sanitizing agents." The drivers are also demanding that companies which fail to comply be prosecuted to the fullest extent of the law.
When asked if a strike was a possibility, representatives stated that during this time it would be hard to strike while staying in compliance with social distancing guidelines and the current Stay at Home order in California. Despite this restriction, workers are hopeful that government officials will take their plight into consideration as part of efforts to guarantee the safety of the larger community.
Deborah Garcia, a full-time Uber driver, stated that a majority of her rides in recent weeks have been healthcare professionals on the frontlines of the COVID-19 response. "I transport dozens of passengers every day," Garcia said, "Many are the doctors and nurses dealing with coronavirus cases up close. Uber and Lyft love to talk about drivers as heroes on the frontlines, but what does it say about these companies that they'd rather brainstorm clever hashtags than use even a small slice of their billions to keep drivers like me safe?"
"It's not just our labor they are exploiting, but our lives now too," Gage said when talking about how workers and the people they interact with while working are also at risk. "Unless the city takes swift action, people will die. Enforce the order and save lives."
Like free stuff? So do we. Here at People's World, we believe strongly in the mission of keeping the labor and democratic movements informed so they are prepared for the struggle. But we need your help. While our content is free for readers (something we are proud of) it takes money — a lot of it — to produce and cover the stories you see in our pages. Only you, our readers and supporters, can keep us going. Only you can make sure we keep the news that matters free of paywalls and advertisements. If you enjoy reading People's World and the stories we bring you, support our work by becoming a $5 monthly sustainer today.