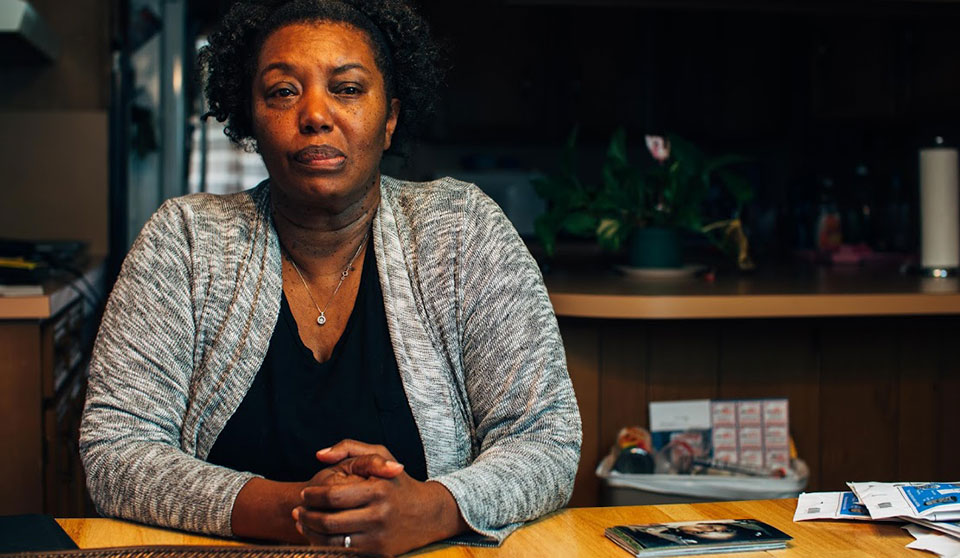 "When great souls die, the air around us becomes light, rare, sterile. We breathe, briefly. Our eyes, briefly, see with a hurtful clarity." – Maya Angelou
A piece of American history, showcasing the perseverance of a people despite centuries of oppression and enslavement, is on the verge of being lost forever due to greed, negligence, and environmental racism. The documentary Mossville: When Great Trees Fall is an intimate and gut-wrenching film detailing the assault on a town of Black residents at the hands of a South African power company aided by the legal corruption of the U.S. political system. Mossville, Louisiana, serves as yet another example of what is happening here in the United States and around the globe as corporations are given the go-ahead to release harmful substances that are a danger to the most vulnerable segments of our population—and to the earth as a whole.
Executive produced by Michelle Lanier and directed by Alexander Glustrom, Mossville follows a number of local residents as they tell the history of their town and the ongoing fight to continue to live on their land safely. It's the story of a centuries-old community, founded by formerly enslaved Black people, now decimated by petrochemical plants. The film is heartbreaking at moments and infuriating at others, making viewers witness a crucial piece of American history being chipped away with seemingly no backlash against the perpetrators.
Mossville is one of the first settlements established by freed Black people in the South, dating back to 1790. Although never formally incorporated, Mossville predates even Calcasieu Parish which contains it by 50 years. The documentary educates viewers about the largely unknown history of a self-sustaining community that was able to thrive for years and become a safe haven from intense racist violence and segregation after the failure of Radical Reconstruction. At its height, Mossville had a total of 8,000 residents. Small but mighty, like many of the trees that once covered the town.
Mossville is now surrounded by 14 industrial facilities, despite only being five square miles in area. This has resulted in many battles over safety between the residents of the predominantly Black town and the power plants that surround them. In 1993, a Condea Vista Chemical Company pipeline built in 1947 that transferred the highly toxic chemical ethylene dichloride was found to be leaking into the Calcasieu River. There were an estimated 1.6 million pounds that had leaked. Mossville residents let it be known that the deadly chemical had leaked into the water system, resulting in a lawsuit and a $47 million settlement.
Fast forward to today and, as the documentary shows, years of pollution, negligence, and lack of regulation have led to a town where residents are not only fighting for their land but their lives.
A 1998 study by the Environmental Protection Agency (EPA) found chemical toxins in the town's air were 100 times higher than the national standard. This, coupled with another study finding that 84% of Mossville residents had some sort of central nervous system disorder, shows what happened when people were left to fend for themselves against assault from big energy conglomerates.
The film brings us to where the fight stands as of 2019. It is a glimpse into a community where the people are exhausted and running out of options. Where not only their mental state but their bodies have been ravaged by the ongoing fight to preserve the legacy of what their families built.
Mossville is now in the crosshairs of a mega chemical company's drive for expansion that will overtake the settlement.
There is a drive to build one of the largest chemical plants in the Western Hemisphere, right here in the United States. The huge South African chemical company Sasol, backed by former Louisiana Republican Gov. Bobby Jindal, struck a deal to take over more land and build a larger chemical plant in the area around Mossville.
As Sasol has expanded, the company has been attempting to buy out residents in the area, pushing them to relocate. Yet, as the documentary makes clear, the buyout process is often not to the residents' favor, as some are offered as little as $2,000 to pick up and move their entire lives somewhere else.
The film makes sure to point out, rightly so, that Sasol's background is steeped in racial injustice, as it was the oil company that helped the apartheid South African government avoid the 1960s international oil embargo.
The film creates intimacy by allowing viewers to witness personal stories by a few of the remaining residents in Mossville. Erica Jackson is a woman whose family was among the founding members of the town. Her maiden name, Fisher, is on one of the road signs in the settlement, named after her family. We are granted access to her emotional search for new housing away from Mossville as she struggles with letting go of an area that has been her family's entire world for generations. Erica also has to deal with the fact that she and her family may go into debt due to the tiny amount of money Sasol is offering her to relocate.
Stacey Ryan is another resident the film follows as he struggles to keep the small patch of land in the heart of downtown Mossville now occupied by only his mobile home amidst multiple power plant buildings. In one of the most heartbreaking moments of the film, Stacey plays a VHS tape of his now-deceased parents speaking to the financial and physical hardships they have all endured due to the pollution from the power plants around their land. Stacey is one of the residents in the film continuing to fight the buyouts, wanting to maintain his land despite the intimidation by Sasol to move.
A great aspect of the doc is how it connects what Mossville is going through to a larger systemic problem in the United States and across the world. Mossville is a heartbreaking story, and what makes it so poignant is that it is not the only story of its kind.
Sasol's Secunda plant in South Africa is the biggest source of carbon dioxide on the planet. The documentary spends some time speaking with the South African residents who live and work around that plant and the hardships they face there. They are also in a rough spot, as they are forced to live with the pollution but also still forced by necessity to work at the power plant in order to live. Their situation isn't that different from that faced by the residents of Mossville, as there are a number of them that have to work for the very company that is displacing them.
The film is dedicated to fence line communities, neighborhoods that are immediately adjacent to a company and are directly affected by the noise, pollution, and operations that company creates. Mossville is one of many in the U.S.
Dig a little deeper, because it isn't often covered by mainstream media, and you'll find that there are plenty of fence line communities. More often than not, they are predominately Black and have to deal with the environmental damage corporations cause to their areas with little to no help from the government.
There are predominately Black River Parishes along the Mississippi River between New Orleans and Baton Rouge that are crowded with over 150 plants and refineries. Residents in these areas have grown to call this area Cancer Alley and Death Alley due to the significant amount of deaths from cancer and other illnesses among the townsfolk there.
Couple this with reported happenings of water contamination due to negligence and corruption in a number of places across the country, like Flint, Michigan, and Newark, New Jersey, and it is clear to see that there is a dangerous problem: Working-class people of color are being killed by environmental destruction at a disproportionate rate. The documentary makes clear that this problem is fueled by corporate greed and government disregard for working-class Black residents.
At a little under one hour and 20 minutes, the documentary isn't long, but it packs a powerful punch. It leans on emotion to make the viewer understand that what has gone on under a narrative of beneficial technological expansion has come at a dangerous cost of human life and the environment.
The film would have been enhanced if it dug more into the advocacy efforts being organized to combat what could be classified as racialized environmental terror right in our backyards. The doc interviews environmental rights lawyer Monique Harden, who helps to connect the political and legal aspects affecting the situation. Yet, giving Harden and other advocacy groups more airtime would've helped to ensure that viewers are urged to become participants in the fight for justice instead of passive watchers.
More and more, power plants are emerging in already heavily polluted areas in the United States. That fact, along with the Trump administration's close to 100 rollbacks on EPA regulations, shows that we are moving towards an environmental disaster that will see some of the most vulnerable parts of our population paying the heaviest price. This, along with the potential history lost, makes Mossville: When Great Trees Fall required viewing. It's a lot to take in, but it showcases what is being fought for.
As Harden notes in the film, "How many more Sasol power plants do we need before we say enough is enough?" That's a very good question which needs to be answered.
Mossville: When Great Trees Fall is currently in virtual theatrical release and will debut on PBS Reel South on May 25.