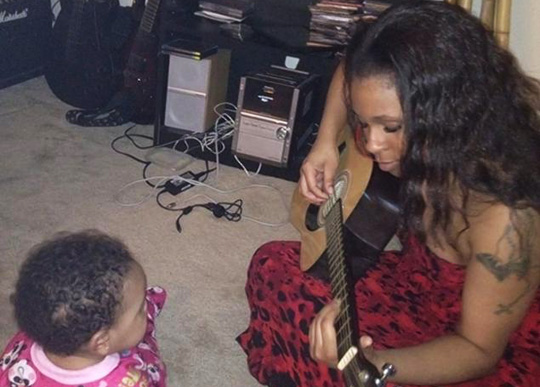 Gina Best said there are no words to describe her devastating grief after her daughter was shot and killed in a hail of bullets fired by Virginia Beach police last fall. "I can't even tell you how bad this hurts. There are no words to articulate this," said Best in a Facebook video following the death of her daughter, 27-year-old India Kager
The video went viral with 56, 821 shares and almost 2 million views. In the video released on her Facebook page Feb. 10, Best said she had changed her mind about keeping her grief "private."
"I want the world to know what a mother goes through when your child is stolen and executed for no reason," she said.
Kager, a Navy veteran, was sitting behind the steering wheel of her car, parked outside of a 7-Eleven, Sept. 5, 2015, with her four-month-old son in the back seat and her son's father, Angelo Perry, in the front when Virginia Beach police approached the car. Police say Perry shot at them and they shot back 30 times, killing Perry and Kager. Miraculously, Kager's baby was not hurt.
Best has been speaking out, demanding to know the names of the policemen involved, the release of the store's security video and why they shot into a car with Kager and a baby inside.
"The SWAT team ambushed my daughter's car. They threw a grenade at her car. They fired 30 rounds. Who does that? How do you do that? 30 rounds? 30 rounds? They executed my baby," Best cried in the video.
In the Virginia Beach Police Department Sept. 8 press conference, Chief Jim Cervera said Perry had been under surveillance for 30 minutes prior to the shootings.
Cervera said the officers were in unmarked vehicles and dressed in uniform as they approached the vehicle and that they gave verbal commands. "We also did use, in an attempt to mitigate as much as possible, a sound-light distraction device," Cervera added. The device he mentioned is also called a stun or flashbang grenade.
Police said they had been following Perry because he was a "person of interest" in a homicide and they also had received credible information that he was going to commit a future crime. Perry had served time in prison and was on parole.
In a Dec. 8 VBPD press conference, Cervera announced that the guns they had recovered from the scene had been traced to half a dozen crimes in the area.
Kager, however, was not part of the investigation, police said, and was unintentionally killed. The four police officers involved in the shooting are white. Perry and Kager were black. The four were put on administrative assignment while the VB Commonwealth attorney investigates whether or not the use of deadly force was justified.
The African American Policy Forum issued last year a groundbreaking report titled, "Say Her Name: Resisting Police Brutality Against Black Women," in which the co-authors highlighted the role of gender, gender identity and sexual orientation in understanding and combating racially-motivated police violence.
They outlined 11 broad "frames" with brief stories of black women who have been victimized by law enforcement. One such frame was titled, "Guilt by Association: Black Women as Collateral Damage," is suggestive of what happened to Kager.
"Black women are often killed even when they are not the main targets of police action," the report notes. It states that this is not the "primary way" black women "experience state-sanctioned violence" but it "is a damning indicator of the impacts of the distribution of deadly police force in Black communities."
With the birth of the Black Lives Matter movement and the power of video in unmasking police crimes, Best wants the police to publicly release the security video from the 7-Eleven parking lot, currently in their possession.
"Just show us what happened. Eliminate the questions," Best said during a visit to Virginia Beach, Feb. 19, for a National Gathering 4 Truth and Justice in Virginia Beach, hosted by ENOCH Baptist Church. "If he (Perry) really fired first, make that clear. Release the video."
The group ONUS, Inc., (Change is On Us) started a change.org petition calling on the Department of Justice to investigate the shootings. A fund to help support Kager's two sons, Evan and Roman, has also been launched.
Best, a mortgage broker, lives in College Park, Md. Kager had been living with Best, her father, grandfather and two sons. Kager served four years in the Navy and had been working as a letter carrier with the U.S. Postal Service since August, the AP reported. She was a musician and graduate from D.C.'s Duke Ellington School of the Arts. Kager's father and grandfather are retired D.C. police officers.
Best said on behalf of her daughter, her grandsons and Perry, she will not rest. "I won't stop fighting for my baby. I won't stop fighting for India. I won't stop fighting for Roman. I won't stop fighting for Evan. And I won't stop fighting for Mr. Perry because he did not have due process of law. There was no arrest warrant out for him," she said.
Photo: India Kager, a Navy veteran, a musician, and a graduate at the Duke Ellington School of the Arts in Washington, D.C., is seen here with one of her sons. | Gofundme