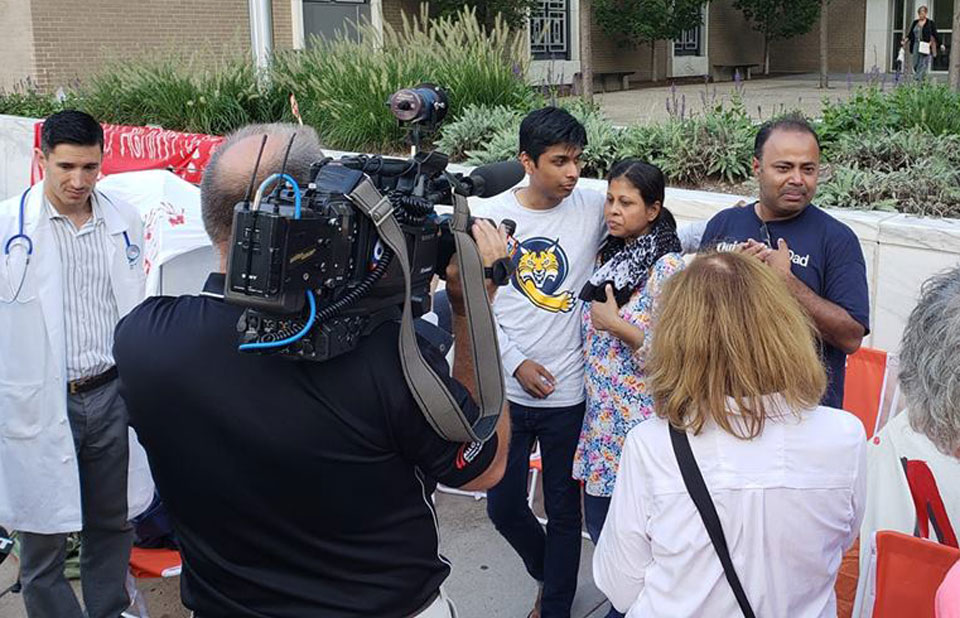 HARTFORD, Conn.—Sobbing with tears of joy and weak from fasting, Salma Sikander's husband Anwar Mahmud thanked everyone gathered in front of the Federal Court in Hartford Wednesday night as news came that his wife will be allowed to stay in this country, at least temporarily.
Sikander had been ordered to return to Bangladesh four days before her only son was to enter Quinnipiac University, the first in his family to attend college. The case had gained wide support and national attention.
A 43-hour hunger strike on her behalf, in front of the Federal Court, was cut short on the second day when the stay of removal was granted by Immigration and Customs Enforcement. The nine hunger strikers slept in tents pitched on the sidewalk.
"The fight is over for today, but we are continuing on," Sikander's son, Samir Mahmud, said.
Broad support was organized for the family through Unidad Latina en Accion (ULA). An online petition on Sikander's behalf was signed by 42,000 people. The American Federation of Teachers-Connecticut was providing support, and the family had the backing of a number of major political leaders in the state. Rep. Rosa DeLauro hosted a press conference with the family at New Haven City Hall, and Sens. Richard Blumenthal and Chris Murphy called for a stop to the deportation.
Speaking at the rally held when the hunger strike began, Anwar Mahmud implored, "Families should be kept together. Please, please reconsider this decision. I need her. We all need her. She's a wonderful woman."
At the rally, Hartford Mayor Luke Bronin emphasized, "We stand here strong to support this family but also to support every other family that has been ripped apart or is at risk of being ripped apart by an administration that has lost its humanity—if it every had it. "
Back in New Haven at the First and Summerfield United Methodist Church, Nelson Pinos, in sanctuary for almost nine months, had joined in the hunger strike from a distance. "I am doing this for all the children," he said.
This was the first hunger strike and the first action joining together families facing separation and deportation in Connecticut. Organized by ULA, the action had the support of union, faith, and community groups. Jesus Morales Sanchez of ULA called the fast "a show of solidarity with families in pain of separation."
"We hear a lot about families in Texas being separated from their children, however it is still happening here in Connecticut.  The uncertainty of not knowing whether you're going to be here in two weeks cannot allow for a family or a person to live with dignity," he said. "We won't stand down; we will continue fighting."
After overstaying her tourist visa in 1999, Sikander has been reporting to ICE and had filed a series of appeals against deportation.
Mahmud, who has an application for asylum pending, said that neither he nor his wife had the opportunity to attend college.  Their dream has been to provide that opportunity for their son Samir.
"Right now their main priority should be figuring out how to fit all Samir's things into his dorm room. It should not be whether or not mom is going to be at home this Friday," said Morales Sanchez.
Speaking in solidarity at the rally were the senior minister at Old Lyme Congregational Church, where a Pakistani family is living in sanctuary, Connecticut Students for a Dream, New Haven Rising, Unite Here, New Haven Peoples Center, Middlesex Immigrant Rights Alliance, representatives of Sen. Richard Blumenthal and Gov. Dannel Malloy, and Meriden City Councilor Miguel Castro.
"We have the power as people to go back to the voting booth and change the future of our legislators," said Castro. "If our legislators are not making policies in favor of our community and our people, then its time for us to change them."
"We're standing together, and we're fighting for our freedom," declared Rev. Scott Marks of Unite Here, leading the crowd in a chant, "Selma must stay, and ICE must go."