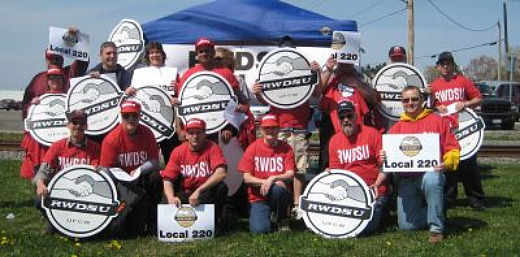 Workers at the Mott's apple juice and applesauce plant in Williamson, N.Y., voted Sept. 13 to accept a new contract, ending a 113-day strike. In the nearly four-month-long strike a small group of workers faced off against the corporate behemoth Dr. Pepper Snapple Group, and achieved what appears to be an important victory.
Because of the tenacity of the strike, its long duration and the David-and-Goliath nature of the fight, the labor battle garnered national publicity and support.
While most details of the contract have not been released, the workers blocked some of the company's key give-back demands on wages and pensions.
Despite making more than $500 million in profits, Dr. Pepper Snapple pushed for the Mott's workers to take up to a $2.50 per hour pay cut. Using the average wage in the economically-depressed Rochester, N.Y., area as a pretext, management argued that workers were being paid above the norm. The strikers countered that the norm was no good, given a near 50 percent poverty level in the region.
According to Retail, Wholesale and Department Store Union Local 220, which represents the Mott's employees, the contract agreement includes "restored wage levels." Instead of wage cuts, a wage freeze will be imposed.
Also included is "the continuation of the pension plan." While details are still unclear, it appears that the 300 workers were able to push back management's demand that all current pensions be frozen. New hires, however, would not receive a pension, but a 401k plan instead.
Labor unions have long argued that so-called two-tier pensions, in which different groups of workers receive different benefits, sow disunity and are harmful to union building. Nonetheless, given the relations of power between the local and the corporation, many see the deal as a victory, or at least much better than what could have been the result.
In addition, workers will receive a $1,000 signing bonus and management agreed to pay 80 percent of health care costs.
Perhaps the most important impact of the strike will be felt elsewhere. By simply holding on, the workers may have stopped a rolling snowball from picking up speed and volume. Labor unions nationwide worried that, if the strike were lost, other companies might follow suit and begin, even when making huge profits, to try to push down wages.
Across the country, solidarity actions were held, from leafleting in Indianapolis to picket lines, which truck drivers refused to cross, in Chicago at Dr. Pepper Snapple sugar plants.
According to Stuart Appelbaum, president of RWDSU, "Not a day went by without people stopping by to drop off a financial or food donation for the strike fund."
Most recently, the New York State Young Democrats jumped on board, arguing that "while the Rochester area workers are continuing to fight for good paying jobs and struggling to make ends meet, Dr. Pepper Snapple recorded $555 million in profits and over $1 billion in revenues."
Altogether, donations from across the country and Canada brought in more than $100,000 for the employees' strike fund, money set aside for the strikers to help offset the loss in pay.
"The international, national and local community supported us thoroughly, Appelbaum said, "and the RWDSU and Local 220 members want to share their thanks."
Photo: http://rwdsu.info/