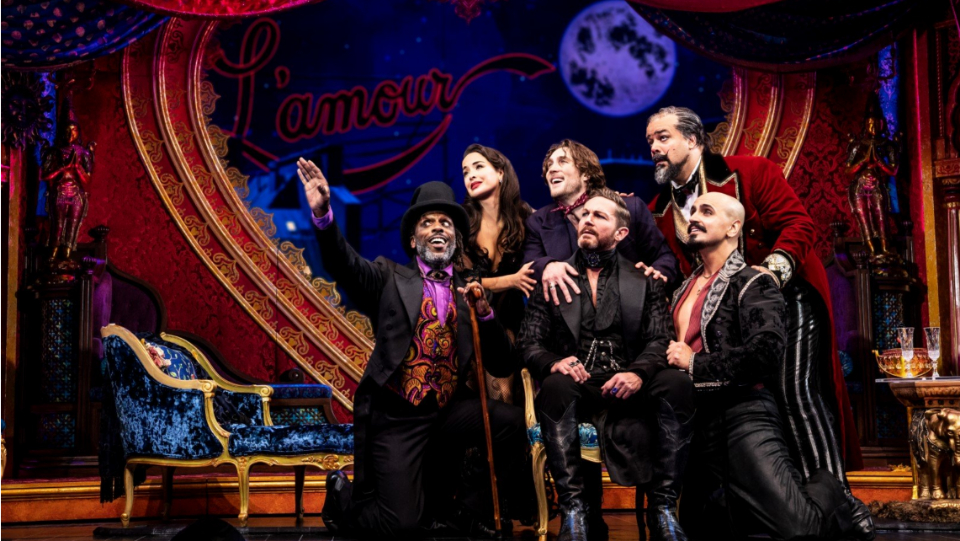 LOS ANGELES—As spring follows winter, it was inevitable that Baz Luhrmann's 2001 iconic, over-the-top extravaganza Moulin Rouge from 20th Century Fox, starring Nicole Kidman, Ewan McGregor, John Leguizamo, Jim Broadbent, and Richard Roxburgh, would be turned into an even more exuberant, pulse-quickening, dance-filled stage musical for live audiences. The film premiered at the 2001 Cannes Film Festival, and at the 74th Academy Awards it was nominated for eight Oscars and won two—not the most desirable (Best Art Direction for Set Decoration and Best Costume Design).
Moulin Rouge! The Musical is the winner of ten 2021 Tony Awards including Best Musical, two Drama League Awards including Outstanding Production of a Musical, five Drama Desk Awards and ten Outer Critics Circle Award Honor citations including New Broadway Musical. It opened at the Al Hirschfeld Theatre in the mid-2019 and reopened in September 2021 following the shutdown of Broadway due to the pandemic. The show is still running on Broadway and on London's West End, and now a third company is on national tour. In L.A., it's playing at the Hollywood Pantages Theatre through September 4—a good place for it, an enchanting 1920s Art Deco overkill venue.
As anyone knows who has ever visited Paris, the Moulin Rouge night club still exists at the base of Montmartre hill and is a popular tourist attraction emblematic of the Parisian way of celebrating since 1889. No soirée at the Moulin Rouge (the "red mill" with its iconic spinning windmill arms in lights) is complete without a performance of the traditional leggy cancan dance as part of its two-hour Féerie revue show featuring cabaret, music hall dance scenes and interspersed surprise acts. Beginning in 1891, the artist Toulouse-Lautrec created posters promoting the establishment, which became the recognizable pictorial idiom not only of the club but standing in for all of Belle Époque, pre-World War I metropolitan culture.
As in the film, Moulin Rouge! The Musical pays homage to over 160 years of music, from Jacques Offenbach, who reveled in the cancan era and composed its most famous musical numbers, to Lady Gaga, Britney Spears, Soft Cell, the Eurhythmics, White Stripes, and countless other singers and songwriters. One is as likely to hear a snippet of "Some Enchanted Evening" or "The Hills Are Alive" as a theme from Bizet's opera Carmen. In fact, in the original movie, and I believe that's still the case here, the main romantic ballad, "Come What May," remains the only original song composed for the score. The stage musical features many of the songs from the movie, and also includes recent, commonly recognized hits released since the movie premiered 20 years ago.
Broadway has offered many "revues" either comprising the songs of a particular composer (Fats Waller, for example, in Ain't Misbehavin'), or of a particular era (World War II is a popular one), or on a specific topic (like the musical Working), or the repertoire of a certain singing group such as the Temptations (Ain't Too Proud) or a genre such as guy groups (Forever Plaid).
Moulin Rouge! The Musical may have pushed the pastiche principle farther than anything else so far. The whole score is a mash-up, a sampling of hundreds of pop songs calculated to coax smiles and happy feelings from row after row of theater patrons. Barely anything lasts for more than a few seconds. They start off with "Voulez-vous coucher avec moi" to set the mood. Aside from "Come What May," the only song I can recall presented in anything resembling its entirety is "Nature Boy."
It's pointless to ask what any of these anachronistic, deracinated tunes have to do with fin de siècle Paris (the action takes place in 1899), apart from the fact that in every generation, and in every culture, certain basic themes like infatuation, obsession, love, jealousy, disappointment, commonly appear in music. They exist here merely to be commercially exploited. I hope some hefty royalties are being paid out from this show! I guess, despite that expense, it was the something-for-everyone's-musical-taste idea that commandeered the thinking behind the show (and the movie before it, of course). For even a great Broadway composer's score could not possibly gather in this broad range of eras, styles, orchestrations, rhythms, moves, memories, cues. Better to leave any thought of artistic integrity at the door.
Still, a show is far more than its music. There's the story, too, which in this case also has its, let's say, "appropriation" issues. The action takes place at the Moulin Rouge and surrounding locales. Many of the performers have other talents besides dancing and singing; in a word, these coquettes are available for other services as well, including our leading lady Satine (Courtney Reed), who's still a great singer. The establishment is going broke, so Harold Zidler, the proprietor (Austin Durant), features her in an all new dramatic revue with music, to be bankrolled by the Duke of Monroth (David Harris) if Satine will offer her full-time attention as his courtesan, though he's reminded, "You Can't Always Get What You Want."
An American composer, Christian (Conor Ryan) has just arrived in Paris and is recruited by two Bohemian types, the writer—not an artist but borrowing his name—Toulouse-Lautrec (André Ward) and an Argentine choreographer Santiago (Gabe Martínez) to compose the score for the musical play ("Bohemian Rhapsody," very original, a play-within-a-play, as in Hamlet) that they sell to Moulin Rouge as its salvation. Christian and Satine fall in love, and their signature song is the aforementioned "Come What May," but of course the Duke is a complication. And unbeknownst to either of them is the fact that she is dying of consumption, a polite word for TB, a typical disease of the urban poor. But hey, "All You Need Is Love."
Hmmm, Paris, artistes, courtesans, consumption. This plot sounds familiar, doesn't it? Yeah, it's La Bohème and La Traviata—both of which, by the way, had original scores. Verdi's opera La Traviata, based on the play La Dame aux camélias by Alexandre Dumas fils, was quite radical for its day, set in contemporary times and, rather shockingly to its first audiences, elevating the character of its protagonist, the beautiful Parisian courtesan Violetta, to a higher moral status than the parochial bourgeois moralists around her, and higher, no doubt, than many in the operatic audience. For Verdi, this was personal, as he was himself in a committed relationship with a woman to whom he was not married, and they suffered a great scorn from his smug peers. Both of these operas are still among the most performed in the world. One critic in Entertainment Weekly concludes that "it's easy to believe that Moulin Rouge! The Musical could run for 50 years." The tragic dying lover, the survivor's grief (in short, the ancient Orpheus myth), these are inexhaustible subjects.
Not that there isn't a soupçon of radical Bohemianism in the musical, too. At one point, when the melodramatically evil Duke presses his demands on Satine, she retorts, "No one owns me." And when he offers to save the Moulin Rouge from bankruptcy—on his own conditions, naturally—he's called a "bloodsucking corporate vampire." "We're not just putting on a play," says the writer Lautrec, "we're making a revolution." The word "proletarian" crops up more than once. These lines, little digs at society's high and mighty, get an appreciative response. There's a little intergenerational faggotry as well. As I say, something for everyone.
So, what's the appeal? It's simply, mind-numbingly, glitteringly fabulous! Production-wise, it's like fireworks going off for two and a half hours. Every bit of futuristic stage wizardry is brought to bear—an amazing array of glitzy lighting effects, a powerful heart-pounding sound system that I haven't experienced since my disco days, silver confetti blasts, snow, absinthe hallucination, you name it, all the theatrical stops have been let out.
There's barely a moment where the stage is still. The set reshapes itself every few seconds. The cast are constantly in motion, and aside from the 11 named characters, there's an 18-member dance ensemble and the choreography is out of this world (don't be late taking your seat after intermission or you'll miss the highlight number of the show). Don't think the dance is all cancan either, every other anachronistic genre is represented as well, Apache, tango, the frug…. The sensuality suggested by the Moulin Rouge setting is on rich display, women voguing suggestively even as the audience are finding their seats. Expect to see thousands of high-kicking legs before the final curtain, and if you stay long enough for the final bows, men in tutus!
The curmudgeon in me says, But there's no time, and no open space for a theatergoer to enter into the story with all these high-tech production values constantly in the way. The musical's several times reiterated dedication to "Truth, Beauty, Freedom, and Love" seems formulaic at best, like empty words addressed to no one in particular printed on the gold foil wrappers of expensive bon-bons.
The director of this mountain of sensual overload is Alex Timbers, working with a book by John Logan, choreography by Sonya Tayeh and music supervision, orchestrations and arrangements by Justin Levine. The design team includes Derek McLane (sets), Catherine Zuber (costumes), Justin Townsend (lighting), Peter Hylenski (sound), David Brian Brown (wig and hair design), Sarah Cimino (make-up design), and Matt Stine (music producer).
Having said all of which, to appropriate what some of our critical forebears have said in the past, If this is the kind of thing you like, you'll love it.
Moulin Rouge! The Musical runs through Sept. 4 at the Hollywood Pantages Theatre, 6233 Hollywood Blvd., Los Angeles 90028, with performances Tues.-Fri. at 8 pm, Sat. at 2 and 8 pm, and Sun. at 1 and 6:30 pm. The runtime is 2 hours and 45 minutes with one intermission. Advised for persons 12 years and up. Tickets are available at BroadwayInHollywood.com or Ticketmaster.com, by phone at (800) 982-2787, or in person at the theatre box office. The national touring company moves to the Segerstrom Center for the Arts in Costa Mesa, Calif., Nov. 9-27. For ticketing and other information, go to www.SCFTA.Org, or call (714) 556-2787.