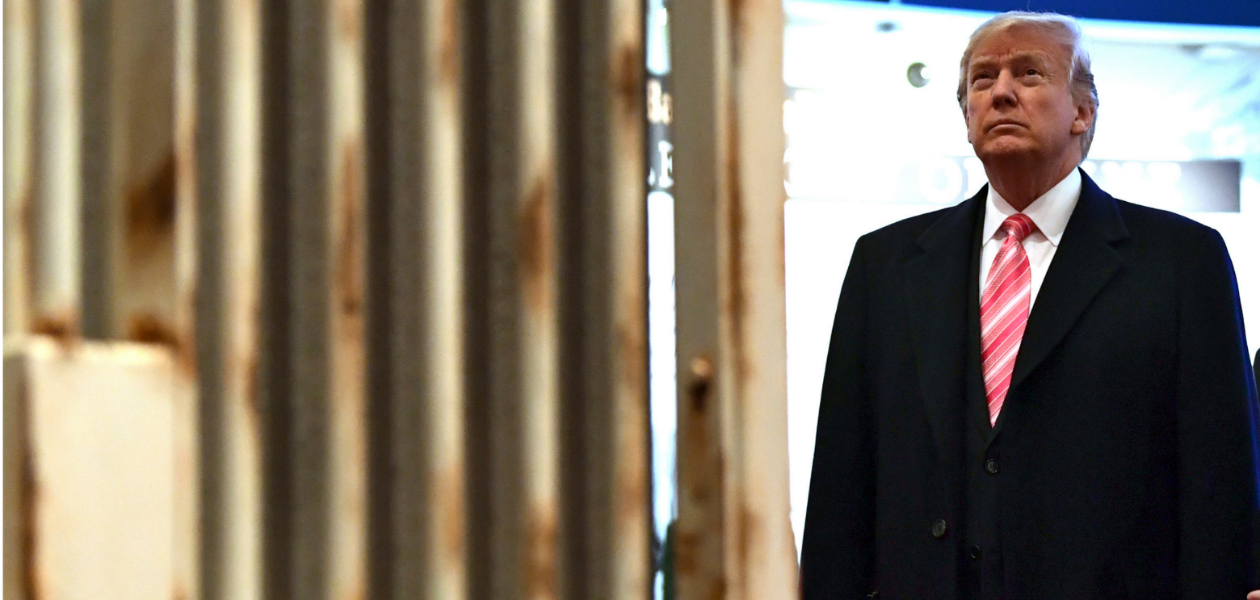 WASHINGTON—This week the former president, Donald Trump, who often called for political opponents to be "locked up," got closer than ever to seeing the day when he himself could end up in jail.
The week began with word from the Justice Department that it is pursuing why Donald Trump's campaign finance committee (PAC), Save America, is paying the legal bills for dozens of the insurrectionists who invaded the U.S. Capitol on Jan. 6, 2021.
Trump's PAC is flush with cash, having raised more than $108 million since the start of this year alone, raised on the pretext of continuing to fund his "Stop the steal!" campaign of lies about the 2020 election. The committee that the Trump fund appeals said would use the money to restore Trump to the presidency he lost to Joe Biden never existed and the big question remains where most of the money has gone. The Justice Department seems determined to find out.
What we know already is itself enough to send the former guy to jail. A conservative "non-profit" run by former White House Chief of Staff Mark Meadows and corrupt Trump lawyer Cleta Mitchell has received at least $1 million from the ill-begotten Trump fund. It is likely that was hush money to keep Meadows quiet about Jan. 6, 2021, or, if not,  payment for his continuing service to Trump's right-wing political machine. Either way, it's outrageously illegal.
The Justice Department has issued some 40 subpoenas to top Trump aides, including to lawyers for the president who have violated the law, sometimes because Trump lied to them but at other times by pursuing their own illegal schemes. Some of those aides, lawyers among them, gathered at a Trump golf course recently and were photographed chatting with the president, huddled together without golf clubs. The scene evoked a bunch of mob bosses talking at a location where they hoped there were no electronic bugs other than perhaps wires that some of them may have been wearing.
Illegally collected money
The illegally collected Trump PAC money, which was supposed to have been used for Republican candidates in the Midterm elections has, for the most part, not been used for that purpose, even for MAGA Republicans running in primaries. The New York Times has reported much of that money going to pay legal fees to lawyers representing Capitol invaders and politicians who plotted the coup.
To add to Trump's chances of ending up in jail, the Senate Judiciary Committee, headed by Democratic Sen. Dick Durbin of Illinois, has announced the beginning of a new probe it is mounting into allegations that the Trump Justice Department strong-armed prosecutors around the country to indict Trump political opponents on false charges. The Senate probe is a reaction to claims by Geoffrey Berman, former Justice Department prosecutor for the Southern District of New York, who revealed in a book this week that Attorney General William Barr pressured him into filing false charges against Democrat John Kerry for Kerry's role in the negotiating the Iran nuclear deal. When Berman refused to do Trump's bidding, he was fired and Barr went shopping for other prosecutors who might go along but could not find any. "It's one thing to corruptly use the government to defend your friends," Burman said this week, "but even far worse to use it to go after your political enemies."
Meanwhile, Republican Rep. Adam Kinzinger, a member of the Jan. 6 House Committee investigating the insurrection, announced this week that it was likely his committee will file its own criminal charges against Trump by the end of this year.
Most observers, even those without extensive legal experience, say it is highly unlikely that after all the concurrent investigations into Trump's criminality, the former president could ever avoid criminal prosecution. Many of the crimes involved carry prison sentences in addition to fines.
The New York Times, reviewing the Trump PAC's campaign finance filings, found at least 40 instances of legal fees and consulting fees, totaling some $8 million, went to various law firms. Another $1 million went for a consulting contract established by a former top Trump campaign staffer. The warrants link up to those fees.
By contrast, the Trump PAC has doled out only $750,000 to Republican candidates running this year.
Those two sums leave the overwhelming majority of the Trump PAC's funds unaccounted for. A brief inspection of its latest report, however, shows most of the Trump committee's spending has gone to other conservative PACs and political firms, for such items as "list rental." Some of the Save America money has been recycled to its own subordinate committees.
The Justice Department is following more than just the money. Now it's also probing Trump's efforts to create pro-Trump electors in key swing states that Democratic nominee Joe Biden won and have them send fake election certificates to Congress to be opened in the scheduled Jan. 6, 2021, electoral vote.
That was the vote count the Trumpite invaders and insurrectionists disrupted for hours but ultimately did not prevent. The Times reported federal agents, using court-approved search warrants, took the cell phones of Boris Epshteyn, an in-house counsel who helped coordinate the fake electors scheme, and campaign strategist Mike Roman.
The Times reported DOJ is also investigating former New York City Police Commissioner Bernard Kerik, a partner of Trump's top lawyer, former City Mayor Rudy Giuliani. As a result of Giuliani's lies about "vote fraud" in Georgia to a Republican-dominated state legislative committee, Fulton County (Atlanta) DA Fani Willis had him subpoenaed to testify before a grand jury there.
Meanwhile at another forum, the federal court in West Palm Beach, Fla., Trump is engaging in yet another of his favorite tactics to ward off threats: Stall, stall, stall.
Persuaded a Trump-appointed judge
Trump's attorneys previously persuaded a Trump-named Judge Aileen Cannon to appoint a special master to review the classified documents the FBI carted away earlier this year from the former Oval Office occupant's Mar-A-Lago mansion, where Trump has illegally taken them. The number now approaches 500 and includes information about nuclear missiles and intelligence sources and methods.
Judge Cannon agreed, which could delay the use of those documents as evidence in the Justice Department's developing case that Trump endangers national security. Trump's attorneys tried another stall by submitting proposed candidates for the "special master" to review the documents, confidently expecting their list would be completely different from DOJ's list, thus slowing the process even more.
But DOJ called his bluff by agreeing to one of his special master candidates, retired federal Judge Raymond Dearie of Brooklyn.
And legal analyst Shan Wu, writing in The Daily Beast, produced another instance where Attorney General Merrick Garland and his staffers have outfoxed Trump's team:
"The DOJ's clever response" is "focusing on the fact that a criminal investigation involving national defense cannot take place without access to the materials implicating national defense and asking simply that the investigation be allowed to continue even as the parties fought over whether a special master was necessary and the exact scope of what the special master might oversee.
"This focus also offers Judge Cannon a compromise by which she can still preserve a victory for Trump in seeking a special master for the ostensible purpose of promoting public faith in the investigation while also reducing the risk of a humiliating slam-dunk reversal on appeal."
DOJ has previously said its own team of evaluators has combed through the Mar-A-Lago documents, looking for and tossing out those that violate attorney-client privilege or are covered by executive privilege. Judge Cannon said the appearance of a possible conflict of interest at DOJ and potential harm to Trump's reputation led her to rule for a special master.
Judge Cannon accepted those Trumpite-offered restrictions over DOJ objections that executive privilege covers only communications between a current president and his staff, not a former Oval Office occupant and his staff. Current President Joe Biden, who defeated Trump in November 2020, waived executive privilege in the case.
Trump's team also tried more stalling in another court, the State Supreme Court in Manhattan, Reuters reported. That case, being managed by assistant Manhattan DA Joshua Steinglass, will reveal whether the Trump Organization—the family company—committed tax fraud by deliberately misvaluing his properties, such as his golf clubs and New York properties, to lower or escape state taxes.
Trump's lawyers sought a stall in that trial's start, now scheduled for October 24, because a key player, longtime Trump Organization Chief Financial Officer Allyn Weisselberg, changed his plea to guilty.
Weisselberg now admits to receiving untaxed benefits—such as a leased car—from the company. He's cooperating with prosecutors in exchange for a five-month sentence.
That plea change prompted Trump's team to seek a delay, saying they now need time to change their defense against the tax fraud charges. No way, State Supreme Court Justice Juan Marchon said.
"One of the accusations is the defense is trying to stall," the judge explained. "It's starting to feel that way a little bit." In the end, he declared: "I am repeating: We are not delaying this trial. It's starting October 24th and we're going forward." The trial is expected to last a month.