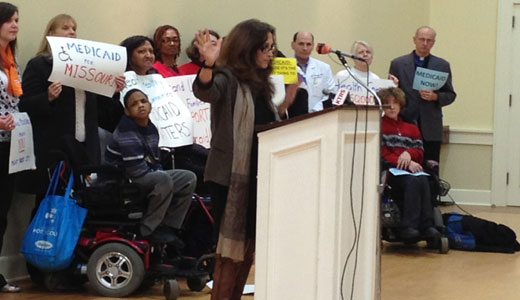 ST. LOUIS – "We have an opportunity to expand Medicaid here in Missouri. We have an opportunity to give security to over 250,000 people who currently do not have health care," professor Sidney Watson told about 150 faith, labor, and community allies as they gathered to announce the kick-off of a new state-wide Medicaid coalition here at the Kirkwood Baptist Church on January, 16.
Watson, who teaches at St. Louis University's School of Law, added, "Missouri has the stingiest Medicaid program in the country."
"If you work you can't get Medicaid in Missouri," Watson continued.
According to the coalition, a single mother with two children does not qualify for Medicaid if she makes more than $3,504 per-year, or about $292 per month.
Judith Gallagher, a nurse at Grace Hill Community Health Center, agreed with Watson, and added, many of the "uninsured are working two or three part-time, low-paying jobs."
Contrary to popular belief, she added, "They aren't trying to get a free ride from hardworking tax payers. They are hardworking taxpayers. They just can't afford insurance."
According to the Missouri Medicaid Coalition, 877,000 Missourians currently have no health insurance. Expanding Medicaid, they say, would give 255,000 low-income people access to quality, affordable health care.
Watson added, "In twenty-one rural counties Medicaid expansion will cover over 10 percent of the population."
Additionally, they estimate that expanding Medicaid would create over 24,000 new jobs in the Show-Me-State, and save the state $348 million per-year as Missouri would no longer have to pay its share for treating the uninsured.
Provisions in the Affordable Care Act (ACA) require that states either set-up a health insurance exchange or have the federal government oversee one; the exchanges are a set of state-regulated and standardized health care plans through-which people can purchase health insurance.
Originally, the ACA also required states to expand their Medicaid program. However, the Supreme Court struck down that provision of the law in June of last year, which leaves the decision to expand Medicaid up to the states.
According to Watson, expanding Medicaid is "a good investment and a smart thing to do," as the federal government pays for 100 percent of the expansion until 2017, and then pays for 90 percent of the expansion there-after.
Rabbi Susan Talve said, "We cannot allow the special interest of the few to keep people in Missouri from getting health care."
She also criticized some Republican lawmakers who have pledged to stop Medicaid expansion because it would add to the federal deficit. She said, "This is our money; our tax dollars. And we want it for this – for Medicaid expansion."
Currently Republicans hold a veto proof majority in the Missouri House and Senate.
Supporters of Medicaid expansion hope moderate Republicans will see the increased funding and tax revenue – through Medicaid expansion and job creation – as a benefit to the Missouri economy.
Inversely, according to the Coalition, "If we don't expand Medicaid, Missouri hospitals could lose nearly $400 million in funding this year alone," forcing 40 to 50 percent of rural hospitals to close.
"It will cost Missouri taxpayers more NOT to take the Medicaid expansion," the Coalition said in a press statement.
According to Pastor Scott Stearman, from Kirkwood Baptist Church, "This is the moral question of the day."
Rabbi Talve agreed and added, "The people of Missouri care about each other. We want to lift each other out of poverty. This is not about them. This is about us. And we need this to happen."
Similar Missouri Medicaid Coalition kick-off press conferences took place in Kansas City, Springfield and Columbia, Missouri.
Photo: Julie Terbrock, Missouri Progressive Vote Coalition