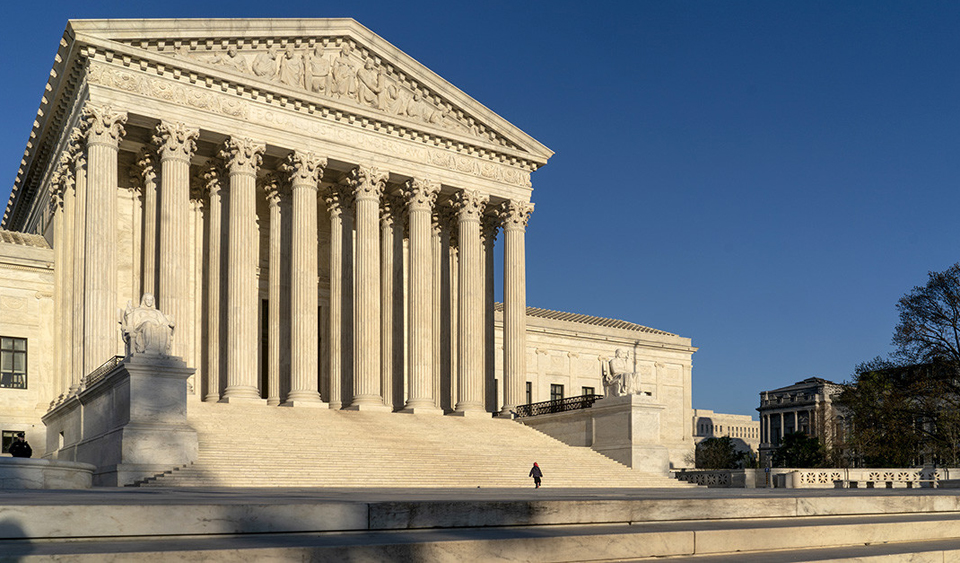 WASHINGTON—With right-wing President Trump rushing towards nominating another right-wing U.S. Supreme Court justice, a mass movement is gearing up to stop him in his tracks – at least before November's election.
The movement, including unions and other progressive groups, plans to hit the streets. But who will it aim at? Key female GOP Sens. Lisa Murkowski (Alaska) and Susan Collins (Maine) who could be "swing votes" against any Trump nominee due to their commitment to reproductive choice? Red-state Democrats whom Trump is trying to peel away in an election year?
Or Democratic leaders who are talking not about using every device they can get their hands on to delay or deny any Trump nominee, but about dissecting the nominee's record once Trump unveils his choice?
"This will come down to whether or not every single Democrat in the Senate sticks together, and if we can pick up one or two Republicans as well. That is a path to victory, that is possible, but we have to focus our energy on what works, and that's what Indivisible groups will do," said Ezra Levin, the group's co-executive director.
Trump got the chance to put his stamp on the court when its current "swing vote," Justice Anthony Kennedy, retired effective July 31 – but not before joining the other four GOP-named white male justices in ruling against workers and unions in the infamous Janus case. And it wasn't his sole key anti-worker vote this term, either. He also voted to force workers into arbitration against bosses.
But in Janus, with Kennedy's help, corporate interests won by getting the court majority to declare every one of the nation's 6.24 million state and local government workers – union and non-union – a "free rider," able to use union services without paying one red cent for them.
Mass defections of workers, along with their "fair share" fees, would cripple unions' and workers' ability to defend themselves against the right-wing corporate class agenda, by depriving the representatives of workers, the unions, of millions of dollars.
The groups leading the crusade to slow, if not stop, another right-wing Trump justice, are emphasizing the threat to reproductive choice. Trump has already laid down his criteria for a new justice – one who would overturn Roe v Wade.
He also is working from a list of 25 names provided by the right-wing Federalist Society, including one – a former Kennedy law clerk who now is an appellate judge – who says a president can't be indicted for anything while in office, only impeached.
That, of course, raises the conflict inherent in a president who is the subject of a criminal investigation getting to select a judge who may have to rule on his case. Unions who are in the crusade against a new justice say more than reproductive choice is at risk from a new Trump nominee.
In an informal conversation while waiting for an elevator in the U.S. Capitol, AFSCME President Lee Saunders called the entire list of Trump's Supreme Court hopefuls awful for workers and their rights.
"In the coming weeks we will need the help of AFSCME members to make sure the court is not further stacked against working families," his union's legislative department added.
"We've seen the harm this Congress and this president are wreaking on working families with enormous tax cuts that overwhelmingly benefit billionaires, unrelenting attacks to take away health care, efforts to strip worker protections, and more. AFSCME will be working to ensure any replacement to Justice Kennedy is not rushed through Congress and is given full and careful review of their background, experience, qualifications and past record."
National Nurses United said a right-wing clone on the court would harm patients by making RNs "free riders."
"For registered nurses, the collective power of a strong union, such as National Nurses United, gives RNs the ability to challenge healthcare employers when they seek to slash patient services, close hospitals, or carry out unsafe practices, such as inadequate staffing, to pad profit margins and revenues," says Bonnie Castillo, RN, the union's executive director.
"But there's a darker underbelly to this threat, symbolized not just by Janus, but also by a steady stream of court decisions and actions in Congress and many states, all increasingly under the sway of anti-democratic and anti-union forces, like the Koch brothers, and other corporate and rightwing groups, that handpick legislators and judges to do their bidding.
"It's a dagger pointed at the heart of our nation, and our democracy," she said. Not only does Senate Majority Leader Mitch McConnell, R-Kent., want to push a new justice through before November, but "the Koch network would chip in at least $1 million to confirm any judge 'in the mold of Justice Gorsuch,'" Trump's prior justice.
"Their end game is to overturn the fundamental premise of majority rule, and lock in place permanent constitutional changes to bar any limits on their oligarchical rule," Castillo said.
"Appointing judges to carry out decisions like Janus is part of the agenda…But we're not giving up. Collective action is the only way forward to protect our nation, our democracy, and all our people, the way every substantive reform has ever been one in the U.S. The game is not over, but the clock is ticking." The other groups emphasized reproductive choice.
"Because President Trump will nominate the next Supreme Court justice, a woman's constitutional right to access legal abortion is in dire, immediate danger — along with the fundamental rights of all Americans," said Ilyse Hogue, president of NARAL Pro-Choice America, the political arm of the National Abortion Rights Action League. It launched a 50-state Reality of Roe online campaign to mobilize its 1.5 million members for the cause.
"We also know that for decades, a multi-million-dollar, extreme, anti-choice movement has quietly and aggressively chipped away at that right in state legislatures, in lower courts, and now from within the Trump administration. Their stated goal, clearly and loudly, is overturning Roe v Wade," the court's historic pro-reproductive choice decision.
"Our country faces a moment of deep crisis — a crisis of rights, of values, and of leadership," added Fatima Goss Graves of the National Women's Law Center. "The deeply divided decisions from the Supreme Court are a clear warning our most cherished values are in jeopardy, and now hang in the balance. Women will not go back to the days when abortion was illegal in this country."
Most Democratic senators, including those mentioned as presidential nomination possibilities – Cory Booker (N.J.), Elizabeth Warren (Mass.) and Kamala Harris (Calif.) among them – are dead set for blocking any and every Trump nominee through the end of the year. Those three spoke at anti-nominee events on the day after Kennedy's announcement.
But red-state Dems, including Heidi Heitkamp (N.D.), Joe Manchin (W. Va.) and Joe Donnelly (Ind.), whom Trump summoned to the White House for lobbying last week, are non-committal.
"My sense is that there's not much actual power in the minority to stop this," Sen. Chris Murphy, D-Conn., who also opposes a pre-November vote, told Politico. "But if (Trump) he puts up a radical, anti-choice, anti-collective bargaining, anti-worker nominee, we're going to have to use whatever mechanism we have to up the volume level."