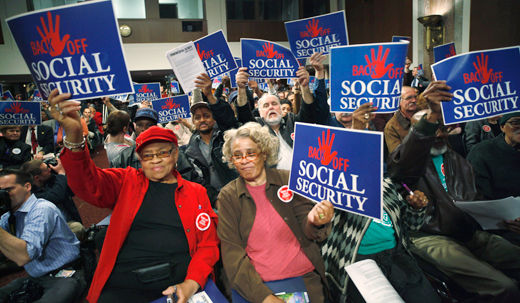 WASHINGTON – Lawmakers and groups representing 50 million Americans held a press conference here today demanding that Social Security cuts be taken off the deficit reduction table.
The conference, on the heels of reports that the Obama administration and lawmakers are considering slashing the annual cost-of-living adjustments that are part of Social Security in exchange for a deficit reduction deal with the GOP, was called by Sens. Bernie Sanders, I,Vt., Sheldon Whitehouse, D,R.I., and a coalition of 300 community and labor organizations.
"The White House will be surprised how senators react if what comes to the Senate is a plan for deficit reduction that includes cuts to Social Security benefits or cuts that hurt the working people, the middle class and the poor," said Sanders.
"I've heard this even from senators who you might not expect to hear it from. The president would be well served to talk to senators in the Democratic caucus about this. There hasn't been good communication on this up until now."
Groups opposed to using cuts in Social Security as a bargaining chip in deficit reduction talks note that Social Security is operating on a surplus of trillions of dollars, it does not contribute to the deficit and that a COLA cut would result in significant cuts to both current and future beneficiaries. particularly to women, the poor and the very old.
"Social Security has a 2.6 trillion dollar surplus and can pay out every nickel it owes for the next 25 years," said Sanders. "Cuts should be off the table. You don't negotiate this with Republicans whose real aim is to kill Social Security altogether!"
Sanders said he could not shed any light on what the latest thinking of the Democratic Senate leadership was on the matter.
"We haven't gotten official word," he said, noting, however, that Nancy Pelosi, leader of the House Democrats, has already come out clearly against such cuts.
"The administration is making a mistake if they think that all the Democrats in the Senate would sign on to anything like this," Sen. Whitehouse said at the same press conference. He called upon people across the nation to petition the White House and Congress against making any cuts to Social Security.
"We cannot go along with just anything the president has capitulated to," he declared.
"People are watching this in disbelief," sad Max Richtman, acting CEO of the National Committee to Preserve Social Security and Medicare. He said his group is about to deliver 700,000 petitions opposing the idea to Capitol Hill.
Terry O'Neill, president of the National Organization of Women, said the idea of cutting COLA's was "both bad policy and bad politics."
She noted that current Social Security rates keep one third of all women ages 65-74 out of poverty and that 60 percent of all the income available to women over 65 comes from Social Security.
"As far as the politics go," she noted, "all you have to do is look at Kathy Hochul, who won that district in upstate New York." O'Neill was referring to a Democrat winning a district that has been Republican for a century. Voters rejected the Republican who ran against Hochul because of that party's position in favor of Medicare cuts.
"Americans are proud of their Social Security and their Medicare," O'Neill said, "and they don't want anyone messing around with the benefits they have earned."
Charles Loveless, legislative director for the American Federation of State County and Municipal Employees, said "Any kinds of cuts to Social Security are even more unacceptable now than they ever were before, considering the fact that unemployment is so high and that people don't have the pensions that they used to depend on during retirement."
Photo: At a "Back Off Social Security" rally on Capitol Hill in Washington, March 28. J. Scott Applewhite/AP