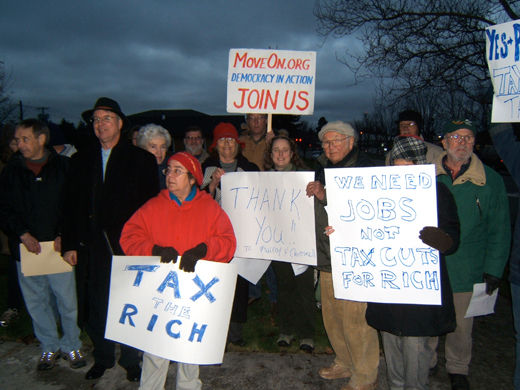 PORT ANGELES, Wash. – "No Tax Bailouts for Billionaires" was the message of thousands of MoveOn.org members who joined street corner "speakouts" outside congressional district offices across the nation Dec. 2.
It included a crowd that gathered in the chill twilight at the office here of Rep. Norm Dicks, D-Wash., holding placards that read, "We need jobs, not tax gifts for the rich" and "I Need My Unemployment Check."
Earlier that day, the House approved HR-4853, a bill that extends Bush-era tax cuts for middle-income taxpayers but terminates them for individuals earning $200,000 ($250,000 for couples) annually. The vote was 234-188 with 20 Democrats defecting and voting with the Republicans. Only three Republicans voted for the middle-income tax relief bill. It now goes to the Senate where Majority Leader Harry Reid, D-Nv., has promised a vote Saturday Dec. 4.
Clallam County MoveOn.org Coordinator Bill Kildall warned against intense pressure on Democratic senators to cave in and extend tax cuts to the rich. He said MoveOn.org expects Washington State's Democratic Senators Maria Cantwell and Patty Murray to reject compromise. "We expect them to represent our interests, the 98 percent of the people who put them in office, not the wealthy two percent." He said the rich do not deserve or need a "$700 billion tax giveaway."
Rich Wingerter, a leader of the MoveOn.org Clallam County Council, debunked Republican claims that tax cuts for the rich will create jobs. "As we know from the experience of the last several years, tax cuts have not helped spur jobs," he said. "Any extension based on that notion is pure fantasy."
The income tax rate for millionaires and billionaires "should be at least 45 percent," he concluded, noting that if the Bush-era tax cuts are terminated the top rate would return to the Clinton-era rate of only 39.5 percent.
Marion Burns, a caregiver in Sequim, and a member of the Service Employees International Union, held a placard "Tax the Rich." She blasted the Republican right for holding hostage an extension of jobless benefits for two million workers to their demand for billions in tax cuts for the rich.
"My nephew and my brother are on unemployment compensation and their benefits run out for both of them this month," she said, a grim loss of income during the holiday season.
Retiree, Rudy Meyer, of Port Angeles denounced deficit hawks' hypocrisy in demanding cuts in vital programs in the name of balancing the budget while lavishing tax cuts on the rich that will add trillions to the deficit. "What do they want to cut? Medicare, Medicaid, education." He said the revenues generated by higher taxes on the rich "is money we should save for our Social Security."
MoveOn.org activists in New York City picketed the Manhattan offices of Sen. Charles Schumer, a Democrat, who is pushing a plan to raise to $1 million the threshold for those receiving a tax cut.
In Lawrenceville, Georgia, MoveOn.org leader, Glenda Poindexter, told a crowd gathered outside the Gwinnett County Courthouse, "Its just plain immoral to give a tax bailout to billionaires at the same time that Congress is cutting off unemployment assistance for millions of unemployed Americans."
She added, "Congress should focus on creating jobs and fixing the economy instead of this outrageous giveaway to wealthy Americans."
But Georgia Senators Johnny Isakson and Saxby Chambliss, both rabid right-wing Republicans, signed a letter circulated by Senate Minority Leader Mitch McConnell, R-Ky., vowing to block every piece of legislation, including extension of jobless benefits until the tax cuts for the rich are extended.
In California, MoveOn.org members held speakouts at the offices of House Speaker Nancy Pelosi in San Francisco, Rep. Barbara Lee in Oakland, and Pete Stark in Fremont. All are Democrats who voted for HR-4853.
David Siegal, an environmental consultant and a MoveOn.org activist who organized the speakout at Rep. Stark's office, criticized Rep. Jerry McNerney, a narrowly reelected California Democrat for voting with the Republicans against the relief bill. "I'm pretty pissed off," he told the Oakland Tribune. "I'm bummed out because I helped get him reelected. I don't see any good reasons for extending the tax cuts for the rich. I think the original Bush era tax cuts were a failure and the last 10 years have borne that out."
Photo: PW/Tim Wheeler