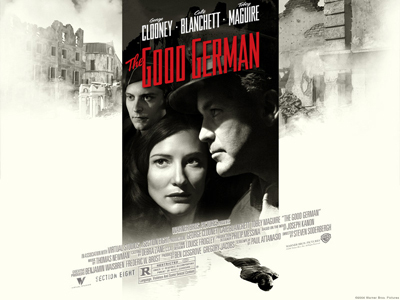 Movie Review
Dallas newspaper readers are asking, "What kind of people are they?" as they find out about Dyn-Gen, a government contractor headquartered in nearby Irving, Texas, which hires mercenaries to blow up or be blown up in the present Iraq war. As our tax money is paying for all this blowing up, we're compelled to ask, "What kind of people are we?"
The new film "The Good German," directed by Steven Soderbergh and starring George Clooney, Cate Blanchett and Tobey Maguire, uses World War II film archives. The film asks the old question that we all grew up with, "What kind of people were the Germans?" It also raises piercing and demanding doubts about ourselves.
Not everybody will like the movie. It makes a virtue out of every WWII film cliché about bombed buildings and war-weary cynics. The presentation is black and white, with lots of shadowy cinematography highlighting different parts of war-weary cynical faces. Almost all the backgrounds are from Soviet archives. Almost every setup is one you've seen before. The actors trim away all nuances and deliberately imprison themselves in stereotypes.
My movie buddy and I loved "The Good German" for its direct and bullet-hard inquisition into the motivations and tolerances of the German and American governments and people in WWII and now.
flittle7 @ yahoo.com
The Good German
Directed by Steven Soderbergh
Warner Brothers, 105 min.