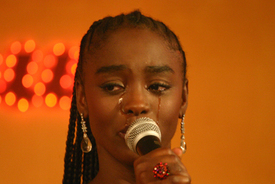 Movie REVIEW
Bamako
Written and directed by Abderrahmane Sissako
115 minutes
By Bill Meyer
From the cinema of the Third World comes "Bamako," a fascinating and thought-provoking exposé of the World Bank and the effects of its policies on Africa.
Local officials and townspeople gather in a dusty courtyard in Bamako, the capital city of Mali, to debate and hear testimony from villagers. In a mock trial, they testify about the tragic effects that World Bank-dictated "structural adjustment plans" have had on their country.
One official reveals a confidential letter she received stating "that if we refuse to privatize the transport system, the World Bank will withdraw funding for education and health care in Mali."
As witnesses describe how the bank's policies have produced nothing but destruction and poverty, the camera cuts to one of the bank's officials, who claims the people waste grant money.
In a clever diversion during the film, actor Danny Glover shows up as an American cowboy in a made-for-TV movie. The movie, aptly titled "Death in Timbuktu," depicts Glover as an outlaw who rides in on a horse and shoots up the town. It serves as a metaphor for the way in which the West comes in, steals the wealth and reduces a country to poverty.
The tragic reality is that, unless action is taken now, 50 million African children are expected to die needlessly in the next five years. Average life expectancy on the continent has dropped to 46 years of age.
Villagers in the courtyard describe the World Bank debt as a stone hanging around Africa's neck, "the slave's sign of allegiance to his master."
The film includes a statement that the ultimate goal of the World Bank should be "community service for all of humanity for all eternity." As the anger swells among the speakers and townspeople, however, it becomes clear that they believe the real aim of the bank is "profits for eternity."
Thus from Mali comes one of the most progressive films at this year's Toronto Film Festival.