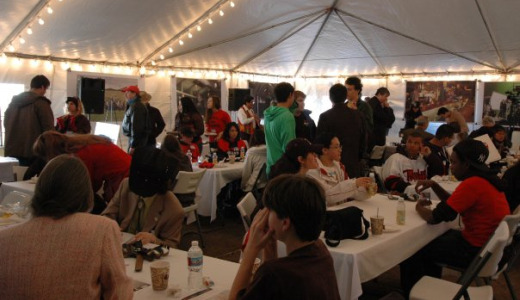 SANTA FE, N.M. – A film and media day here this month spotlighted the massive job-creating potential of movies and the arts. The film industry is this state's "biggest job creation program since the Manhattan Project," union leader Jon Hendry said at the event.
Instead of making weapons of mass destruction, like the Manhattan Project scientists and technicians and support staff did in New Mexico in the 1940s, the state's film industry has created more than 12,000 new film and film-related jobs, said Hendry, who is business agent for IATSE (International Alliance of Theatrical and Stage Employees) Local 480, the union representing New Mexico film and television technicians.
More than 1,000 students, film workers and members of the public came out to New Mexico Film and Media Day here Feb. 5. The event was co-sponsored by Local 480 and the New Mexico Film Office
Inside a massive tent decorated with photographs of working New Mexicans were informational booths set up by schools, unions, professional organizations and businesses. Outside were trailers for hair and make-up, wardrobe, and craft services, as well as special demonstrations of a boom and wind machine.
Hundreds of film technicians encouraged students to participate in on-site filming of a short movie and public service announcements for New Mexico non-profit organizations. "It was great to see kids from all over the state working with union members on honing their skills," said Hendry.
According to Lisa Strout, head of the New Mexico Film Office, nearly 14,000 students in the state are studying film and media.
The New Mexico film community hosted a breakfast for mayors and tribal leaders, thanking them for their support of the growth of the state's film industry.
Said Hendry, "The tribal leaders and mayors and other local government officials have been incredibly supportive of the effort to bring more film projects to New Mexico. There are over 12,000 new film and related film jobs that have been created by this industry, which just happens to be the biggest job creation program since the Manhattan Project."
The previous night, the tent was home to a reception for state legislators and invited guests. Two noteworthy producers attended: Tony Mark, of "The Hurt Locker" (nine Oscar nominations) and Dan Dubiecki, of "Up In The Air" (six Oscar nominations). Both are members of the Directors Guild of America.
The Film and Media Day coincided with the state's legislative session, in which state Senate Bills 235 and 248 have proposed limiting funding available to the film industry. In the Feb. 7 issue of "The New Mexican," writer Robert Nott noted that "on Friday state film office representatives distributed a letter from actor/director/producer Robert Redford extolling the virtues of New Mexico's film incentives and suggesting that if the incentives are capped, 'this would devastate the state's economy. Thousands would become unemployed.'"
Photo: filmnewmexico