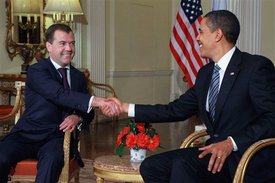 In a turn away from years of stalemate and heightened tensions between the U.S. and Russia over nuclear weapons, President Barack Obama and Russian President Dmitry Medvedev agreed Monday to reduce U.S. and Russian stockpiles of nuclear warheads to as few as 1,500 each, lower than any existing arms control agreement.
The agreement announced by Obama and Medvedev in Moscow is intended to serve as a guide for negotiations for a new arms control pact to replace the 1991 Strategic Arms Reduction Treaty (START), which expires in December. Monday's agreement also commits the new treaty to cut the number of long-range missiles that deliver nuclear bombs to between 500 and 1,100.
Under current treaties, each country is allowed a maximum of 2,200 nuclear warheads and 1,600 missiles that launch them.
Gary Hart, the former senator who chairs the Council for a Livable World, called the agreement "very welcome" and hailed the fact that the two leaders "looked beyond this year and committed to the long-term goal of a nuclear weapons free world.'
A White House statement said the new treaty 'will include effective verification measures,' and will "enhance the security of both the U.S. and Russia."
Obama and Medvedev also agreed to cooperate on defusing "the danger of global proliferation of ballistic missiles." Such cooperation would likely include the U.S. backing off on plans to install a "missile shield" in Eastern Europe, a project that Russia views as highly provocative and one that, if it were to proceed, would likely trigger a new round of missile escalation.
They also said the U.S. and Russia would work together to "increase the level of security of nuclear facilities around the world, including through minimization of the use of highly-enriched uranium in civilian applications and through consolidation and conversion of nuclear materials."
Nuclear disarmament has been a long-standing focus for Obama.
During his 2003 Senate campaign, Obama said that "any attempt by the U.S. government to develop or produce new nuclear weapons only undermines U.S. nonproliferation efforts around the world."
Last July, as the soon-to-be Democratic presidential nominee, Obama declared in Berlin — a city replete with symbolism of war and Cold War — "This is the moment" to seek "the peace of a world without nuclear weapons."
In a speech in Prague in April this year, just over two months into his presidency, Obama declared, 'Today, I state clearly and with conviction America's commitment to seek the peace and security of a world without nuclear weapons.'
The Friends Committee on National Legislation, the Quaker peace and justice lobbying group, noted at the time that Obama "has became the first U.S. president in history to declare the U.S. commitment to seek peace and security in 'a world without nuclear weapons.'"
In an interview with The New York Times before his Moscow trip, Obama expressed his belief that the U.S. leading the way on nuclear disarmament would advance de-nuclearization around the world. It would be "naïve" to think that the U.S. can pressure countries like Iran and North Korea not to pursue nuclear weapons while we ourselves "grow our nuclear stockpiles," Obama said.
suewebb @ pww.org