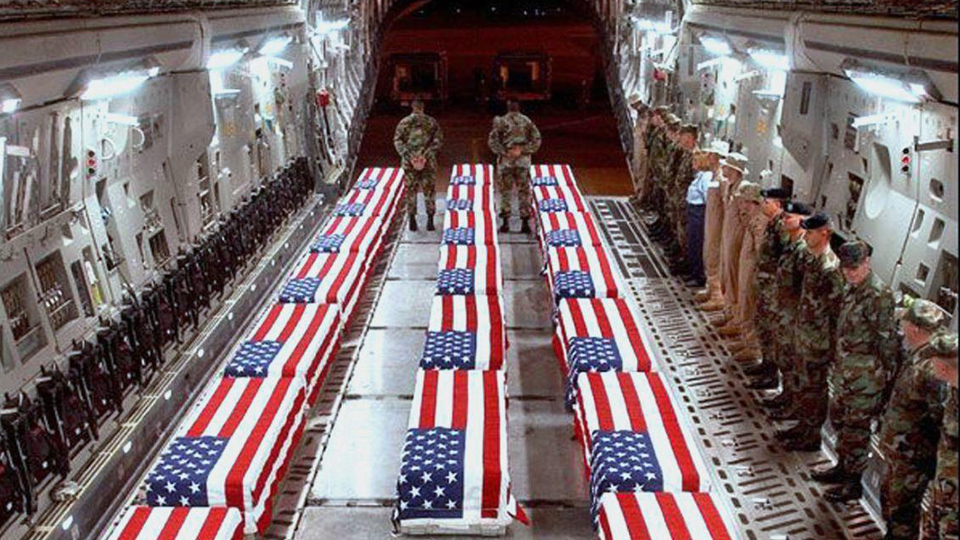 An open letter to President Bush written by Dante Zappala, the brother of Sgt. Sherwood Baker who was killed in Iraq, April 26, 2004. This is followed by a news article and a letter, published in The New York Times, by Celeste Zappala, Sgt Baker's mother.

Published May 28, 2004.
My brother, Sherwood Baker, died in Iraq last week. I tried to call you and I tried to write to you, but you never responded. I'm writing to you again because I believe, had you known him, you would have liked him … And maybe if you knew him, if you knew the other soldiers, you'd have thought differently about sending them.
Sherwood was a foster kid, and he came to our family before I was born. He had limited contact with his biological family. Our parents never let him go. They received him, raised him, and he was their child. He was their son and my brother.
In so many ways, Sherwood represented the country he loved. He was dealt a tough hand and turned it into opportunity. Always struggling between optimism and reality, he seemed to be on a life-long quest to codify a family.
When he became a father at 21, he embraced the role with enviable enthusiasm.
He joined the Army National Guard in Wilkes-Barre. He wanted to help his community, wanted to support his wife and his son, and wanted to pay off his college loans. He discovered brotherhood in the Army as well.
Now he was part of one more family. He found it whenever he sat and talked.
I can certainly find things about him that you would appreciate. I know you're familiar with fabrications. You remember the things you said about the weapons and the terrorist ties?
Well, he wasn't as good as you, but listen to him: He told us he would be OK, he'd return safe, we'd see him soon.
And check this out – he was a "C" student, too. When he was called up, I told him that if he wanted to get out of guard duty, he, too, could apply to Harvard Business School.
Sherwood just laughed. You made him laugh. Yet, he still went to fight in your war. He never wavered, never cried, never expressed a desire to somehow get out of this mess. He went. Because he knew responsibility.
He knew it as well as he knew how irresponsible you had been for sending him. He had honor, and he had pride. Sherwood had commitment – to his country, to his job and to his unit. Maybe not so much to his commander-in-chief, quite honestly, but that's probably because he didn't know you. Because you didn't sit down with him.
You just sent him a letter and a plane ticket to Baghdad.
I heard that you have yet to attended the funeral of a fallen soldier. I, too, had never been to a soldier's funeral before Tuesday. I fully understand why you're ducking it. It's tough.
I heard Sherwood lived two hours after he was struck in an explosion. Long enough, I hope, to make his peace with everybody he called family. But I can't say for sure if he made peace with you. He didn't know you.
Sherwood is in a grave now and there's a folded flag in his wife's arms. He's at rest, but he'd be happy to listen to what you have to say. Even now, you can still help him to make peace. You said we need to finish the work of the fallen. You may be surprised to know that the real work he started was not in Iraq. Sherwood's work is here.
Mr. President, I want you to look into the eyes of his 9-year-old son and see his unfinished work. Feel free to get back to me. We ought to talk. You won't have a problem finding me. I stick out in a crowd these days. I'm the proud little brother of Sgt. Sherwood Baker.
With hope,
Dante Zappala
* * * * * *
The life and death of Sgt. Sherwood Baker
Baker was one of two soldiers killed in an explosion in Baghdad April 26. He became the first member of the Pennsylvania Army National Guard to die in combat since 1945. He was 30 years old and left behind a wife and a 9-year-old son.
"My son went over there based on a bunch of lies," sobbed his father, Al Zappala.
Any death is disheartening, whether of Americans, Iraqis or those from the few other nations who were conned into the Bush administration's illegal war. But when a family that has devoted itself to peace loses a son in Iraq, the pain is magnified 1,000 times.
Baker was a foster child, who came to live with Celeste and Al Zappala at 13 months of age. The subsequent birth of brothers Dante and Raphael completed the family unit.
The Zappalas' loving home shepherded Sherwood through his youth into adulthood and college, where he met his wife, Debra.
Through the years Celeste and Al took their three children to peace demonstrations in Philadelphia, New York and Washington. Like his parents, Baker had a strong since of community and justice. Several years ago his town, Wilkes-Barre, was in danger of being flooded. He joined the mobilization helping National Guard troops sandbag the river banks to prevent flooding.
This community service intrigued Sherwood and he looked into what National Guard service would entail. For enlistees like him, one of the attractions was being able to pay off college loans. To date, the government has not lived up to that promise for Baker.
At the time of his death, Baker was working in a child care center. His love for children extended beyond his job. He wrote an appeal to his son's school district, asking it to declare Dr. Martin Luther King's birthday a school holiday.
* * * * * *
A mother speaks
The following letter from Celeste Zappala was published by The New York Times May 23, 2004.
To the Editor:
In "The Hawks Loudly Express Their Second Thoughts" (Week in Review, May 16), you note that the shapers of thoughts and architects of the war now have troubling doubts about their enthusiastic support of the invasion of Iraq.
How sad for them.
I am the mother of Sgt. Sherwood Baker of the Pennsylvania National Guard, soldier 720. That number is seared on my soul now, along with the screams and despair of my family and the wind carrying the sound of taps above the weeping crowd at the grave site of my son.
To me and mine, the consequences of the failed judgment and outright lies of the Bush administration and its apologists and spokesmen are not just becoming "depressed" or "angst-ridden." We have lost our brave and beloved son, who was ordered to the war these folks dreamed of and hoped for.
The explosion that killed my son in Baghdad will go on in our lives forever. Sherwood gave the full measure of his responsibility as an American citizen doing his duty for an administration that betrayed him.
Celeste Zappala