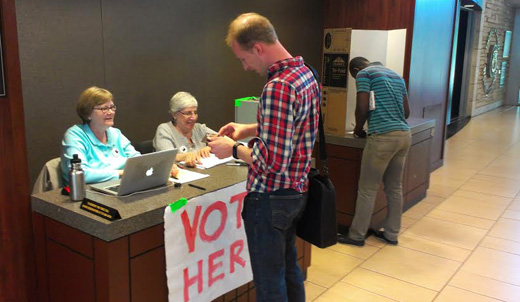 Graduate student workers at the University of Missouri-Columbia (MU) have voted 84 percent in favor of having the Coalition of Graduate Workers (CGW), an affiliate of the Missouri National Education Association, represent them as their sole union. This victory represents the latest step in their power struggle with their employers in the MU administration over wages, benefits and other rights.
The conflict was first ignited in response to the university' less than 24-hour notice to graduate workers of plans to cut their health care coverage last Fall. In the face of a backlash from graduate students and supporters, including a walkout and rally, the MU administration quickly backpedaled on their plans to stop covering grad workers' health insurance, at least temporarily.
This initial clash highlighted both the precariousness of graduate workers' rights as employees and the power of their collective action-and spurred their effort to unionize.
Before this vote the CGW had already won some important victories. As Josephine Smiley, a teaching assistant in the MU School of Journalism, recalled, "Our union has already advocated on our behalf with regards to our healthcare situation and our wages, which are promised to go up this July-at least that's the last promise I heard."
For Smiley, these victories mean "a lot for me because I need to pay rent, I need to buy food." Still, recognizing the superiority of contracts to promises, Smiley voted in favor of being represented by the CGW, which, according to its website (cgwmissouri.org), originally formed "with the goal of securing a collectively-bargained contract that would prevent future crises."
"Crises" in this case refers to the aforementioned short-lived health insurance cuts.
The overwhelming pro-union vote notwithstanding, there has been a special reluctance by graduate workers in the MU School of Journalism to weigh in on or participate in unionization efforts. This stems in part from an interpretation of journalistic ethics popular at MU that holds that workers in that field must maintain neutrality, even on questions of their own rights on the job.
Regarding this chilling effect, School of Journalism graduate worker and voter Amanda Mainguy said, "I don't think that the bias, or the argument for impartiality… I think it's valid, but I don't think it's applicable."
As to why that argument does not apply with regards to the union vote, Mainguy clarified that, "I don't think it really matters because I think every person has a right to earn a living wage for their families." While noting that the journalistic ethics of this situation are complicated, she insisted that, "I don't think that–regardless of what you're affiliated with or who you're affiliated with within the journalism school–that you should be treated that way and not be recognized for your contribution to the university."
Adding to the anti-union climate, in the run-up to the union vote, MU Interim Chancellor Hank Foley made his opposition to unionization clear. In an email sent out by Foley April 8th, he noted, "In recent conversations, we indicated there was some question regarding the legality of unionization among graduate students," therefore, "any vote to unionize at this time cannot be considered binding or recognized by the university."
The email then goes on to promise that if MU graduate workers-whom Foley scrupulously avoids referring to as "workers"-vote in favor of unionization, "University leadership will begin an educational campaign to ensure that all graduate students impacted by this decision will be knowledgeable about what this means at the University of Missouri." Later, in an interview with the Columbia Tribune published April 16th, Foley labeled the union vote as a "mock election" and the graduate workers as "these kids."
When asked about Interim Chancellor Foley's recent remarks, Josephine Smiley said, "I'm pissed about that. We're not children. … I feel like it's a way to put us down and sort of downplay the importance of what we're doing." She added that "other grad workers across the nation are organizing right now, so this isn't just a Mizzou issue."
While the vote result is a substantial victory for CGW, this is just the latest step in their campaign for justice for MU graduate workers. Given the resistance they've been facing from the upper administration, they still have an uphill battle ahead of them. However, as they have shown since the threatened healthcare cuts August 2015, MU graduate workers, particularly those active in CGW, are more than ready to add union organizing to their workloads.
Photo: Graduate student votes in the union election. | Jack Bertolt/PW