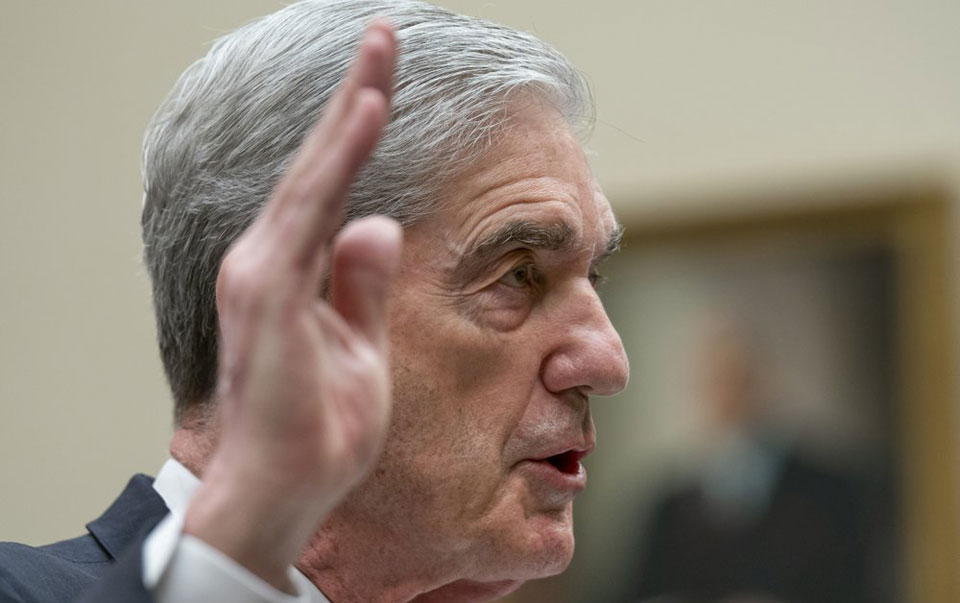 WASHINGTON—Only a 20-year-old Justice Department ban on indicting a sitting president for any crimes while in office stopped Special Counsel Robert Mueller from indicting GOP President Donald Trump for obstruction of justice, Mueller told Congress on July 24.
Testifying in a nationally televised four-hour hearing before the House Judiciary Committee, which is pondering whether to impeach Trump on one or more charges of obstruction, Mueller added that after Trump leaves office, he can be indicted for that offense.
And he reiterated, repeatedly, that the 448-page report his office produced after its two-year probe did not and does not exonerate Trump.
The Judiciary Committee's hearing, the first of two that featured Mueller that day, is important.
Few people, on or off Capitol Hill, have read the entire report. The hearings, televised by all on-the-air and cable networks, gavel to gavel, thus become the main source of information about the contents of the special counsel's report on how Trump repeatedly tried to stifle and stop the investigation into Russian interference and manipulation of the 2016 election.
The second hearing, by the House Select Committee on Intelligence, delved into the actual Russian role in the election, and the Trump campaign's exploitation of the Russians' leaks, document dumps, and false information spread over the internet. That, too, is a big part of Mueller's report.
Mueller's report shows ten instances of obstruction, and would be the basis for any Judiciary Committee decision to impeach Trump for that "high crime and misdemeanor," to quote the U.S. Constitution's language.
Though the committee's GOP minority spent their time defending Trump, it was a question from Rep. Ken Buck, R-Colo., that produced the key answer from Mueller.
"Under the memo from the" Justice Department's "Office of Legal Counsel, you cannot indict a sitting president, because one of the tools is not there," Mueller told Buck. The tool is the possibility of a trial.
"Could you charge him after he left office?" Buck asked. "Yes." "For obstruction of justice?" "Yes."
And Mueller reiterated, at the beginning and throughout the session, that his report did not exonerate Trump, as the Oval Office occupant repeatedly claims. "What about total exoneration?" committee chairman Jerry Nadler, D-N.Y., asked at the start. "Did you actually totally exonerate the president?"
"No," Mueller said.
Through repeated referrals to his report on both the Russians and the investigation itself, Mueller confirmed the obstructive efforts Trump undertook to stop the probe. They included ordering his former White House Counsel, Don McGahn, to fire Mueller, and, when McGahn refused and planned to resign, ordering McGahn to produce a letter "for the record" denying Trump ever issued the firing order. McGahn refused to do that, too.
Other Trump obstructions included repeatedly trying to get his former Attorney General, Jeff Sessions, to retake control of the investigation about the Russians and shut it down, and to convince other witnesses to lie to Mueller's probers.
Most of Trump's obstruction attempts failed, because his underlings refused to obey his demands. One GOPer made the point that despite everything, Mueller's probe went ahead, indictments were issued, and some top Trump aides have pleaded guilty or have been convicted.
That doesn't matter, two lawmakers pointed out, and Mueller agreed.
"An unsuccessful attempt to obstruct justice is still a crime?" Rep. David Cicilline, D-R.I., himself a former state attorney general, asked. "That is correct," Mueller replied.
"Simply attempting to obstruct justice," even if it fails, "can be a crime, correct?" asked Rep. Debbie Mucarsel-Powell, D-Fla. "Yes," Mueller replied. "Which ones were successful?" she persisted. "I'm going to pass on that," Mueller said.
Indeed, the hearing was rife with panel Democrats reading sections of Mueller's report, then asking him to confirm them—and getting brief, laconic, and positive answers. Two of the more excitable Republicans, Louie Gohmert of Texas and Matt Gaetz of Florida, flew off the handle, going after Mueller, his staff, and the investigation in general. Like the rest of the GOP, they didn't even mention the Russians.
And Mueller did not mention a Trump Justice Department letter he received on July 22, demanding he limit his testimony. Responding to a letter from Mueller, seeking guidance on how to handle such issues as privileged information or pending court proceedings, DOJ said Mueller should not discuss redacted sections of the report, the "conduct of uncharged third parties," or pending court cases against Trump aides and staffers who broke various laws. Mueller respectfully and repeatedly declined to discuss the redactions and the pending cases.
Mueller also noted that while the Justice Department memo says a sitting president can't be indicted, the report says there are "other constitutional processes" that can be used against such a president while still in office. "I heard you mention at least one," he told Rep. Veronica Escobar, D-Texas, who had just uttered the word "impeachment."
"I'm not going to comment on that," Mueller said.
But he had some sharp words for his old boss, Trump's current Attorney General, William Barr. Just days before Barr released the redacted Mueller report, Barr sent a letter to lawmakers exonerating Trump and adding there was "no collusion" between Trump's campaign and the Russians. Instead of investigating Trump, Barr has signaled it's more important to investigate the origins of the Mueller probe. It has become clear that, under Barr, the DOJ does not intend to act on the conclusions of the report concerning Trump's obstruction.
Trump has been waving Barr's "exoneration" letter like a flag, repeatedly saying "no collusion, no collusion, no conspiracy"—and setting that image in the minds of his legions of followers. Rep. Steve Cohen, D-Tenn., shot it down.
Cohen asked whether Barr "should be the Attorney General of the United States or the president's consigliere?" Mueller, a former FBI director, replied "The Attorney General."
Panel Democrats repeatedly emphasized that despite the 20-year-old memo and Barr's misleading letter, "nobody is above the law." "And that includes President Trump," Escobar, the last speaker, said.
Though the evidence of obstruction has been presented, it remains an open question whether the Judiciary Committee will move to initiate impeachment proceedings against the president.