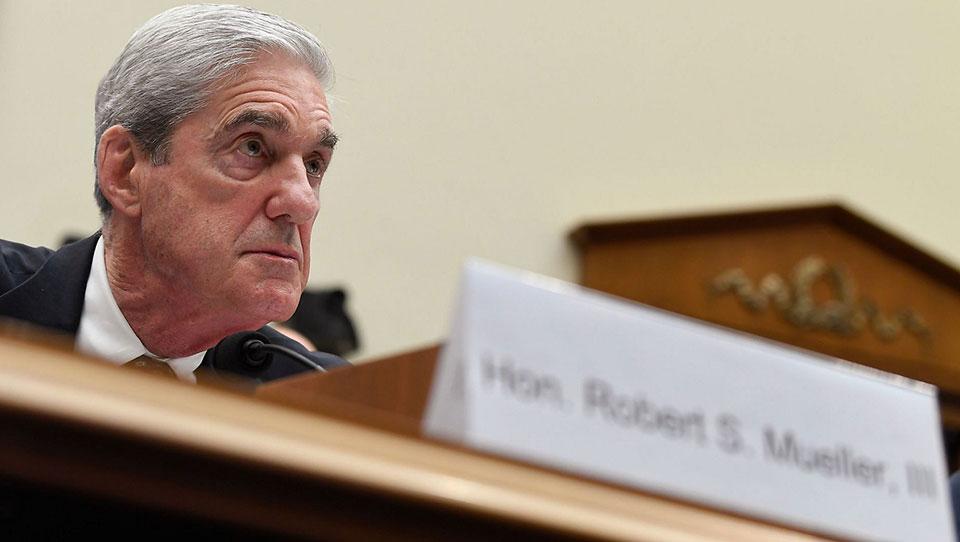 WASHINGTON—The U.S. is at high risk of foreign manipulation of next year's election, just like what happened in 2016, and not just from the Russians, either, the top expert on that year's interference says.
And, adds former Special Counsel Robert Mueller, U.S. candidates for the presidency on down who accept clandestine foreign help to aid and abet their campaigns, electronically or by the web, and who don't tell the FBI about it act unethically and "it's a crime in certain circumstances," too.
And Mueller fears Trump's acceptance of the Russians' aid – even if GOP presidential nominee Donald Trump didn't conspire or collude with Russian President Vladimir Putin's government – could "become the new normal" for nominees without tough measures against it.
Mueller presented those warnings to the House Select Committee on Intelligence on July 24, in the second of two hearings that day on the 448-page report his office produced earlier this year on Russian manipulation of the 2016 voting – through bots, fake news, a massive dump of stolen e-mails and documents and interference – all in favor of Trump.
One big piece of "fake news" roped in union workers in the key swing state of Pennsylvania: A "Miners for Trump" rally ad for events in Philadelphia and Pittsburgh one month before the November election.
There were no such rallies, but the notice was credible because the United Mine Workers stayed neutral in 2016, due to Democratic nominee Hillary Clinton's denigration of coal country. UMWA President Cecil Roberts personally campaigned for Clinton, but coal country was a sea of red on Election Day.
"There were 80,000 posts by the" Russian-government-sponsored "Internet Research Agency, and 126 million people saw them," Mueller told Rep. Jackie Speier, D-Calif. "They spent $1.25 million a month on social media."
And, responding to one unnamed GOPer who called the whole story of Russia's role "a hoax," Mueller said, "absolutely not." He also warned lawmakers that next time around, other foreign nations could interfere electronically, too.
"We have underplayed that aspect of the investigation" in coverage of the mess, Mueller told Speier, who called the Russian role not "an intervention" – his word – but "an invasion." Mueller ducked the question, however, of if the Russians' actions gave the election to the candidate Putin favored, Trump.
Nevertheless, another such foreign intervention "would have long-term damage to the U.S.," he warned.
The Intelligence Committee hearing was the second of two that day on Mueller's report. The first, and longer, session featured the House Judiciary Committee discussing with Mueller Trump's obstruction of justice, both in terms of trying to shut the Russia probe down and then stopping his investigation, too.
Mueller told those lawmakers, citing his own report, that a 1999 Justice Department legal opinion bars indicting a sitting president on criminal charges. But he said nothing bars such an indictment for obstruction of justice afterwards.
The larger share of the Mueller report was devoted to the Russian interference and manipulation of the 2016 vote. That included document and e-mail dumps hurting Clinton and Trump campaign chairman Paul Manafort secretly sharing polls and strategy in four states – Ohio, Wisconsin, Minnesota and Pennsylvania – with the Russians. Trump narrowly lost Minnesota and narrowly won the other three.
Mueller's report details extensive contacts between top Trump aides, particularly Manafort, and Russians, including intelligence operatives. While there was no conspiracy, in the legal sense, to help Trump and trash Clinton, Manafort traded key campaign details to the Russians, presumably for cash, Mueller said.
Other top Trumpites also had contacts with the Russians, Mueller noted, especially around a proposed Trump Tower hotel skyscraper in Moscow. The tower never got built, but Trump repeatedly lied about the contacts and the negotiations, Mueller's report notes.
But a real peril, Mueller told Rep. Peter Welch, D-Vt., is that future candidates for public office could follow Trump's lead.
"Have we established 'a new normal,' where if a candidate learns about a hostile power interfering" with the election, the candidate "would not report it to the FBI?" Welch asked.
"I hope not, but I fear it is," Mueller replied.
Asked how to prevent it, he answered "the first line of defense is the ability of" police and intelligence "agencies to share information, expertise, targets" and defense. "We should hold elected officials to a standard higher than just mere" avoidance of "criminality," committee chairman Adam Schiff, D-Calif., commented at the end. "I agree," Mueller replied.
So far, Congress has done little to strengthen elections, their procedures and the run-up to them against such foreign intervention. Trump has been notably silent on the issue, except to accept Putin's word, at face value, that Russia did not interfere in 2016. U.S. intelligence agencies came to the definitive conclusion Russia did – a conclusion backed by detailed evidence in Mueller's report and elsewhere.
And while Trump lied in public about the hotel and the Russian interference, he also gave written responses to Mueller's probe – which Trump had tried to shut down – that were incomplete and misleading, Mueller told Rep. Sean Patrick Maloney, D-N.Y. Such lying could also leave any candidate "open to being compromised" by the foreign power involved, Mueller told Schiff.
Maloney asked Mueller why the Special Counsel's office didn't subpoena Trump but settled for written answers instead. Mueller explained the two sides negotiated for over a year, and eventually Mueller decided they had to settle, rather than face further delays caused by Trump judicially contesting a subpoena. "We wanted to expedite the end of the investigation," Mueller explained.
So Mueller's office limited their written queries to Trump to the Russian interference and ties with the Trump campaign. "But his answers were not as useful as an interview would be," Mueller said. "Were there any questions he simply didn't answer?" asked Rep. Val Demings, D-Fla. "True," Mueller replied. "I would say generally he wasn't always truthful."