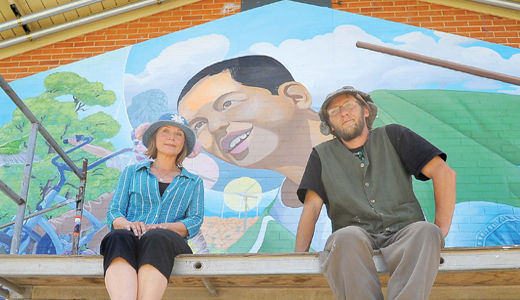 A local politician in Prescott, Ariz., who recently mocked an elementary mural featuring minority students was fired from his radio talk show and now faces a mounting recall campaign due to his remarks that critics say were racist.
A town of 43,000, Prescott is located two hours north of Phoenix. The charges of racism come weeks after controversy and anger continues to swell over Arizona's recent harsh laws targeting immigrants and Latinos.
The mural was funded by a $5,000 state grant through the Prescott Alternative Transportation Center and was selected by students and faculty to reflect the theme "Go Green." It's on two walls outside the Miller Valley Elementary School and depicts four students promoting environmentally friendly transportation. A Latino student is the mural's largest image. It shows young people with happy faces riding bikes and using other "green" sources of transportation.
R.E. Wall, director of Prescott's Downtown Mural project told ParentDish, an online news site, that he intended the mural to depict a Mexican American child to best describe the demographics of the school. Students at Miller Valley are almost 48 percent Latino.
It's not right that most images around town are of "just cowboys," said Wall.
Wall has lived in Prescott for years where he is famous for his murals. He said he and other artists heard a constant barrage of racist remarks against African Americans and Latinos from motorists while working on the project.
To make matters worse Councilman Steve Blair on his radio show ridiculed the mural and spearheaded a public campaign to have it removed.
Blair made the following comments responding to a caller on his show last month:
"I am not a racist individual, but I will tell you depicting a Black guy in the middle of that mural, based upon who's president of the United States today and based upon the history of this community, when I grew up we had four Black families – who I have been very good friends with for years – to depict the biggest picture on that building as a Black person, I would have to ask the question, 'Why?'"
Blair added that diversity is a word "I can't stand."
Soon after Blair's comments, Miller Valley Principal Jeff Lane and Kevin Kapp, superintendent of the school district, ordered Wall to "lighten" the skin color of the students. They said they wanted "brighter shades" on the children's faces and were requesting the changes from an artistic point of view, having nothing to do with race.
Yet hundreds of Prescott residents responded and held a rally in support of the original mural as well as to protest against Blair's offensive comments. The pressure from the community forced Lane and Kapp to address the protestors where they both reversed their decision to change the mural.
"We asked them to lighten the mural. We made a mistake," said Lane to the crowd.
"The school district made a mistake and shame on us if we can't say shame on us and we're sorry," said Kapp.
Lou Silverman, owner of KYCA radio, confirmed this week that Blair was fired from his six-year afternoon show because his comments "could be interpreted as racist." The station is known for airing conservative talk shows hosted by Rush Limbaugh, Laura Ingraham and Michael Savage.
Meanwhile a campaign is being organized to put a recall on the ballot against Blair. Organizers say they need to collect 2,822 signatures to put it on the ballot and hope that an election can be held in November.
However Blair denies being a racist and has no intention of stepping down. He says the artists and school officials should have "educated" him on the meaning of the "Go Green" mural.
But critics say Blair has embarrassed himself and the town. He needs to go, they charge.
Former Mayor Jack Wilson created a Facebook page calling for Blair's resignation.
"You can call it racial insensitivity or bigotry. I just call it racism," said Wilson to the Arizona Republic. "Our reputation was sullied in the entire world…. There are 43,000 people in Prescott, and most of us don't believe what Steve Blair does."
Photo: Artists Pamela J. Smith and R.E. Wall on the scaffolding in front of the Miller Valley School mural titled "Go on Green" in Prescott, AZ, June 2. Matt Hinshaw/The Daily Courier/AP