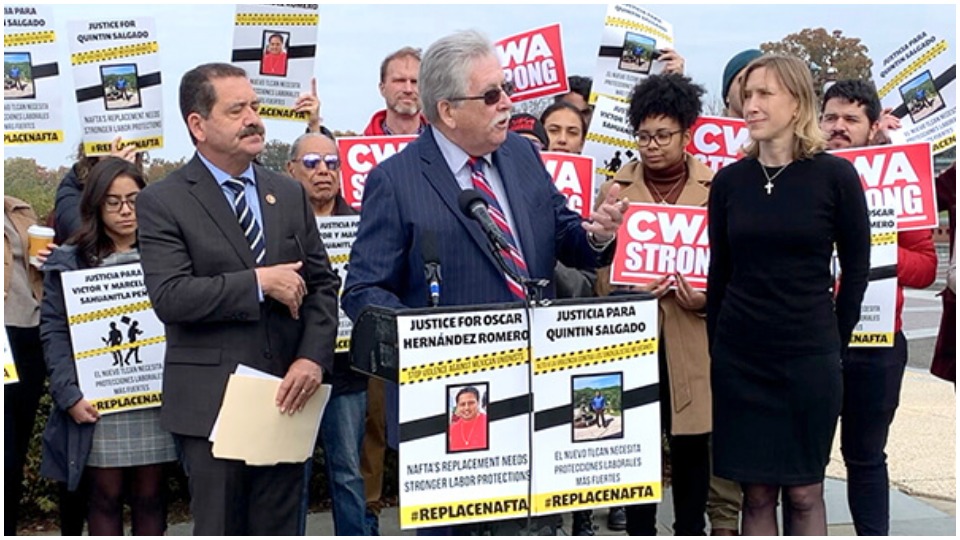 WASHINGTON (PAI)—It's still not safe to be a labor leader in Latin America, and that has Communications Workers President Chris Shelton, the AFL-CIO's Solidarity Center, and four pro-worker U.S. House Democrats hopping mad.
As a result, all of them are demanding impartial investigations and changes in U.S. policy in response to the killings.
The most recent of the murders, and the most relevant, occurred in Mexico in the last several weeks, according to Shelton, Rep. Jesus "Chuy" Garcia, D-Ill., and their allies.
Three labor leaders at Mexico's Media Luna gold mine were murdered by anti-union vigilantes and a fourth, Oscar Hernández Romero, "disappeared," they told a Nov. 20 Capitol Hill press conference/ protest.
Those murders and the disappearance occurred even as GOP President Donald Trump continues to push for quick congressional passage of legislation to implement the new U.S.-Mexico-Canada Agreement (USMCA), his so-called "free trade" replacement for the North American Free Trade Agreement.
Garcia, Shelton, and faith groups all said the Mexican murders show the absolute need for strong worker protections and real enforcement requirements written into the text of the USMCA before lawmakers even consider implementing it. Former United Electrical Workers Organizing Director Bob Kingsley joined protesters holding signs.
"The disappearance of Oscar Hernández Romero, a union organizer from Guerrero, is a painful reminder that workers in Mexico still need protection," Garcia said.
"Strong labor rights and enforcement in the USMCA would help counter the violence against workers and improve the lives of Mexican and U.S. working people. We have the chance to repair the damage that NAFTA has done but only if we have it in writing and the deal is strong for workers in both countries."
Shelton reiterated the point that corporations move U.S. jobs to Mexico for just one reason: To cash in. "Corporations are most interested in one thing: Their bottom line. If they can increase their profits by exploiting workers in inhumane conditions and turn a blind eye to violence against activists, they'll even do that."
If the situation is bad in Mexico, it's even worse in Honduras, according to the Solidarity Center, Reps. Garcia, Jan Schakowsky, D-Ill., James McGovern, D-Mass., and Mark Pocan, D-Wis., a Painter.
"We condemn the unjust murder of Honduran trade unionist Jorge Alberto Acosta over the weekend," the four lawmakers said on Nov. 19.
"Acosta was a member of the Executive Committee of the Sindicato de Trabajadores de la Tela Railroad Company (SITRATERCO) in La Lima, Cortes, Honduras. Over the last year, Acosta had received escalating threats against him and other members of SITRATERCO. At the request of the unions and the national union anti-violence network, the government had authorized a protective order for him, but the protection never came."
"Acosta's assassination is just one of a recent brutal wave of killings, threats, kidnappings, beatings, torture, and disappearances of labor and social movement activists in Honduras, directed at Afro-Indigenous women, campesinos, teacher unionists, opposition political activists, supportive journalists, and many others.
"The labor movement of Honduras is in more danger than ever. Yet the Honduran government fails to provide the legally-mandated protection systems, does not investigate or prosecute those who threaten or kill union activists, and utterly fails to enforce its own labor laws."
And it's supposed to enforce those laws and protect unionists and workers as part of the CAFTA "free trade" pact Honduras and other Central American nations signed with the U.S. more than a decade ago. It isn't.
"Acosta's murder comes just three weeks after the kidnapping and torture of Jaime Rodríguez, former president of Honduras' Union of Middle School Teachers," said Solidarity Center spokeswoman Tula Connell.
Acosta had told the Honduran anti-union violence network of death threats for more than a year, and that he was warned in April 2018 of three people "set up an operation near his house to plan his execution."
Besides investigating and prosecuting "the material and intellectual authors" of Acosta's murder, the Honduran government should also "provide legally mandated protection to the other members of SITRATERCO's Executive Committee and investigate and prosecute all threats they have received," as well as protecting other trade unionists, as it promised under CAFTA, the Solidarity Center said.
It also declared the U.S. shouldn't sit on the sidelines. The Trump administration must use CAFTA to push the Hondurans and "publicly denounce these killings, kidnappings, and threats," rather than backing the Honduran government. The government should protect the safety, rights, and freedoms of all trade unionists.
"And Congress should consider HR1945, the Berta Caceres Human Rights in Honduras Act," named for a prominent and murdered female indigenous people's leader against an exploitative dam backed by Honduran elites. The bill "will suspend U.S. funding to Honduras for police and military operations until the Honduran government investigates the credible allegations of gross violations of human rights by their security forces."