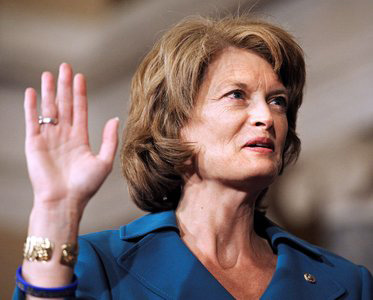 On January 5, Lisa Murkowski was sworn back into the U.S. Senate, after winning an almost unprecedented write-in campaign. The highly publicized and drawn out campaign finally ended on December 28 when the Alaskan courts dismissed Joe Miller's federal case against the state's elections officials; thus finally permitting Murkowski to be certified as the official winner. Joe Miller to finally threw in the towel on New Years Eve and ended a nearly two-month long legal challenge. The final count shows that Murkowski won by 10,252 votes over Miller (adn.com). Ultimately, her victory is mainly due to independent and rural Native voters, and to new rules that enabled financing by Native corporations.
Now that the far-right Joe Miller is out of the picture in Alaskan politics, the left has to pull together to push legislation toward supporting policies that stop the GOP agenda. In an article I wrote following the November 2 elections, I advocated voting for write-in Republican centrist candidate Murkowski as a necessary tactical sacrifice to prevent the ultra-right candidate Miller from penetrating the U.S. senate. Though a battle has been won finally, victory remains unattained.
Having a moderate Republican in the U.S. Senate has confirmed to be far more advantageous to the Alaskan progressives than Miller, who ran on a tea party platform. As predicted by Murkowski's critics, she has revealed to be an important player in supporting progressive policies during the lame duck sessions of Congress. She has ended 2010 by voting in favor of the pro-immigration bill the DREAM Act, along with repealing DADT, and voted with the Democrats on tax policy. Furthermore, Murkowski has gained support from unions in the public safety sector, such as the Alaska Professional Firefighters Union, which wants to see legislation pass that will aid first respondents of September 11, who are now ill because of toxin exposure.
Although she has shed much of the restraining GOP fidelity, she still stands with the GOP on a few key issues. For instance, Murkowski has been vocal about rejecting the Obama administration's healthcare reforms, which is a very important issue among the majority of the working and middle classes. In addition, Governor Parnell, who Politico has named the "most aggressive, anti-health care reform governor," also threatens Alaska's much needed healthcare reforms. The Politico article continues, "He [Gov. Parnell] has regularly rejected grant [exchange planning grant] opportunities pursued by the vast majority of states." Although Miller lost the elections, the working class cannot put our guard down. We have to be persistent for positive healthcare reform measures and halting harmful GOP policies that seek to destroy lower income people.
The Republicans promise to filibuster and obstruct legislation that comes from the progressive spectrum in 2011. Murkowski has proven to be an important swing voter in Congress and will hopefully continue. Although it is not exactly known which voting trends Murkowski will adopt in 2011, her limited freedom, along with Democratic Sen. Mark Begich can demonstrate to be beneficial to the progressive, Native, and public safety union population of Alaska. Murkowski insists that she will be a voice for her constituents instead of the Republican or Democratic Parties, but only time will tell. One thing is for certain: Alaska, nay the entire country, is better off with one less tea party ideologue in the U.S. Senate.
AP photo of Sen. Murkowski being sworn in.