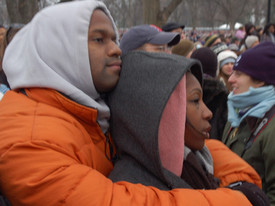 WASHINGTON — The Lincoln Memorial, a site for many an important demonstration for civil rights, became the moving backdrop Jan. 18 for "We Are One: The Obama Inaugural Celebration at the Lincoln Memorial."
On the eve of the Martin Luther King Jr. national holiday, singers and celebrities brought to life some of the most significant events of American history, including the 1963 March on Washington for Jobs and Freedom where King gave his famous "I Have a Dream" speech. Through the powerful mediums of music and television, it provided an education on history and struggle for millions of viewers. It was patriotism at its best.
The crowd went from roaring cheers and singing to stillness and contemplation. When Tom Hanks quoted extensively from Lincoln during Aaron Copeland's "A Lincoln Portrait," one could hear a pin drop.
"It's quiet and calm. Everyone paid attention," remarked Rochunda Lewis, who flew in with her husband Damany from Sacramento, Calif., to attend the inauguration. "We just couldn't miss it," she said. "This is a moment in time when we can tell our kids we were there. It's renewed the feelings that we can tell our future children they can be anything they want to be." It was a sentiment that has been echoed by many African American parents – and future parents.
Tens of thousands of people bundled up in cold-weather gear encircled the Reflecting Pool in front of the memorial, craning their necks to catch a glimpse of the stage — or even one of the half-dozen JumboTron screens. Some younger men even climbed trees (before the National Park Service police could get them down) to get a better glimpse of the HBO-televised event.
Most came to be a part of the historic celebration of the inauguration of the first Black American president of the United States. The crowd was a reflection of Obama's phrase, "Asian, Latino, Native American, white and black, gay and straight, Democrat, Republican and independent."
Wearing a red volunteer cap, Ron Hudson, a Teamsters Union retiree, likened the moment to the time when John F. Kennedy became president. Obama, like Kennedy, he said, can bring all sorts of people together.
Hudson volunteered for Obama during the primaries, traveling to rural New Hampshire and North Carolina. "You pray for the best," he said. Obama's election "means more to me because he has good sense. The previous administration pissed away a lot of goodwill around the world."
Elizabeth Storke and Javier Hernandez came from Maryland, saying, "We wanted to experience something that's never happened before." Storke, a dental hygienist, and Hernandez, a network engineer, said they are very hopeful about the change in the country. "Obama has big expectations too," they noted. "He wants to see change also." Striking a realistic note, they cautioned, "Every president is capable of doing only so much."
Between the slices of history and tremendous performances, Vice President-elect Joe Biden and Obama spoke to the crowd, touching on the major problems facing the country — the economic crisis, unemployment, insecurity and two wars.
Biden paid tribute to the women and men across the country who work for a living. "Work is more than a paycheck," he said. "It's dignity. It's being able to look your child in the eye and say it's going to be all right." Biden will be heading up a task force on the economy and working families.
Obama warned of "days that will test our resolve" and said meeting the challenges "won't be easy." Yet he expressed optimism, based on the American people. "What gives me the greatest hope of all is not the stone and marble that surrounds us today," he told the crowd, "but what fills the spaces in between. It is you — Americans of every race and region and station who came here because you believe in what this country can be and because you want to help us get there."
He urged the people to "help us" make the country what it needs to be and "bring everybody together."
"It is how this nation has overcome the greatest differences and the longest odds — because there is no obstacle that can stand in the way of millions of voices calling for change," the president-elect said.
How deep the change has already become was evident after Obama's speech, when peace and social justice movement icon Pete Seeger took the stage with Bruce Springsteen and the two sang the full version of Woody Guthrie's great "This Land Is Your Land."
Tears welled up in this reporter's eyes watching Seeger, who was blacklisted for his political views, perform for an inaugural event. "How many demonstrations has he performed at on the National Mall? And now he is at this demonstration/celebration of a movement that is changing the course of politics for decades to come," one participant exclaimed. "You get the feeling that at the core of this change was the U.S. movement that Seeger has represented," said someone nearby.
The event opened with an invocation by the nation's first openly gay bishop, V. Gene Robinson. He prayed for the safety of the incoming president. At the end a chorus of "Amens" rose through the crowd.
Academy Award-winner Denzel Washington led off the program, welcomed by applause and shouts almost rivaling the president-elect's. "Inspired by the man we elected as 44th president" and his message that we are "all in this together," this concert is aptly named "We Are One," Washington said. "Music is the creative heartbeat that lifts lives and spirits and stirs our deepest emotions."
Springsteen playing the first song — the title track from his 9/11 CD "The Rising." The CD was a hopeful prayer for the nation after that dark time. Today, "The Rising" expressed a new kind of hope.
Tiger Woods, whose father was a lifelong soldier, gave a tribute to all the military families and the sacrifices they have borne. An unspoken subtext was the unpopular Iraq war and the burdens it has put on military families. Obama has pledged to withdraw troops within the first 16 months of his presidency.
Prominent actors presented tributes to and quotes from previous presidents — Thomas Jefferson, Lincoln, Franklin Delano Roosevelt, Kennedy, Theodore Roosevelt and Ronald Reagan. The tribute to Theodore Roosevelt focused on his long-range environmental vision with the enactment of conservation of public lands and building of national parks.
Queen Latifah introduced a dramatic, not-so-well-known piece of history from FDR's administration. In segregated Washington, opera singer Marian Anderson was refused a performance venue by the Daughters of the American Revolution. In response, Eleanor Roosevelt and Secretary of the Interior Harold Ickes (one of the most outspoken supporters of civil rights in the Roosevelt administration) invited Anderson to perform at the Lincoln Memorial. Latifah introduced black-and-white footage of the concert showing Anderson singing "My Country 'Tis of Thee." It segued into a rendition by operatic pop star Josh Groban, joined then by Broadway star Heather Headley.
Another moving duet came with Bettye LaVette and Jon Bon Jovi singing Sam Cooke's "A Change is Gonna Come."
Country singer Garth Brooks got the massive crowd dancing and singing (and shouting) with a three-song medley, backed by a youth choir — "American Pie," "Shout" and his own "We Shall Be Free." Thousands jumped up and down from the excitement of the performance, and perhaps the cold.
Jamie Foxx got perhaps the biggest laugh with his imitation of the president-elect, followed closely behind by George Lopez with his one question, 'Anyone here from outta town?' and answer 'Well, you're all home now."
The spirit of reggae musician and human rights activist Bob Marley made a showing with the trio of Herbie Hancock, Will.i.am, and Sheryl Crowe doing "One Love." And rocking Stevie Wonder, Usher and Shakira fired up the crowd with Wonder's "Higher Ground."
Irish rockers U2 performed "Pride (In the Name of Love)," a tribute to Dr. King (and Jesus), while Bono, U2's lead singer, gave an inspiring and unscripted message that the dream is 'not just an American dream — also an Irish dream, a European dream, African dream, Israeli dream and also a Palestinian dream.'
Mary J. Blige, dressed all in white, brought the young people, especially, to their feet with a powerful rendition of West Virginia native Bill Withers' "Lean On Me." Withers wrote the song based on his experiences growing up in a West Virginia coal mining town. "Times were hard and when neighbors needed something beyond their means, the rest of the community would chip in and help," he once said.
Among the other performers were soprano Renee Fleming and pop artist James Taylor.
Beyoncé closed the two-hour event, leading the other performers in "America the Beautiful."
At the end, one teenager turned to her mother and said with a smile, "It was all worth it."
talbano @ pww.org