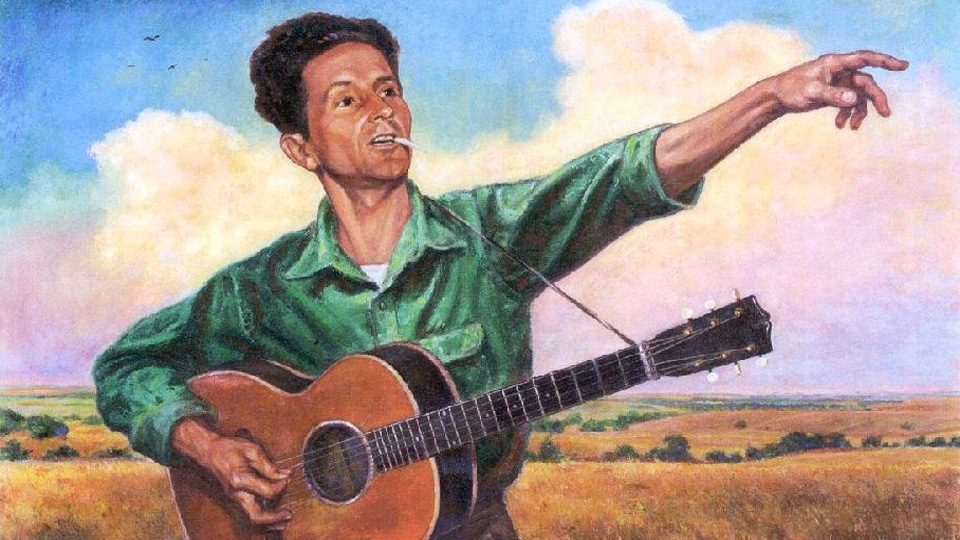 SEATTLE – Cheers from a capacity crowd greeted "Woody Sez: The Words, Music and Spirit of Woody Guthrie," during its final matinee at the Seattle Repertory Theatre Jan. 29.
An ensemble of four singer-musicians from Edinburgh, Scotland brought Woody Guthrie's radical, pro-worker songs and commentary to life singing "This Train is Bound for Glory," "Jackhammer John," "So Long It's Been Good to Know Yuh," "Oklahoma Hills," "Pastures of Plenty," "All They Will Call You is Deportee," and many other immortal songs of the great troubadour. They drew big crowds during their gig here Jan. 10-29.
David Lutken conceived the production and plays the role of Woody Guthrie. He has even mastered an Oklahoma nasal twang so his singing and speaking is a great impersonation of Woody Guthrie. He told the crowd they have performed "Woody Sez" in 73 countries since it premiered ten years ago at the Edinburgh Festival Fringe in 2007 in Scotland.
It follows the rambling of our nation's greatest folksong composer starting with his childhood and youth in Oklahoma. His affluent family is financially ruined by the Great Depression and the drought that brought on "Dust Bowl days."
The play-musical recounts touchingly Guthrie's affliction with Huntington's disease at the very time Cold War anti-communism was clamped on the nation, which saw an attempt to silence Woody Guthrie, his close friend Pete Seeger, Huddie Ledbetter, and other great folk singers.
Woody's lines in the spoken part of the musical includes a tribute to the role of the Communist Party USA in organizing the fightback against outright starvation in the 1930's. He mentions by name famous party leaders William Z. Foster, Elizabeth Gurley Flynn, and "Mother" Bloor.
Darcie Deaville and Helen Russell, with Lutken and Andy Teirstein as backup, brought the house down when they sang Woody's "Union Maid," a song that more than any other expressed the fighting spirit of the Congress of Industrial Organizations (CIO), whose founding ushered in a time when millions of workers flooded into the labor movement. The two women in the cast belted out that song and the crowd erupted in cheers.
The four cast members sang Guthrie's "The Good Reuben James" about a U.S. seaman who died when a Nazi U-boat torpedoes a Lend-Lease Liberty ship, the "Reuben James."
Then Lutken opens a newspaper clipping and reads Woody Guthrie's latest "Woody Sez" column against fascist-instigated wars. It was published in the 1930s in the West Coast paper People's World and on the East Coast in the Daily Worker, both forerunners of today's PeoplesWorld.org.
The score is so faithful to the life and spirit of Woody Guthrie that they sing "Riding in My Car," one of Woody's gentle songs that also included "Don't You Push Me," and other songs for children.
Many in the crowd had tears in their eyes as they stood and joined in the final song, "This Land is Your Land."
The crowd was so enthusiastic that the performers sang an encore with "Roll On Columbia," a song Guthrie composed during a brief stint as an employee of the Bonneville Power Administration (BPA) in Portland, Ore. The song celebrates the construction of the Grand Coulee Dam.
Lutken came out to the lobby to greet people after the performance. I introduced myself as a reporter who worked for fifty years on the People's World, the newspaper that printed "Woody Sez." He greeted me warmly and signed my compact disc: "For Tim Wheeler and the People's World." (If you want to order the CD, check out the play's website or send an email to woodysezNYC@aol.com)
I asked Lutken where they are headed next assuming that he would answer along the lines of Portland, Ore., San Francisco, or L.A.
"We are headed back to Europe," he replied. "We perform widely in the U.K. and on the continent. Our next show is in Vienna."
What a shame, I thought to myself. Not perform in Portland where Woody composed "Roll on Columbia," and "Pastures of Plenty" and 24 of his other greatest songs?
I Googled when we got home and found that over the past decade, Lutken and his fellow singers-musicians have performed "Woody Sez" in Cambridge, Mass., as well as in Oklahoma.
But people all across the U.S. should be hearing "Woody Sez," a musical that celebrates us and our struggles for equality, jobs, and peace.
It is as if the election of the billionaire, Trump, as president, last November, has brought Woody Guthrie back from the grave to lead us all in songs of mass fightback, like the slogan he had lettered on his well-worn guitar: "This Machine Kills Fascists."
A week before we attended "Woody Sez," a singer-musician, Randy Noojin, was performing "Hard Travelin' With Woody," to appreciative crowds in Seattle. Last year, a book by Greg Vandy with Daniel Peron titled "22 Songs in 30 Days" recounted Woody Guthrie's outpouring of great songs while employed by the BPA. And Smithsonian Folkways has just released a two CD album "Roll Columbia: Woody Guthrie's 26 Northwest Songs."
Some of the songs have never been heard and now we hear them for the first time sung by Woody Guthrie himself.
This was my first visit to the Seattle Repertory Theatre since 1947 when I went with my second grade class at Queen Anne Elementary School to a performance of "Heidi." Soon after, the Canwell Committee, the local rendition of the House Un-American Activities Committee launched a vile redbaiting attack on the Repertory Theatre branding it a "Communist front." The witch hunters forced that theatre to close in the University of Washington District.
But the Canwell Committee and HUAC are dead and gone. The Seattle Repertory Theatre is alive and well, drawing capacity crowds to cheer Woody Guthrie and other anti-fascists.