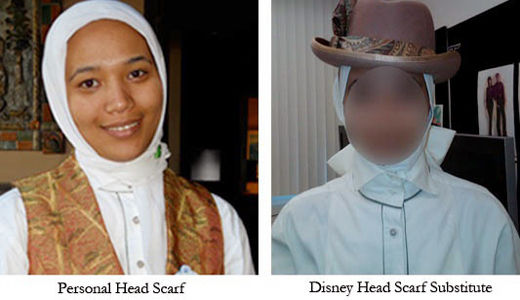 ANAHEIM, Calif. (PAI) – The federal Equal Employment Opportunity Commission (EEOC) has been asked to probe the Disney Company's discrimination against a Muslim woman worker – a Unite Here member – just two weeks after the agency settled a complaint of discrimination by 165 Muslim workers, all Machinists, in Minnesota.
Imane Boudlal, a front-desk hostess at Storyteller's Café in Disney's Grand Californian Hotel and Spa at Disneyland in Anaheim, Calif., asked permission, two months before the Moslem holy month of Ramadan began on Aug. 15, to wear a white hijab, a traditional Islamic head covering, during the holy month.
The white hijab would have matched the uniform Disney makes restaurant workers wear. But Disney refused, Unite Here Local 11 reported. First the company offered to send Boudlal – hijab and all – to a backroom position. Then it tried to get her to wear a large hat. Disney then sent her home for without pay each of seven consecutive days, before suspending her without pay. She filed a complaint with the EEOC on Aug. 18.
Disney said Boudlal's hat could go on top of a bonnet, but it said the hijab does not meet "The Disney Look." After trying on the hat, Boudlal, a naturalized U.S. citizen who has worked at the restaurant for two years, told managers it fails religiously.
"The hat makes a joke of me and my religion, and draws even more attention to me," Boudlal told Unite Here's website. "It's unacceptable. They don't want me to look Muslim. They just don't want the head covering to look like a hijab."
"I don't understand why I cannot wear my white scarf (hijab) that already matches my restaurant uniform, and be left to do my job," she said. "My scarf doesn't do anything to harm Disney or the guests."
Boudlal may get a sympathetic ear at the EEOC, the agency charged with investigating racial, religious and sexual discrimination on the job, and resolving conflicts if it can. On Aug. 6, the EEOC solved a complaint of religious discrimination involving Ramadan, and the 165 Muslim Machinists at the Electrolux plant in St. Cloud, Minn.
The Machinists union represents the 1,400 workers there. Before Ramadan, the Muslim workers asked Electrolux to adjust its schedule and rules for on-site meals to allow them to observe the holy month, when Muslims fast from sunup to sundown daily.
Electrolux started discussing the issue with its Machinists local. But with Ramadan fast approaching, the workers went to the EEOC.
Title VII of the Civil Rights Act of 1964, which EEOC helps enforce, "requires employers to attempt to make reasonable accommodations to sincerely held religious beliefs of employees as long as this poses no undue hardship to the employer," the agency said.
Electrolux had introduced a new health and safety policy that barred food from plant production areas. The firm altered break times for the plant's evening shift so the Muslim workers on that shift could break their fast, but that didn't work, either.
"Electrolux agreed to further modify the adjusted break time schedule during the entire month of Ramadan," the EEOC reported. "The adjusted meal break schedule allows Muslim employees to pray and break their Ramadan fasts shortly after sunset in a safe environment, away from the production area." The firm will also train St. Cloud workers in religious accommodation requirements.
Photo: Imane Boudlal, left, in her personal headscarf. On the right is Disney's proposed substitute.