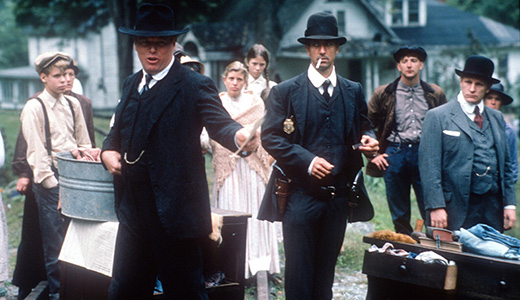 At a People's World New Years party here in metro Detroit, partygoers participated in a "progressive culture" quiz. The focus was on progressive films and directors. It turned out that many film titles and names were unfamiliar to the group.
Granted, many activists work a heavy load with full-time jobs and political activity in their free time. When movies DO fit in their busy schedule they are usually of the entertaining Hollywood-type that offer relief from the stress of everyday life and the day-to-day struggles against the ills of our society.
But there are also many progressives in the field of cinema who contribute to the struggle with works of art that not only entertain but also educate and inform. There are films that offer stories about those who have gone before us, films that provide new or unpublished information, films that lift the spirit and motivate us to go on, and films that provide lucidity and analysis of historical events that can help progressives in the struggle. In the opinion of that wise Russian revolutionary Vladimir Lenin, "Cinema is the most important of all the arts."
All films have a cinematic level and a content level expressed in different degrees. There are documentaries of talking heads that provide valuable information but fall flat on the artistic or cinematic level. And there are well made films, directed, edited and acted at the highest professional and creative level, that contain little progressive content. The gems are those films that are exceptional in both content and cinematic values and have the power to move society in a progressive direction.
So here is a far from exhaustive list of some progressive directors and gems that should be mandatory viewing for activists who appreciate the power of film and culture in the struggle. Links are provided for further research.
Charles Chaplin – the name that is synonymous with movies. Chaplin paid a high price for his moral positions and commitment to justice and liberty and was driven out of the U.S. in 1952 by the growing fascist face exemplified by the House Un-American Activities Committee. He came back in 1972 to receive an honorary Oscar from the Academy of Motion Pictures.
Modern Times (1936) – the classic depiction of the monotony of the assembly line. A silent film that came six years after sound debuted.
Great Dictator (1940) – Chaplin's satire of Hitler and Nazism. The most powerful ending monologue in any film.
A King in New York (1957) – most political and most unseen. Made in London five years after Chaplin was forced out of the U.S. His last appearance in movies.
John Sayles – not only a great writer and actor, but also an honored "actor's director." Every one of his films met with critical success and contained a progressive analysis of social issues.
Matewan (1987) – the greatest drama on coal miners organizing in 1920s West Virginia.
Men With Guns (1997) – Latin American villagers rise up. Sayles in Spanish!
Amigo (2010) – Sayles' most recent film about U.S. involvement in the Philippines in 1900. Also in Spanish!
Barbara Kopple – a long and distinguished career in a field dominated by males. Her political films are informative, artistic and brave in their illumination.
Shut Up and Sing (2006) – the Dixie Chicks are honored for their fearlessness in the light of U.S. imperialism (specifically the Iraq war).
American Dream (1990) – the Minnesota Hormel workers' strike is analyzed
Harlan County, USA (1976) – moving documentary about the 1973 Kentucky coal miners strike.
Emile De Antonio – America's most radical and overlooked documentarist, he addressed the most controversial events in the progressive movement of his time. His disdain for Nixon and J. Edgar Hoover filtered through most of his films.
Point of Order (1964) – the filming of the McCarthy hearings has become a classic.
Millhouse: A White Comedy (1971) – the absurdity of Nixon in all its brilliance
In the Year of the Pig (1968) – scathing indictment of the U.S. involvement in Vietnam.
Underground (1976) – the FBI subpoenaed this film that interviewed Weather Underground radicals who were still at large.
Ken Loach – revered worldwide as the symbol of social realist cinema. Humanism and strong political themes mark his masterpieces. A great website of Ken Loach films to view online is available here.
Route Irish (2010) – his newest film deals with private contractors in Iraq.
Land and Freedom (1995) – controversial analysis of the Spanish Civil War.
Wind That Shakes the Barley (2006) – another controversial take on the Irish struggle.
Ladybird, Ladybird (1994) and Raining Stone (1993) – prime examples of Loachian social realism.
Michael Moore – the most popular filmmaker of the highest grossing documentaries, Moore has spread the progressive message more than any director in recent history. Every one of his films is infused with social consciousness. To name a few:
Capitalism A Love Story (2009) – ultimate exposé on corporate greed.
Sicko (2007) – don't get sick in America without insurance.
Fahrenheit 9/11 (2004) – almost changed the outcome of the elections.
Roger and Me (1989) – the film that started it all. Where is Roger now?
Alex Gibney – the most prolific filmmaker cranking out high quality documentaries yearly, with indisputable fact-finding and without the Michael Moore-style persona.
Enron: Smartest Guys in the Room (2005) – the scandal examined in depth.
Taxi to the Dark Side (2007) – Oscar winner exposing U.S. torture practices.
Client 9: Rise and Fall of Eliot Spitzer (2010) the facts behind the headlines.
Casino Jack and the US of Money (2010) – exposé of the super-lobbyist, who was only the tip of the iceberg. Stunning interviews, vivid camerawork, compelling storytelling!
Tomas Gutierrez Alea – affectionately nicknamed "Titon," a reference to his major contributions to the Cuban Revolution and cinema.
Death of a Bureaucrat (1966) – bureaucracy in the emerging Revolution is lovingly and comically satirized.
Memories of Underdevelopment (1968) – the persistent theme of supporting the Revolution or leaving the island for America.
Last Supper (1976) – slaveowner recreates the Last Supper with his slaves.
Strawberry and Chocolate (1994) – Oscar nominee about communism and homosexuality that opened the doors to radical change in Cuba.
Tim Robbins – another great actor turned director. Unafraid to challenge American policy, Robbins has created some of the best works with progressive themes.
Bob Roberts (1992) – satire of a right-wing candidate, music and all.
Dead Man Walking (1995) – serious challenge to the death penalty.
Embedded (2005) – a theatrical black comedy about the Iraq war.
Cradle Will Rock (1999) – highly creative adaptation of the historic Blitzstein/Welles/Houseman Broadway happening. Stunning! Entertaining!
Of course there are many more world directors who have created challenging, intelligent, entertaining, inspiring and powerful works of progressive art: Gillo Pontecorvo, Peter Watkins, Pier Paolo Pasolini, Jonathon Demme, Margarethe von Trotta, Jean Luc Godard, Agnes Varda and Lars Von Trier, to name a few. But this is just a start. Happy New Year!
Photo: A scene from John Sayles' "Matewan."