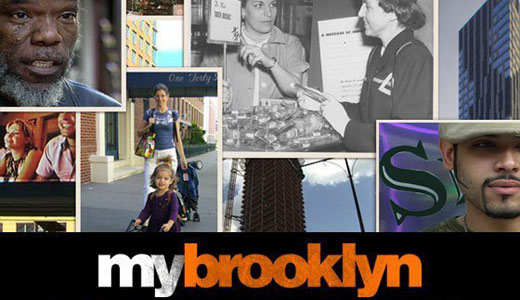 "My Brooklyn: The Battle for the Soul of a City" is a documentary film about gentrification and development in the New York City borough of Brooklyn. It is also about the mobilization of communities against a city administration that they feel has sold them out to the highest bidder – high-roller developers.
"My Brooklyn" chronicles through interviews how, over the last decade, city government and corporate interests joined forces to remake downtown Brooklyn and the Fulton Mall, displacing small businesses and long-time residents for luxury condo, hotel, and office buildings.
We are introduced to Jamel Shabazz, who has photographed the Brooklyn he called home, a once-thriving hub of small, varied businesses catering to a mostly African American and Latino community. We are transported to the 1970s and '80's through these beautiful pictures of Brooklyn residents shopping, riding the subway and just being part of their community.
Shabazz says, "It's not about people moving into a neighborhood and other people moving out of it. The process of gentrification is about corporations, and the idea that the city doesn't have a role in making sure the collective aims of the community are achieved in development is obscene".
For a time during the '70's and '80s, redlining was used by banks to bring down the values of targeted neighborhoods – most often, neighborhoods of color – by denying investment. Then the properties could be bought up cheap. As shown in the film, when these areas became desirable to the upwardly mobile, prices soared.
Mayor Michael Bloomberg says, "If you don't like wealthy people or successful businesses, you are not going to have a city."
The residents of downtown Brooklyn were never brought into the talks on the redevelopment of the area.
Gib Veconi, of the community organization Brooklyn Speaks, says gentrification, or white people moving into predominantly Black and Latino neighborhoods, is not necessarily the main problem. It's a question of what all residents want and need. "When a developer gets huge tax incentives from the city the community directly affected by the development must get their share of the benefits," Veconi says. "We have to make our voices heard and stand up and fight for it".
In response to a question by filmmaker Kelly Anderson the demise of the small, thriving businesses in downtown Brooklyn, a spokesperson for the city Department of Development says, "The idea was this area is attractive; these business owners are willing to pay a premium to be down here, in downtown Brooklyn. Yet the range of uses was very limited. Why should people who live and work in downtown Brooklyn not have access to a much wider choice; people were going outside to shop. It's not just that we are not serving the minority community that well. Now we are getting a variety of stores [upscale]. We want to serve everyone. A few years ago, you could not have attracted something like that. Do minorities not deserve better food and clothing options in this area?"
But the film makes it obvious that downtown Brooklyn already had a wide range of food and clothing choices that were affordable to the residents.
After some 48 units of rent-stabilized housing were bulldozed and the families dispersed there was no reparation whatsoever. But organizer Melissa Katz points to three luxury apartment buildings and explains, "These owners get subsidies for 10 years from the city; one of these apartments has more than 300 units. Each one gets a $9,000 tax abatement every year".
City Councilman Charles Barron says, "When they get money it's 'subsidies.' When we get money, it's 'welfare.' Either we are on subsidies and they're on subsidies or we are on welfare and they're on welfare."
Long-time bagel shop owner Jeff Garligano comments on the impact of the changes in the area, "Verizon, which turned into Bell Lofts, was here three years ago with 2,000 people in the building and we used to feed them every day, breakfast and lunch. Now they are gone and I serve about 20 construction workers instead. I've been doing that for the last year and I'm actually taking money from my nest egg and borrowing from family members just to keep the business afloat".
Joe Chan, former head of Downtown Brooklyn Partnership, is believed to have resigned due to the pressure put on him by Families United for Racial and Economic Equality (FUREE) and Neighbors Helping Neighbors. "He never really took the community's concerns into account," a resident says.
This film shows clearly the city government/developer disregard for the 99% and Mayor Bloomberg's design for the city – a city for the rich, the 1%.
MB trailer 2012 from Kelly Anderson on Vimeo.
Movie details:
My Brooklyn: The Battle for the Soul of a City
Directed, produced and edited by Kelly Anderson
Written, produced and researched by Allison Lirish Dean
Information about screenings available at the movie's website.