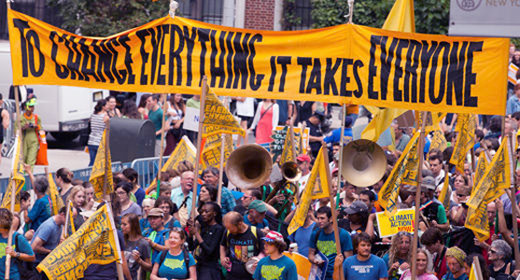 The People's Climate Marches were held worldwide on the 21st of September 2014. I participated in the march in Atlanta, Georgia. It was my first protest and I loved it; I had the opportunity to talk to new people. Although I was the only Communist there, the protesters were open to my beliefs and accepted me into the protest and march.
Unity was shown through all 2200 protests around the world, which represents a change in the way we view politics. The People's Climate March was one of the first major left-wing marches where you saw many people of different beliefs coming together for a common goal. Over 100 of my comrades from the Communist Party and the Young Communist League marched in New York City. With the people I talked to in Atlanta, we all agreed that the climate is more important than political parties or rivalry. A lot of people got this message.
I saw reports of the marches on CNN, MSNBC, and the Daily Show. Although the conversation in the media shifted toward the war on ISIS, it was impossible to ignore the 400,000 people who took to U.S. streets in glorious protest along with hundreds of thousands around the world. In global unity, we were all declaring that addressing climate change should be our priority, not another war.
We took a stand for improvement in all our lives: to fight back against pollution, to fight so that our children can see a penguin in a zoo, or maybe in the wild, and not just in a book about extinct species. I want to live in a clean world with trees in every backyard. Where cars are charged with electricity and don't harm our living space. Where diseases such as asthma and cancer no longer plague our world. This I dream for our children, to run down hills of grass and trees. For them to know the beauty of nature. For them to know that they live in a better world because their fathers and mothers took to the streets to fight, not just for themselves, but for the future of civilization. We must advance as a whole, marching on to a glorious victory. We must continue to force the issue of climate change through non-violent protests. The government will see that the people want something, and must respond by taking action. We must do this for the future of the species, not just to improve a nation or for political idealism.
With this I call on you to organize to help in any way you can. Even something as simple as providing food to protesters in your area. Anything that will help people who are standing up for the planet, we must do. We must organize more protests and rallies. It's not just Communists who believe that the climate comes before profits! It is our government's duty to defend its citizens from the harms that will come from climate change. We must defend our planet and each other.
This is the message we must send to Washington in November; that we need action on climate change and other fronts. This is what I ask of you the people, to help get our government back working for us. Elect a progressive Senate, progressive Congress, and progressive governors on November 4th. When we have a government in place that responds to the people's concerns around climate change, rather than denies that climate change exists, then we will all prosper. To do this we must defeat every right-wing politician and the tea party on Election Day.
This is where I leave you to plan and organize, as I must do the same.
Photo: A sign that perfectly demonstrated the all-inclusive nature of the People's Climate March. Heather Craig/Flickr/People's Climate.org
Read more about the People's Climate March:
Red and green at People's Climate March
RNs to join actions in NYC, Oakland, LA in call for action to stem climate crisis
From trains to streets, Climate March moved people
Labor played big part in massive climate march
Connecticut labor, environmental, peace groups join together for People's Climate March
Review, "This Changes Everything: Capitalism vs. the Climate"
Climate change requires a new abolition movement
Climate change, militarism, and the 2014 elections