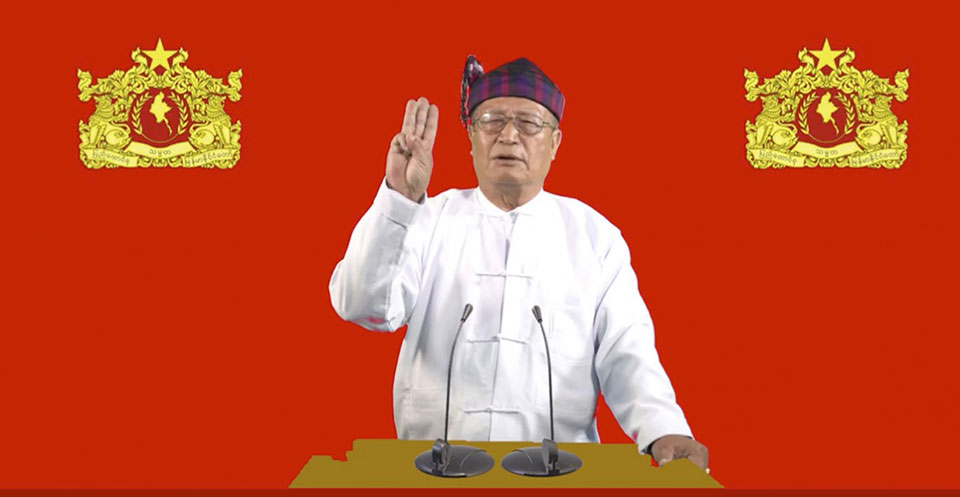 Myanmar's parallel government called for an uprising against the military junta today, urging ethnic groups to "immediately attack" the armed forces.
Duwa Lashi La, acting president of the National Unity Government, formed by parliamentarians ousted in the February 1 coup, issued the rallying cry for a "revolution" against the regime in a video message.
He called for "a people's defensive war against the military junta" and for soldiers and civilians alike to take up arms and join the People's Defence Forces.
"As this is a public revolution, all the citizens within all Myanmar, revolt against the rule of the military terrorists led by [General] Min Aung Hlaing in every corner of the country," he said.
Mr. Duwa called for immediate attacks on the military, accusing it of committing "war crimes" against the people after waging a brutal crackdown on dissent in the wake of the coup.
He demanded military-appointed bureaucrats resign from the government and called on the country's border guards and soldiers to "join with the people and attack the people's enemy."
"From today onwards, all the civil servants under the military council, we warn and forbid you from going to the office," Mr. Duwa said, warning members of the public to "avoid unnecessary traveling."
"We will remove Min Aung Hlaing and uproot dictatorship from Myanmar for good and be able to establish a peaceful federal democratic union that fully safeguards equality," he said.
Myanmar has been plagued by instability with mass protests and strike action across the country demanding a return to democracy.
The military has led a brutal crackdown, opening fire on peaceful protests.
More than 1,000 people have been killed since the country's armed forces seized power according to the Assistance Association for Political Prisoners monitoring group.
Tens of thousands have been displaced in Myanmar while thousands have been jailed or disappeared as the military defies global calls for a return to democracy.
It insists that it was forced to take charge of the country, citing unfounded allegations of election fraud in last November's poll which was won by Aung San Suu Kyi's National League for Democracy (NLD) in a landslide.
She is under house arrest and, along with other leading figures in the NLD, faces a number of charges including bribery and corruption.
This article was reposted from Morning Star.