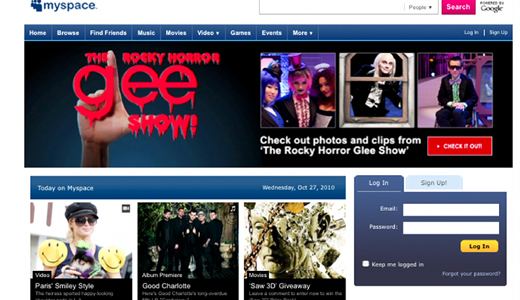 MySpace, the social network site that once reigned supreme, has been sold to Specific Media for about $35 million. Pop star Justin Timberlake also took a small stake in the deal.
In an era where Facebook and Twitter dominate the Internet scene, MySpace, which saw its peak in popularity in 2006, has been rendered irrelevant. News Corp., which bought MySpace for $580 million in 2005, saw the site slowly lose favor around 2008, and had struggled to find a buyer for it up to this point.
Now, business publications essentially refer to MySpace as the "Detroit" of the Internet world.
MySpace saw its biggest drop between January and February 2011, during which it lost about 10 million users. Most people blame Facebook for stealing the site's thunder; MySpace simply could not keep up with it. Facebook, with its minimalist design and unique features, perhaps proved itself better suited for professional services, as it has been widely used for work purposes, and even for political activism – more so than MySpace had been.
Chris DeWolfe, one of the co-founders of MySpace, said that the push to monetize the website stunted its growth, and played perhaps the strongest factor in its downfall.
"We basically doubled the ads on the site," said DeWolfe, "making it more cluttered. The size, quality, and placement of ads became a source of tension with News Corp."
Also cited as a factor in MySpace's demise was its inability to provide users with an effective spam filter. It was also plagued by buggy profile editing tools and design flaws.
Maybe there's a lesson to be learned here. It's happened before, with online services like AOL and Napster, for one reason or another. A website can be incredibly popular one day, and quickly die out a few years later. The question many would ask is "at what point do tools for socialization and connectivity become mere trends?"
It's not an irrelevant question. What with Facebook, for example, being so closely integrated with peoples' lives – encompassing everything from school to work to dating, how does one react when a network that becomes the foundation of one's social life turns into a thing of the past – giving way only to "the next big thing?"
The likely truth of the matter is that people may have to rethink the purpose best served by these social networks. But an equally important inquiry to make is, "who exactly is in control of these websites – the ruling class, or the people?"
A report by Digistraction suggested that the people would decide how we use social networking, not corporations or shareholders of Facebook and Twitter.
Furthermore, in an analysis piece by Content Management Connection, it was said that "The battle to control communications [has been] a struggle between the individual and institutions who seem to think they have 'rights' to control" these sites. "However, never before have people been enabled to speak with such influence, and that is what will continue to intensify the battle."
At any rate, a MySpace press release announcing the sale stated that, "as part of the deal, Emmy and Grammy winning artist Justin Timberlake will play a major role in developing the creative direction and strategy for the company moving forward. Specific Media and Timberlake plan to unveil their vision for the site in an exclusive press conference later this summer."
Photo: MySpace screenshot.