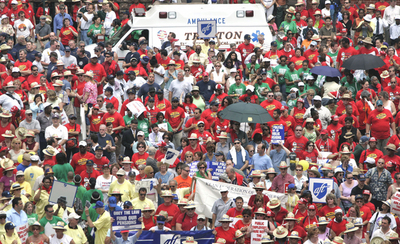 TRENTON, N.J. — Thousands strong, they swarmed across the New Jersey Capitol Complex. Public workers from all corners of the state came to voice their concerns and demands. They came by chartered buses, trains and cars, or they walked from their workplaces.
Workers in every occupation made it clear they no longer are willing to carry the financial burden of the looted state coffers, emptied by former Republican Gov. Christine Todd Whitman, her party and her class.
"Raise wages now," they shouted. "Fund our pension plans, restore them and keep them safe," they demanded.
The pension funds were drained by under-funding caused by a 30 percent tax cut for the rich during the infamous years of the Whitman Republican administration. They did to New Jersey public workers pension funds what the federal government has been doing to Social Security funding and what private industry has done to workers in steel and elsewhere.
"Save higher education, save Rutgers," they chanted as others called for more funds for public schools.
Joining the massive Statehouse rally were firefighters, police, health care workers, highway workers, and workers from the building trades, among others.
While demands and concerns were on everyone's mind and openly stated, still, the rally was festive, bright and good humored. It called for full pension funding and education funding for public schools and universities.
The New Jersey District of the Communist Party USA issued a statement in support of the workers, their demands and their unions. The statement said in part: "The rich and corporations must pay for an end to the deficit crisis and raids that have weakened the pension funds. This should be done through 'givebacks' of their own in the form of progressive tax reform. It is estimated that the present $2 billion deficit would be a surplus were it not for the Whitman tax giveaways. That is the extent of the crisis that has made the rich richer." The statement also pointed out that that the war against Iraq has already cost New Jersey taxpayers $14.5 billion.
Four thousand leaflets with the statement were distributed.