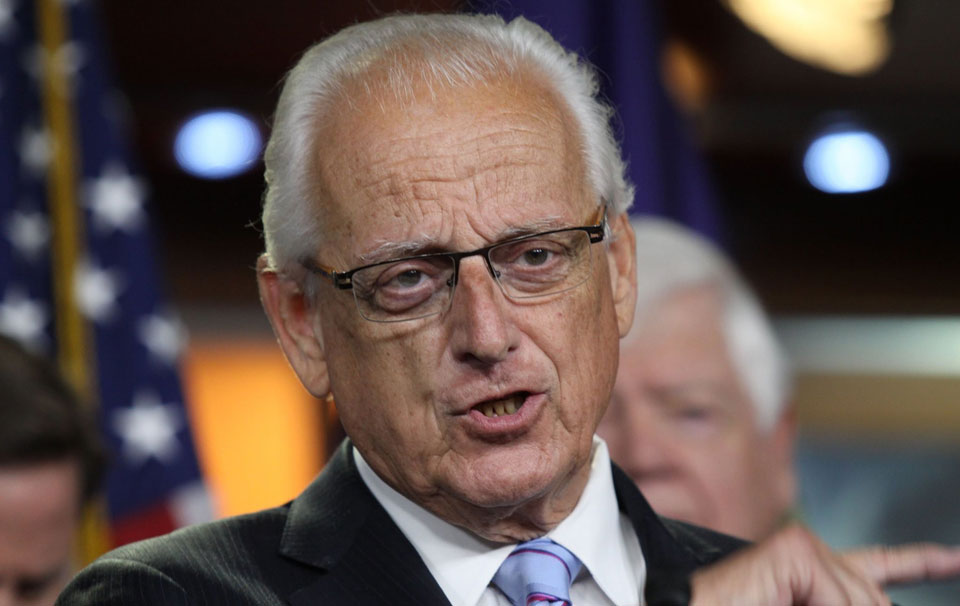 WASHINGTON—Rep, Bill Pascrell, D-N.J., wants Democratic President Joe Biden to fire the entire six-person U.S. Postal Service board and appoint replacements who in turn can get rid of Postmaster General Louis DeJoy, named, like the board, by former GOP Oval Office occupant Donald Trump.
The reason, the veteran lawmaker says, is obvious: DeJoy did Trump's bidding in trying to wreck the Postal Service before last year's election, to further  Trump's aim to eliminate voting by mail. And the four-Republican two-Democrat board not only didn't object, it applauded.
"I am calling on President Biden to fire the entire Postal Board of Governors for their silence and complicity in Trump and DeJoy's attempts to subvert the election and destroy the Post Office," Pascrell wrote on Jan. 25 to the new president.
DeJoy, a GOP big giver, started his ruinous reign over the USPS last spring. One of his moves was to ban overtime, even if it meant delaying mail because it hadn't been sorted. He also barred workers from starting or continuing postal delivery routes after 5 p.m., even if they had to drive off half-empty, leaving undelivered mail on garage floors.
DeJoy's minions also yanked out and dismantled hundreds of special sorting machines that handled large envelopes, including envelopes containing voting materials and returned ballots. And in a very visible move, DeJoy ordered the removal of hundreds of USPS blue mailboxes nationwide, almost all from Democratic-run central cities and from neighborhoods people of color inhabit. DeJoy claimed the boxes didn't have enough mail volume.
The result was that DeJoy's delays quickly drew a mountain of criticism, not just from postal unions and their members, but from lawmakers and customers. On-time mail service declined, particularly in majority-minority Detroit and Baltimore. DeJoy was forced to stop his destruction through Election Day. But he refused to undo the damage he wrought and promised after the election to start his destruction again.
The agency's board of governors didn't lift a finger to stop him.
That led one big union, the Postal Workers, to demand Biden dump the USPS board so a new board can get rid of DeJoy. Now Pascrell has joined in.
APWU President Mark Dimondstein has frequently said DeJoy's destruction is part of a privatization scheme by corporate moguls and right-wing ideologues to wreck the USPS, fire workers, trash union contracts, scoop profitable services for themselves, and leave the rest of the U.S. hung out to dry, without service to every household and business.
"Through the devastating arson of the Trump regime, the USPS Board of Governors sat silent," Pascrell wrote Biden. "Their dereliction cannot now be forgotten. Therefore, I urge you to fire the entire Board of Governors and nominate a new slate of leaders to begin the hard work of rebuilding our Postal Service for the next century."
Pascrell reminded Biden that while he can't dump DeJoy himself, the board, which named the former corporate executive on Trump's recommendation, can. And Biden can remove the entire USPS board "for cause," Pascrell said. Approving DeJoy's destruction is "cause," the congressman said.
There is precedent, just the week before, for Biden to heed Pascrell's request. The president had his personnel office fire virulently anti-worker and anti-union National Labor Relations Board General Counsel Peter Robb, the NLRB's top enforcement officer, for flagrantly not following labor law and robbing workers of rights. Robb, whose term expires in November, flatly refused to go. Biden, to union cheers, ordered Robb out, anyway.
Pascrell wants the same ax wielded against the USPS board. "Board members' refusal to oppose the worst destruction ever inflicted on the Postal Service was a betrayal of their duties and unquestionably constitutes good cause for their removal," he wrote Biden.
The delays were so bad that while USPS workers overcame them for the election, the holiday season was another matter, Pascrell noted. Only 64% of first-class mail was delivered on time. That flunked USPS delivery standards, which DeJoy and a prior GOP-named Postmaster General had lowered. That drew notice and ire from USPS's own Inspector General.
One GOP board member declared the whole "board is tickled pink, every single board member, with the impact" of DeJoy's destruction, Pascrell said. USPS workers were not. Many, including some line supervisors, actively resisted.
"After several years of unprecedented sabotage, the United States Postal Service is teetering on the brink of collapse. Through the devastating arson of the Trump regime, the USPS Board of Governors sat silent. Their dereliction cannot now be forgotten," Pascrell wrote.
USPS's problems with declining revenue from the coronavirus pandemic's depression demand "bold solutions" which must come from "a governing body that can be trusted to represent the public interest," as the law mandates. This board, Pascrell said, doesn't do that.
"Trump confessed he was wrecking USPS to rig the election. His toady Postmaster General DeJoy carried out that arson. It's time to clean house," Pascrell tweeted. "DeJoy should be fired but also prosecuted."
White House Press Secretary Jen Psaki called firing the USPS governors "an interesting question" at her daily briefing on Jan. 25.
"We all love the mailman and mailwoman," said Psaki. "I'm happy to check with our team on it…I'm not aware of anything, but we'll circle back with you."