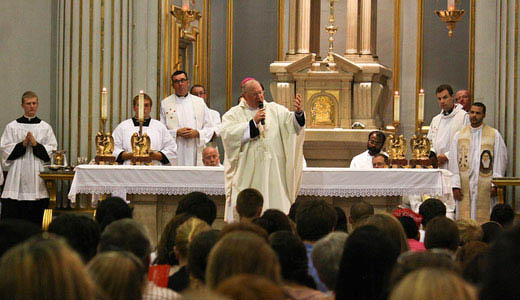 In a meeting with New York Gov. Andrew Cuomo, Democrat, Cardinal Timothy Dolan stressed that he was resolutely opposed to the proposed Child Victims Act, which, he says, "unfairly" targets the Catholic Church.
"We feel that this is terribly unjust. It singles [out] the church and it would be, and I use the word purposefully, devastating for the life of the church," Dolan told reporters.
In actuality, the bill neither explicitly targets nor mentions the Catholic Church. However, due to the church's ongoing abuse scandals, the bill would likely cost Cardinal Dolan's diocese and others a good deal of money by making it easier for victims of pedophile priests to bring charges. The Catholic Church has been fighting to stem the losses of huge sums of money it has spent in litigation fees and payouts to victims as the ongoing abuse scandal continues to unfold in New York and around the world.
Dolan, who was made a cardinal by Pope Benedict the XVI in February, is, by virtue of leading the New York Archdiocese, perhaps the leading Catholic in America. He recently returned from a trip to the Vatican.
The act, which was introduced in the New York State Assembly and State Senate by Assembly member Margaret Markey and State Sen. Andrew Lanza respectively, would extend the statute of limitations on child abuse crimes by five years. Currently, victims can bring charges against their tormentors only before the victim has reached 23 years of age. The new bill would change the age to 28.
"There are hundreds, perhaps thousands, of unknown sex abusers of children living and working among us – in schools, churches, synagogues, youth groups and especially in families," notes the website pushing the act. "To find and pursue them, our legislators must change the New York State statute of limitations, as two special grand juries in New York have declared."
The bill's sponsors note that sexual abuse costs the state more than $1 billion yearly, and that allowing victims to seek compensation directly from their abusers would shift some of that debt from the state to the criminal.
More importantly, the sponsors say, more must be done to stem the tide of child abuse. Currently, more than one in five young people are sexually abused before they turn 18, and often their perpetrators go free. When California enacted a similar law, 300 pedophiles, who would have otherwise gone free, were brought to justice.
Photo: Creative Commons 3.0