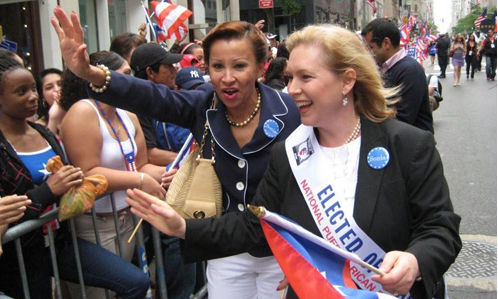 NEW YORK – Despite the early date on the political calendar, Sen. Kirsten Gillibrand, D-N.Y., appointed to fill the seat vacated by now-Secretary of State Hillary Clinton, has already picked up a spate of endorsements from labor, progressives, leaders of the African American and Latino communities, Democratic Party leaders and others.
Former New York City Comptroller Bill Thompson, who with a campaign budget of less than $10 million was able to come within five points of beating out billionaire mayor Michael Bloomberg in 2009, was the latest to offer his seal of approval. Gillibrand, according to Thompson, has been "putting more New Yorkers back to work and fighting for justice, fairness and equality for every single New Yorker."
Many are saying that, for a Democrat holding a statewide federal office, Gillibrand has strong progressive credentials. Indeed, a campaign has been organized by health care activists to call Gillibrand's office to thank her for taking a lead in the fight for health care reform. Gillibrand recently signed a letter urging Senate Majority Leader Harry Reid to, despite the recent defeat in Massachusetts that took the Democrats' filibuster proof majority, ensure that real health care reform-with a public option-is passed. The letter advocates using the budget reconciliation process, which requires only 51 votes.
While 119 House Democrats have signed the letter, as have 300,000 grassroots activists, only a few Senators have added their names.
The early endorsements are necessary, many argue, because Gillibrand will likely face a stiff Republican Party challenger in November, and she's also likely to be targeted by African American conservative Democrat Harold Ford, a former member of Congress from Tennessee and current and vice chairman of Merrill Lynch.
While Ford's policies favor Wall Street over Main Street, Gillibrand has "worked every day to pass health-care reform that protects New York workers, covers the uninsured and makes health care affordable for working families," Raglan George, leader of AFSCME District Council 1707, the first citywide union to endorse Gillibrand, said. "And she's been working hard since day one to make sure every worker receives the fair and equal pay they deserve."
Ford, a leader of the conservative Democratic Leadership Council has sought to portray himself as a moderate, but his past has put progressive organizations on edge.
On national security he's said, "We've got to get tough on 'illegals.'"
While a member of Congress, Ford voted for restrictive measures sought by anti-choice advocates: parental notification laws banning late term abortions.
NARAL Pro-Choice New York's Kelli Conlin, after meeting with Ford for forty minutes, said that while he can't be classified as "pro-life," he also can't be classified as pro-choice. Consequently, NARAL's national and local organizations endorsed Gillibrand, who has established herself as a pro-choice candidate. Even back in 2006, while campaigning for Congress, Gillibrand told the national conference of the National Organization for Women that the extreme right was undermining democracy and women's rights to choice in particular.
Many have argued that they will support Gillibrand because she has a proven ability to beat Republicans, even on their home turf. In 2006, Gillibrand was able to win the seat representing New York's 20th Congressional district, an area with a much larger number of registered Republicans than Democrats.
A number of commentators have openly wondered why Ford is running: Is he backed by Republicans, they ask, in order to weaken Gillibrand in the general election?
Others who have endorsed Gillibrand make up a broad cross-section of New Yorkers: the vast majority of Democratic Party county chairs, Rep. Nydia Velzques and a number of other members of New York's Congressional delegation, Emily's list, the pro-GLBT rights Human Rights Campaign, the Rev. Al Sharpton, the New York State United Teachers, the Public Employees Federation, as well as numerous other leaders and groups. Also, the White House has made clear that it supports Gillibrand.
Photo: http://www.kirstengillibrand.com/.