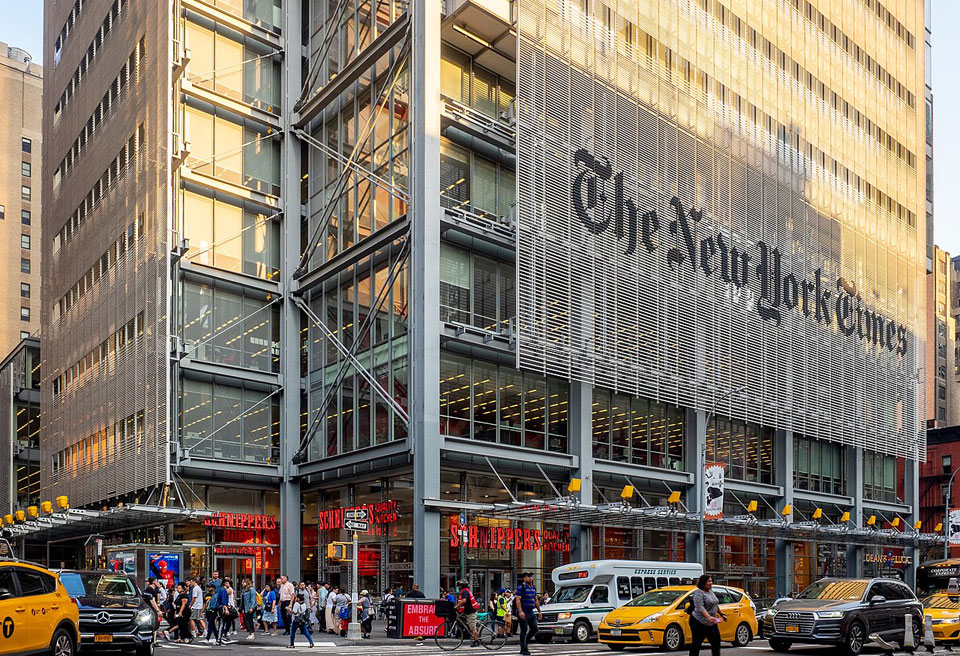 NEW YORK —By a landslide margin of 404-88, tech and software workers at The New York Times voted to unionize with the New York News Guild. When certified and after gaining a first contract, they'll join the current 1,300 regular Times staffers who are already New York Guild members.
"We did it, y'all," the tech workers' organizing committee members exulted in—fittingly—a tweet after the March 3 victory. Now they want Times bosses to bargain with the union rather than, as other bosses do, continue to formally fight against it.  Management has yet to decide.
The tech workers at the Times are part of an increasing trend at remaining U.S. newspapers, including their tech and platform arms: Unionizing for better working conditions, but also to protect journalism—in this case, national journalism—from financial predators.
Those wolves, led by Alden Global Capital, swoop in on local papers, fire or force most staffers to quit, wreck news coverage and local accountability, sell off real estate, and then pocket the profits for their capitalist investors, often after closing the papers. That leaves cities without papers, staffers without jobs, and families shattered.
As a result, news staffs nationwide, even at historically union-hostile papers such as the Chicago Tribune and the Los Angeles Times, turned to The News Guild, a Communications Workers sector, for protection. TNG's growth has been so great, and news staffs have shrunk so much, that the union now either is near or above 50% density in U.S. newsrooms.
In the Times tech workers' case, Alden and similar vultures weren't a problem, since the paper is still under the effective control of the descendants of legendary founding publisher Adolph Ochs. But the tech staffers worried about quality, instead. They wanted a say.
"The same values that brought us here—integrity, respect, and collaboration—compel us to organize," the Times Tech Guild, as they named themselves, began their statement.
"A vibrant and healthy workplace is not only compatible with our mission, it is essential to it. To truly uphold the ideals The Times espouses, to make 'society stronger and more just,' we must champion them with the same tenacity and dedication in practice as we do on the page. By forming a union, we can address some of our most pressing issues."
One is "excellence…predicated on fairness and transparency around compensation." Excellence also occurs "through clear, equitable promotion processes." They also sought a "curious and collaborative work environment…achieved through independence, as well as clear roles and responsibilities." And they championed diversity and equity in the workplace.
In practical terms, key issues for the tech workers at the Times were unequal pay for equal work, being at-will workers who can be fired for any reason or none at all, unscheduled and often unpaid overtime, and "opaque promotion processes that change frequently without worker input" and "make career growth frustrating and difficult."