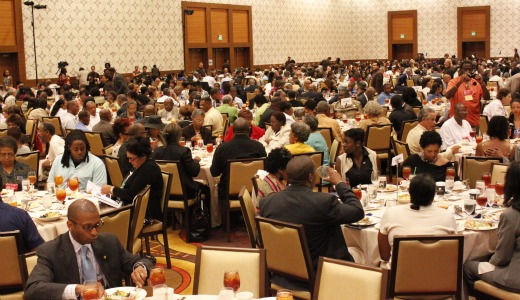 LOS ANGELES – Since its founding 102 years ago, the NAACP has grown steadily and although moments of fluctuation were unavoidable, the organization has always been at the forefront in the fight for civil rights and social justice, especially in communities of color.
During the 37th Annual National Membership Luncheon here recently, several NAACP leaders addressed the current obstacles and challenges facing the African American community and all working people.
Ben Todd Jealous, CEO and president of the NAACP, thanked the crowd on the groups rising membership.
"Even in the midst of all those battles, making sure that membership has continued to go up every single year for the past three years … let's keep it going. Let's keep building the strength of this great association," Jealous said.
Hill Harper, famous actor on TV's "CSI: New York" and Harvard Law alumni, also addressed the luncheon.
"You turn on cable news right now, this second and what is the number one thing folks are talking about? They're talking about the debt ceiling, right? It's dominating the news. Yet, my friend, Jamal Simmons, pointed out to me just last night. He said, Hill, if you go across this country and you poll people [on] what's the most important issues to them, well over 50 percent of the country will tell you the economy and jobs-and just under 10 percent will tell you the national debt. However, there's a group of smaller than 10 percent of this country, that is so well organized and so vocal that they have basically taken over the government in the governmental discourse!" Harper said.
He noted that 10 percent are represented by a small group of right-wing extremists and the tea party. Harper encouraged activists to remain vigilant and active.
"Because at the end of the day, if you're just standing still and other people are moving forward, you're actually regressive," he emphasized.
In an email, President and CEO of NAACP Ben Todd Jealous urged the rest of the NAACP and its allies to put pressure on Congress to raise the debt ceiling.
"Congress will soon vote on whether or not to raise the debt ceiling. It's imperative to our country-especially to our most vulnerable populations-that our nation's line of credit is extended in order to maintain our economic strength and preserve programs like Medicaid and student loans that are crucial to working-class Americans," Jealous wrote.
A recurring theme highlighted in several workshops and speeches during NAACP's conference was the necessity for activism, on an individual member basis and on a structured higher organizational level as well-and without voting, very little of any reforms can be accomplished.
Reverend William Barber, president of the NAACP North Carolina state conference reiterated the NAACP was created in 1909 with the mission to promote civil rights, including "to secure them impartial suffrage for voting."
Barber added, "We declare today, here at the beginning of the 21st century, that the NAACP must still lead the effort to protect the power, the necessity and the potential of the Black vote. We must fight any attempt to suppress, segregate and isolate or steal this power. The reason we are here in this plenary session is that the vote directly impacts everything we fight for: equal protection of the law, educational equality, and economic justice [and] access to healthcare."
He continued, "We understand that this so called 'debt crisis' has been created by the ultra-conservative extreme right, it is not just about stopping President Obama, but it is an attempt to finalize a 40-year strategy to undermine, under fund and destroy every program since Social Security was enacted in 1935."
Derrick Johnson, president of the NAACP Mississippi state conference, was a panelist in a workshop. He said the NAACP is the solution to securing proper reforms through the Obama administration by first and foremost securing the president's second term in 2012.
"We are the best positioned to do it because we have the people on the ground. Every state is at play in 2012, we need to focus on every state, and voter populations have changed," said Johnson. "We have to be more strategic in our thinking and more deliberative in our process. We need to develop the infrastructure of our organization. Our challenge is how do we get the best and the brightest in our community engaged in this process that is greater than them? That they see through the study of our history that this game is not about fairness. It's about power. If we lose these elections, we will lose our ability to have anything," he declared.
Carlos Ferns, vice president of NAACP from Carson-Torrance, said Obama's 2008 election has seen an upsurge in membership.
However Mia McNulty, a member in Ferns same district, pointed out that Obama's victory did not end major issues and problems confronting the black and brown community. She noted the NAACP was leading organizing drives prior to Obama's election.
"Our bad times didn't just start because he became president – or got better when he was president. When Obama became president I think a lot of people joined (the NAACP), maybe a 10 to 15 percent increase. But there was 20 to 30 percent of negativity and racism going on in the [black and brown] community," said McNulty.
On the one hand, it's progress and on the other hand it's not because racist hate crimes went up and continue to rise, she said. She mentioned a noose was recently sighted at Santa Monica High School about two to three weeks ago. Even two-and-half years after the country's first African American president was elected, we're still seeing the backlash, she said.
Photo: NAACP luncheon. Luis Rivas/PW.
Correction Aug. 3: An earlier posting mistakenly had the incident reported in the last paragraph as happening at Santa Monica College.