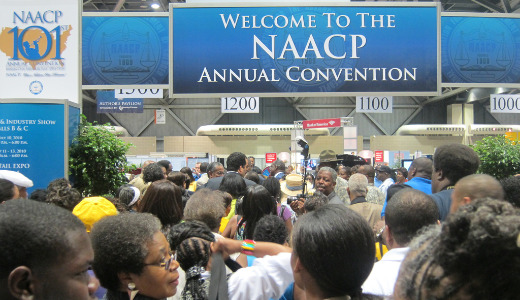 KANSAS CITY, Mo. – "As a society, as a world, we can no longer continue our dependence on fossil fuels," Texas state Sen. Rodney Ellis said at a workshop here at the NAACP's 101st Annual Convention on July 11.
"We make up about 5 percent of the world's population," Ellis continued, "but we consume more than 20 percent of the world's energy. When we talk about sustainability, that's not sustainable, that's not right."
In fact, the United States consumes more energy than any other country in the world.
"Green jobs will be the wave of the future," said Ellis, a Democrat who represents Houston in the Texas Legislature. "We have to diversify our economy with clean sources of energy."
The workshop, titled "Green Jobs: A Lifeboat in the Unemployment Storm," brought together political and community leaders from across the country to discuss the impact green jobs could have on communities of color.
The prospect of green jobs is especially important now – as an environmental issue and a jobs issue. African Americans have been hit especially hard by the current economic crisis, with over 17 percent unemployment nationally. Additionally, according to the Economic Policy Institute, unemployment for African Americans is expected to reach a 25-year high this year.
Phaedra Ellis-Lamkins, from Green for All, added that green jobs means "recognizing that our communities deserve choices."
"The economy is going to be rebuilt," she said. "The question is: are we going to participate in it? Will jobs be created in our communities?"
"Some people," Ellis-Lamkins continued, "don't think we deserve to be a part of the planning of the economy. Well, the green economy is being created. It is already 3 to 5 percent of the current economy. But we have to fight for the opportunity to be included."
While stimulus money has created or saved millions of jobs, said Rinku Sen, executive director of the Applied Research Center, "Black communities have been left behind."
Sen added, "It isn't enough for people of color to be a part of the environmental coalition. We can't be tokens. We have to have the ability to influence the agenda, to influence the outcome."
Diversity and equality are not the same thing," she said.
Sen said people of color have to challenge people's "dominant system of thinking, their frame. We need the power to shift people's frame."
"But that takes hard work," she added. "We have to organize, organize, organize! There is no shortcut. We have to talk to people and get them invested."
Congressman Emanuel Cleaver, D-Mo., connected the need for green jobs with the health of the black community. Cleaver, who grew up 300 yards from a landfill, said, "Freeways and highways always come through minority communities. We get the tail-pipe exhaust. As a result, we have the highest rate of respiratory problems of any group in the nation."
"We live in the oldest buildings and have the oldest homes. We need to be leaders in the issue of sustainability," Cleaver continued. "We need weatherization. This is our green future."
"But," Cleaver concluded, "we need a seat at the table."
Photo: NAACP