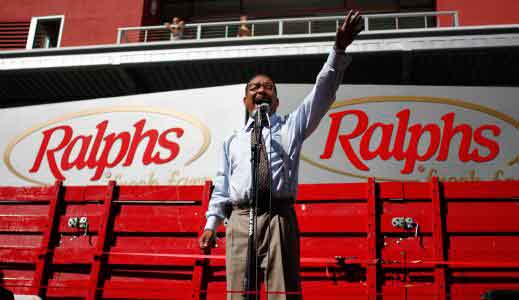 LOS ANGELES – Hundreds of delegates to the NAACP's 102nd convention marched July 27 through the streets downtown in support of the United Food and Commercial Workers union, which is in negotiations with Vons, Ralph's and Albertson's supermarket companies.
The union represents 62,000 grocery workers who were asked to give up half their salaries to pay for health benefits. Maria Elena Durazo, Los Angeles County Federation of Labor secretary treasurer, spoke at the rally after the march, thanking the NAACP delegates and leaders for their support of labor and pointing out that these companies had made $5 billion in profit in 2009.
Durazo continued, saying it was necessary to make the fight a national stand against corporations operating are in the ghettos. Noting that people talk of "food deserts" in poor neighborhoods, she said the term is a misnomer: Deserts are natural, but these neighborhoods have been made barren by corporations who have pulled out.
During the rally, Councilmember Herb J. Wesson Jr. spoke directly in front of the Ralph's to a diverse crowd that held up signs reading, "Support Grocery Workers," "Affordable Healthcare Not Welfare," "NAACP Delegates Support Grocery Workers," "Labor Can Win" and "Healthcare is a Right."
"When I was 17 years old, I got my very first job. And it was for a Kroger operation back in Cleveland, Ohio. I made about a buck seventy-five an hour. And I was so excited about how much my paycheck was gonna be that I spent my money before I got it. I figured, well, I'm gonna get a check of a hundred-something dollars and I was gonna buy hats, pants and shoes. So I get my check and I saw that there was a deduction for union dues. So I got pissed off!" Wesson said.
He continued, "I went home and talked to my father who worked all his life at the Chevrolet [plant], [and I] explained to him how upset I was – and I have never been hit so hard on the top of my head … But he took the time to explain to me the importance of unions. He took the time to talk to me about a fraternity and a sorority that worked to ensure that there are good, middle class jobs. And if one person is there protecting another, and that there's strength at numbers. At 17 I began to learn this."
After Wesson spoke, a UFCW organizer called forward a young Ralph's worker to speak, his voice hoarse from shouting during the march. He remembered the 2003 and 2004 lockout and strike.
"We're back at the table again where we all were seven years ago," he said. "I was one of those people that just started working for Ralphs, been there about two years. During the lockout, the strike, we were thrown out on the street. During that time I had a son born. He was born with a heart murmur."
He stops momentarily, his emotions stuck in his throat. The crowd urges him to go on.
"Needless to say, till this day, my community has still not recovered from that. We're still paying the bills. Two days ago someone called, told me, 'Hey, we need some money.' Quit asking me for money I don't have. We work five to six days a week and we work hard. And to hear that these corporations – all three of them – Ralphs, Vons and Albertson's, in order for us to keep our medical coverage, they want half our checks – half of it," he said.
Organizations in attendance in addition to the UFCW and the NAACP included, SEIU, the American Federation of Teachers, clergy members, elected representatives and the Progressive Jewish Alliance, which included children and adults. The NAACP has put a special focus on building relations with the labor movement.
At the end of the rally, several demonstrators and UFCW and NAACP members danced as organizers aptly played "Respect" by Aretha Franklin.
Photo: Luis Rivas/PW