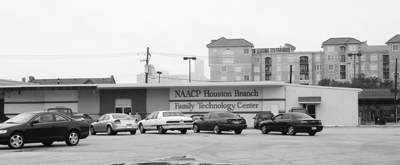 HOUSTON — When Hurricane Katrina slammed into the Louisiana coast last Aug. 29, the NAACP here stepped up to the plate and is still providing services nine months later.
Over 100 Katrina evacuees have completed a 4-6 week training program at the NAACP Family Technology Center, funded by a self-sufficiency grant from the Texas Workforce Commission.
"We have opened our training to Louisiana residents," said Joannie Beasley, office operations manager of the NAACP center. "Our purpose is to train people who are receiving assistance as Microsoft Office Specialists. This MOS certification means they are proficient at a basic level in Microsoft applications. After training and testing, the students are then placed in our job placement assistance program, which helps them find suitable employment, and allows them to become self-sufficient and productive again."
The program includes a life skills course, résumé preparation, interviewing techniques "and if time permits we provide training on budgeting, finances, etc.," she told the World. GED training is also available.
"During the Katrina relief effort, we set up a command center here," Beasley said. "The NAACP Houston branch served many Katrina survivors. We had FEMA representatives here on site. We offered food cards, food, housing and clothing. We received tons of supplies and got these big educational and recreational kits from UNICEF. We gave them to schools that served Katrina survivors. All kinds of organizations and individuals provided help."
Tanisha Coston, 31, left New Orleans one day before the storm hit. After evacuating to Memphis and Baton Rouge, she came to Houston around Nov. 17. Previously, she had worked at a casino. She described the NAACP program as "very helpful."
"It's teaching me different computer skills and preparing me for the workforce," she said. Coston said people have been very helpful in Houston, including her pastor Bishop Darryl Brister of the Beacon Light of Houston. "Going through this transition from Katrina, I was depressed, aggravated, discouraged and split up from my family. When I got to Texas I felt at peace."
Latasha Wright, also 31, came to Houston in mid-October from Memphis, Tenn. She had worked as a home health billing clerk in New Orleans. She and Tanisha have been friends for 19 years, and Tanisha told her about the NAACP program. Now she is receiving GED and computer training. She was upbeat about the program: "It's going to help me learn more about the computer so I can get a good job." When she first came to Houston she lived in a motel, but now she has an apartment.
She described her experience before coming to Houston as "depressing, uncomfortable — it wasn't a good experience. There were 15 people in a hotel room. I paid half and my cousin paid the other half." It was hard for her at first in Houston, she said, because she had never been out of Louisiana before the storm.
Wright's mother and sister are in Houston, but the rest of her family was evacuated to Atlanta and remain there.
"One day your life can change and never be the same," she said. "Some people that went through the storm died. We lost a lot of our home health patients. They stayed in the Lower 9th Ward." She described the current condition of the 9th Ward as "still the same. The last time I went there [February 2006], they hadn't done anything." She has talked with friends recently who indicate nothing has been done since then to rebuild the area.
TOWN HALL May 2 – Confronting the COVID Economy: Women Fight Back