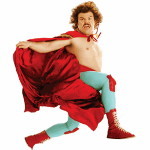 MEXICO CITY — Hollywood funny man Jack Black's new movie, "Nacho Libre," which portrays the wild world of Mexican wrestling, was shot on location in Mexico's Pacific coastal state of Oaxaca (pronounced "Wah-HA-Ca"). As audiences enjoy the comedic adventures of Nacho, the main character, they will also learn about Mexican popular culture and take in the breathtaking views of Oaxaca.
Nacho Libre's storyline revolves around lucha libre, as Mexican wrestling is called. Black plays a monastery cook who, seeking to provide better-quality food for the children in the monastery-run orphanage, defies rules and becomes a luchador, a wrestler.
In Mexico, lucha libre is a community event that transcends generations. Old women, children and strong men unite to cheer on their favorite luchador, whose identity is always hidden by a mask and character-driven costume. The luchadors are divided into two camps: the tecnicos (good guys) and rudos (bad guys), adding drama and moral lessons to the acrobatic flips that entertain the loyal followers.
Among the many handicrafts found in Oaxaca, the black clay pottery (barro negro) is one of the most popular, representing a tradition that dates back to pre-Hispanic times and spans generations. Another popular handicraft in Oaxaca is the colorful alebrije, creatively hand-carved or papier-mâché figures, usually depicting monsters.
The regional cuisine is also an important aspect of Oaxacan life, as the state is famous for its mole (a sauce containing over 20 different spices) and the native types of chiles.
"Oaxaca is gorgeous," Black says on the movie's web site. "It has ancient pyramids, amazing architecture, and a rich flavor that adds to the whole experience. I don't think there's ever been a comedy with as many beautiful backdrops before as we have in this film." Oaxaca City is the state's capital and is one of the largest cities in Mexico's southern region. It was named a UNESCO World Heritage Site in 1987.