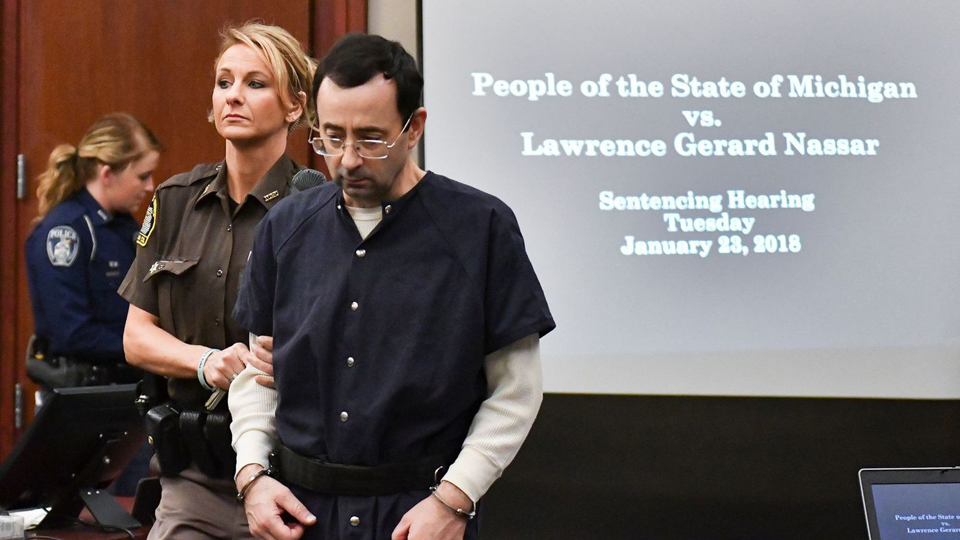 Life behind bars for child rapists, molesters and murderers ain't easy—should it be?
Inside those barbed wire adorned concrete structures, inmates hold themselves to a strict code of honor, and dole out their own brand of justice—often time unsanctioned execution—to those who abuse children; many of them being abuse survivors, too.
Disgraced former sports "doctor" Larry Nassar is not exempt from that brand of prison justice.
In court documents filed Tuesday, July 24 Nassar's attorneys said he was assaulted just hours after being placed in the Tucson, Arizona, federal prison's general population and placed the blame on Judge Rosemarie Aquilina's comments during his seven-day sentencing hearing.
Nassar, through his attorneys, is now seeking resentencing in the first of two cases in which he pleaded guilty, and disqualification of Aquilina in any further case proceedings.
During sentencing in January, where 169 women and girls gave statements, Judge Aquilina described Nassar as a "monster" who would wither like the wicked witch in "The Wizard of Oz." She went on to say if the Constitution allowed she would seek worse punishment "to do to him what he did to others" and considered it an "honor to sign his death warrant."
It's that rhetoric Nassar's attorneys are using to try and show bias in her sentencing, choosing to "only consider" a 40-year minimum when his plea deal called for a minimum of 25 to 40 years, and push the theory of "Judicial Activism"—legal rulings that are suspected of being based on personal opinion, instead of existing law.
"The judge used the nationally-televised proceedings as an opportunity to advance her own agenda, including to advocate policy initiative within the state as well as the federal legislatures, to push for broader cultural change regarding gender equity and sexual discrimination issues, and, seemingly as a type of group therapy for the victims," read the motion.
They also accuse Aquilina of not stopping victims from denigrating Nassar and Nassar's defense team during the hearing and allowing the "proceeding to devolve into a free-for-all in which victims wished physical harm upon Nasar and other uncharged individuals, as others in the courtroom called out in support."
The motion referenced a separate sentencing hearing in Eaton County, where a victim's father lunged at Nassar after asking for "five minutes alone with him in a room."
While praised for her conduct and treatment of "sister survivors" and their parents during sentencing, legal observers at the time said her blunt comments could be grounds for appeal.
After the news broke Wednesday, July 24, gymnast Kaylee Lorincz tweeted: "Hasn't Larry put us through enough? This is a way to try to be able to control and manipulate us again. Good luck with that."
And John Manly, a civil rights attorney for 200 of the victims, tweeted, "blaming the judge for his attacks is an outrageous allegation. That sounds like something a convicted predator would say. Not an officer of the court. Shame on them."
The State Appellate Defender Office, appointed to represent Nassar in his state court appeal, released a statement saying all criminal defendants are entitled to due process.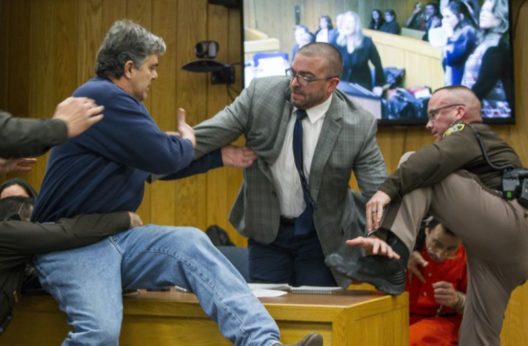 "Closure is important for our clients, for the victims and for the system," the office said. "A full, fair and rigorous appeal is an essential step toward achieving such closure in this case."
As I read through the court documents, the sentencing hearing transcripts, and survivor statements, questions about the law and morality kept popping up.
Unjust laws are meant to be broken. Legal precedent is set by a previous course of action—regardless of the moral impact—and only changes when another forceful course of action highlights the legal imperfections.
The legal, racist and immoral doctrine of "separate but equal" was only overturned—unanimously—after it was shown to violate the Equal Protection Clause under the Fourteenth Amendment.
While now hailed as a landmark civil rights victory, at first critics and legal academics claimed the Supreme Court had "assumed the role of a third legislative chamber" and that Brown v. Board of Education of Topeka, 347 U.S. 483 (1954) was "impossible to justify based on neutral principles"—similar terms now used in Nassar's motion.
In 60 years will Nassar's sentencing hearing be called a victory for survivors of sexual abuse? Or will we continue to claim legal objectivity exists in a subjective world?
Associate Supreme Court Justice William O. Douglas wrote in 1969: "If society is to be responsive to human needs, a vast restructuring of our law is essential."
Human needs have been ignored long enough…don't you think?