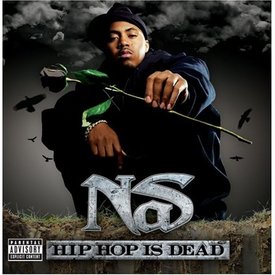 MUSIC REVIEW
Hip Hop is Dead
Nas, Def Jam Recordings
$13.99
New York's hip-hop titan, Nasir Jones, has spent the past few years of his career in the shadow of rapper Jay-Z. Weak pop-crossover attempts like "You Owe Me" and "Oochie Wally" only served to uphold the notion that the Nas from his earlier album "Illmatic" was lost forever.
However, with "Stillmatic," released in 2001, Nas took a step back — and forward — and paid tribute to his traditional style and swagger, once again making a case for real lyricism in hip-hop. Since then Nas has been putting out fairly respectable — although inconsistent — efforts.
"Stillmatic" featured the scorching "Ether" where Nas responded to Jay-Z's diss track "The Takeover," announcing to the world that nasty Nas was back. His following two songs "God's Son" and "Street Disciples" further confirmed Nas's lyrical ability and paid homage to hip-hop's 1990s golden era. With his newest CD release "Hip Hop is Dead," Nas goes right for the jugular and brazenly asks us to take a critical look at what we consider hip-hop today.
On this album, the beats are hard, and Nas's flow is as lethal as ever. Some of the hype around it is focused on Nas now being signed with record label Def Jam, which currently has Jay-Z as its acting president. Fans are looking forward to this new team-up, which could get Nas the sales and the mainstream appeal he has been looking for. Early gossip around the album speculated that it was going to consist of all party tracks. When I heard that, my heart was broken. However to my surprise, it is not that at all. It is nothing short of pure hip-hop — from the first to the last track.
One element that that makes "Hip-Hop is Dead" stand out from Nas' past efforts is the production and the various featured guests, with production from Scott Storch, Will.I.Am and Kanye West. Nas is obviously reaching out to current big names in hip-hop. And this, for the most part, works to his advantage. Nas utilizes each of the contrasting soundscapes to their maximum potential. On the soulful and relaxed "Still Dreaming," Nas and Kanye trade nonchalant flows alongside a Billie Holiday style hook sung by Chrisette Michele.
And then there is the long awaited track "Black Republican," featuring Jay-Z himself, where the two wordsmiths vividly illustrate the two sides of the hip-hop coin — Nas the Black militant and Jay-Z the Black Republican. The production of this track, by longtime collaborator L.E.S., is cinematic and compelling, and the verse ferociously laid down by Nas is even more so — clearly outshining Jigga's. On the downside, the track is a bit short, with only one verse from Jay and Nas each. At the end of the song you are left wanting more.
Fortunately though, most of the material on Nas' latest album is fairly solid. He maintains what he has been doing since "Stillmatic," but this time incorporates more contemporary elements into his expanding traditional style. And it shows: some of the best songs may be the more untraditional ones. The last track, "Hope," is an a cappella dedication to hip-hop in which he states that the art form will not die if we don't let it. Finally, Nas takes a firm stand and delivers an album with no bullshit.
abdul.aziz1982@gmail.com. Reprinted from Dynamic magazine, a publication of the Young Communist League ().