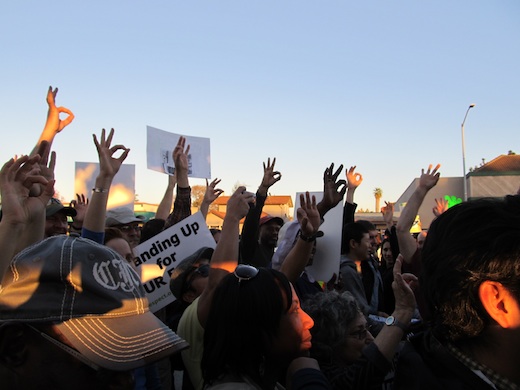 SAN LEANDRO, Calif. – They packed the sidewalk in front of the giant Walmart store on Hesperian Blvd., spilling out into the major commercial thoroughfare, drowning the sounds of passing traffic with their chants. Over 500 strong, they bore signs and banners from many unions and community organizations. The demonstration here, like many of those that took place around the country, was organized by the Organization United for Respect at Walmart, or OUR Walmart.
The nation rallied behind Walmart workers Nov. 29, turning the traditional Black Friday shopping day into mass protests at 1,500 locations across the country. Walmart workers, along with their backers, were arrested in at least nine cities for engaging in acts of peaceful civil disobedience, including blocking of parking lots and store entrances and sitting down in major thoroughfares near the stores.
Five protesters here were arrested and later released. The entirely nonviolent crowd here had surged into a road near the store, blocking it in one direction.
Many protesters said they are angry with the country's largest private employer for paying poverty wages to its workers, especially when it made $17 billion in profits this year.
They demanded, too, that Walmart cease illegal retaliation against those of its employees fighting for better jobs, and applauded the recent announcement that the National Labor Relations Board decided to prosecute the retail giant for workers' rights violations.
Demonstrators here were emboldened by revelations from Walmart's CEO that 825,000 workers are paid less than $25,000 a year while the Walton family's wealth totals over $144 billion – equal to that of 42 percent of Americans.
"We refuse to live in fear. And we refuse to accept scraps. That's why there have been so many strikes and protests this month," said Dorothy Halvorson, a Walmart employee in Placerbville, Calif., who has worked at the store for 11 years.
"We know that we are closer to change at Walmart than ever before – and it's clear that Walmart knows it too. We won't stop protesting until we get change. This Black Friday is historic, and we will only grow stronger from here," she said.
Among those arrested was former Walmart worker Pamela Davis, who said she was fired from the Hilltop Mall store in nearby Richmond, Calif., after she participated in an unfair labor practices strike.
"It's all about one thing: respect for Walmart workers, respect for all workers," Joe Hansen, international president of the United Food and Commercial Workers, told the crowd. "The UFCW is proud to stand with Walmart workers for decent wages and decent benefits."
UFCW Local 5 President Ron Lind called the action "the future of the labor movement, standing up for Walmart workers and fast food workers and other low-wage workers."
For many weeks now Walmart workers have been receiving support from religious and civil rights leaders too. The Rev. Jesse Jackson noted the "immense courage" of Walmart workers to engage in civil disobedience "for dignity, respect and a decent wage," likening it to the earlier civil rights movement.
Citing recent media reports, state Sen. Ellen Corbett told the San Leandro crowd, "We want to make sure that next Thanksgiving, Walmart isn't putting out food bins to collect food for their workers!"
San Leandro Vice Mayor Jim Prola pointed to the boost a wage increase for Walmart workers would give the entire economy, and called for a wage of $15 an hour, with decent benefits."
Emceeing the event was another former Walmart worker, Dominic Ware, now working with OUR Walmart, who told the crowd the workers inside the store "want to come out and do what we're doing today. But they get intimidated daily. We're here to tell Walmart to stop, to respect their workers."
The company has been on the defensive already well ahead of the Black Friday protests. Last week Walmart announced that Doug McMillon would replace Mike Duke as CEO. Business analysts say it will be the new CEO's task to deal with what even many company leaders are beginning to view as a failing business model and that it will have to be his task to raise wages paid to workers.
OUR Walmart tweeted the next day, "WOW! What a day yesterday was! Thousands came out to call on Walmart to treat us with the respect we deserve and pay us a decent wage. Hundreds of thousands more supported us online… even Santa showed his support!" attaching a photo of Santa sitting down and blocking traffic with other demonstrators.
Photo: PW/Marilyn Bechtel
John Wojcik and Teresa Albano contributed to this story.