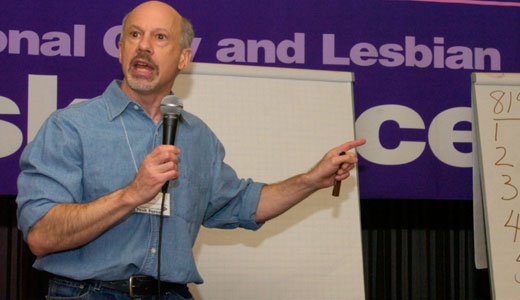 Over 2,500 activists and advocates in the lesbian, gay, bisexual, and transgender rights movement from across the nation will gather in Baltimore, Md. from Jan. 25-29, for the 24th National Conference on LGBT Equality: Creating Change.
The event will mark the largest annual convergence of LGBT activists and allies in the country. They will come together and develop strategies for this crucial election year, and determine how to build support and political power.
Thousands of gay rights activists and their supporters will kick things off by gathering on Capitol Hill Jan. 26. Joined by the American Civil Liberties Union, the Service Employees International Union and the American Association of University Women, they will demonstrate for a variety of legislative initiatives including pay equity, measures to stop bullying, and stopping discrimination on the job.
Among those backing the demonstration is Task Force ally Pride at Work, an AFL-CIO constituency group for LGBT labor union activists. The group is supporting the Employment Non-Discrimination Act, which would prohibit discrimination against employees based on orientation or gender identity.
Currently, it is still legal in 29 states to fire a worker for being gay, lesbian, or bisexual. And in 34 states, it's still legal to fire someone for being transgender. ENDA is a piece of legislation that would make doing so illegal in every state.
NAACP President and Chief Executive Officer Benjamin Jealous will deliver the opening keynote speech on Thursday, Jan. 26.
Jealous, an outspoken supporter of LGBT rights, noted in a 2010 interview, "The NAACP has been supportive of a broad civil human rights agenda in this country – including rights for gay and lesbian people – for a long time."
One of the conference's most important highlights is the annual "State of the Movement" address, which will be given this year on Friday, Jan. 27 by National Gay and Lesbian Task Force Executive Director Rea Carey.
On Saturday, Jan. 28, U.S. Housing and Urban Development Secretary Shaun Donovan will discuss federal efforts to support the rights and further the wellbeing of the LGBT community and their families.
A panel that focuses on international LGBT issues will be moderated by Cary Alan Johnson, executive director of the International Gay and Lesbian Human Rights Commission.
Many in the LGBT community are still discussing the significance of a UN speech that Hillary Clinton gave in Geneva in December, calling for a worldwide end to discrimination based on sexual orientation. The U.S. Secretary of State called for all nations to eliminate laws that marginalize and criminalize LGBT people. Her speech was delivered on the anniversary of the passage of the UN Universal Declaration on Human Rights.
Practice Spirit, Do Justice – held in conjunction with the conference – will see the gathering of various leaders of spiritual denominations and practices strategizing on how to support LGBT equality in religious environments, where the movement is often undermined by spiritual arguments and bigotry.
Actor/singer Wilson Cruz will close out the event on Sunday, Jan. 29 with a musical performance.
The conference will also feature skill-building workshops, fifteen other daylong events, networking sessions and more.
Photo: David Fleischer, director of organizing and training for the National Gay and Lesbian Task Force, talks to volunteers in Boston. Stanley Hu/AP