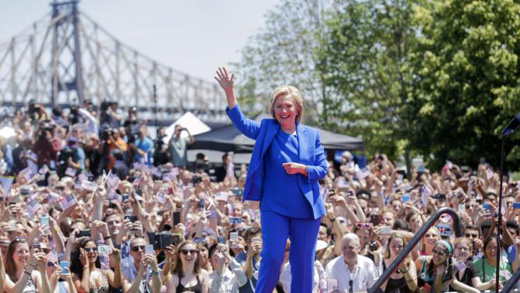 WASHINGTON – The 3.2-million-member National Education Association, often called the nation's largest union, has formally endorsed former Secretary of State Hillary Clinton for the Democratic presidential nomination.
Its Oct. 3 executive board decision promptly drew online flak from members who felt it was premature, they were not consulted, who support Sen. Bernie Sanders, or all three.
NEA President Lily Eskelsen-Garcia, a Salt Lake City preschool teacher, called Clinton "a strong leader who will do what is best for America's students." Earlier this year, Eskelsen-Garcia interviewed Clinton, Sanders and the third leading Democratic hopeful, former Maryland Gov. Martin O'Malley.
But the endorsement came after Clinton – and only Clinton – addressed the NEA's board for an hour and a half.
"For more than four decades, Clinton has fought to make sure all children have a fair opportunity to succeed regardless of their ZIP code. Clinton will continue to advocate on behalf of students, educators and working families because she understands the road to a stronger U.S. economy starts in America's public schools," Eskelsen-Garcia added.
NEA particularly cited Clinton's service with the Children's Defense Fund, her recent proposal to make public college education more affordable via state grants – not loans – and Clinton's successful amendment, while a senator from New York, to potentially increase money to educate students with disabilities.
Though NEA did not mention it, Clinton, answering an AFL-CIO questionnaire, strongly supported a wide range of ways – not just mandatory tests – to evaluate teachers, students and schools and unequivocally opposed taxpayer-paid tuition vouchers for students in private schools. The vouchers take away money from cash-strapped public schools, Clinton said.
NEA's backing of Clinton follows that of the American Federation of Teachers, the nation's #2 teachers union. AFT was the first union to back the former New York senator and First Lady. It also drew flak from its members, who said AFT did not poll them.
Several state NEA affiliates, including New Jersey and Massachusetts, said the endorsement was too early. So did individual NEA members in blogs established education magazines. Vermont's NEA backed Sanders, its home-state senator.
The union's 170-member board voted 118-39, with the rest abstaining or absent. The day before, NEA's political committee backed Clinton by a 4-to-1 ratio, but the Massachusetts and California delegations abstained.
"Clinton knows that educators, as trusted professionals, are best equipped to make school and classroom decisions to ensure student success. She is a strong advocate for early education and recently offered a proposal on early childhood education that includes universal pre-K and doubles funding for Head Start and the Early Head Start Partnership grant program while cutting taxes to ease the burden of child care costs on families," NEA's statement said.
Foes of the endorsement split between criticizing Clinton's ties to business, Wall Street and Wal-Mart – she was once a director – while supporting Sanders, and saying the nod came too early and defied a resolution earlier this year from the union's own representative assembly, its 9,000-person convention.
A typical response, on a blog, came from teacher Dani Willis:
"I am a teacher and I do not support Hillary Clinton for president. I cannot support her for several reasons, one being that she sat quietly on the board of Wal-Mart as its employees FOUGHT for a livable minimum wage. Two, that she, and her law firm, legally defended Monsanto, a corporation that poisons citizens and destroys the planet/environment. Three, her financial backers. I oppose big money in elections, and her choice of donors clearly shows where her priorities lie. I support Bernie Sanders. He stands for everything I value. He is authentic and he will be a far superior president of the United States.
And the Badass Teachers Association, a 70,000-person group of AFT and NEA members who take more militant positions against corporate influence on teaching and schools, cited Clinton's corporate ties in criticizing the NEA endorsement.
"Ask yourself these three questions: 1. Does it unite us? 2. Does it build our power? 3. Does it make us stronger? This issue is not uniting us. There is quite a split over doing this endorsement. We do not need that going into a very challenging year. Yes, this could build our power, but at what cost. This does not make us stronger. When so much concern is raised around one issue and the concerns are ignored by the Association leaders, that will perpetuate apathy. People feel their voices are NOT heard. This is not a good strategy," said NEA Badass Teacher Caucus Chair Becca Ritchie.
The NEA's statement also included support for Clinton from teachers in Iowa, the first caucus state, and New Hampshire, the first primary state.
"Clinton consistently stood up for public educators and worked to ensure our public schools receive the support they need," Allison Estes Brown, a Plymouth, N.H. special ed teacher, told NEA. "She understands the difference that committed, talented educators make in a child's life, and she is ready to take action to ensure that our public schools are supported and successful."
Cedar Rapids, Iowa, middle school teacher Molly Donahue called Clinton "the only candidate who will make the tough decisions on behalf of our students because we share the same passion for making a difference in the lives of those whom we serve."
Photo: Andrew Gombert/EPA