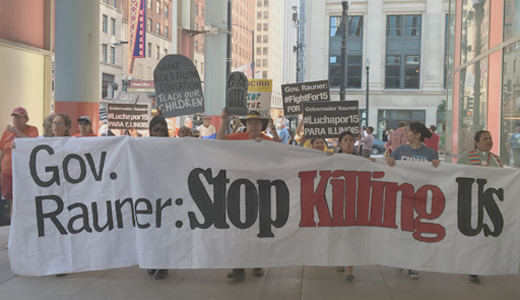 CHICAGO – On Monday, protestors in over 30 states took to the streets in what was called the "Higher Ground Moral Day of Action" called for by the "Moral Monday" movement. In Chicago in particular, the call was made by a coalition including Fight for $15, United Steel Workers retirees, and the Illinois Coalition for Immigrant and Refugee Rights. Their demand was for Republican Gov. Rauner to "stop killing us" and to facilitate the passage of a budget that prioritizes poor and working families.
Recently, Gov. Rauner has been on a tear, vetoing bills that would benefit Illinois working class families. Among those were bills that would have increased wages for construction workers, increased wages to $15 for homecare workers and workers who care for people with developmental disabilities, vetoed a childcare assistance bill, and vetoed a bill that would have registered two million new voters.
To top that off, he hasn't moved to raise the minimum wage despite 63 percent of voters who indicated they wanted it raised in a 2014 ballot measure. The governor has been at the helm of the Republican Party intransigence that has resulted in Illinois operating without a budget for years.
Anthony Kemp, a KFC worker said, "We believe the governor of Illinois, Bruce Rauner, has failed us," by vetoing all of these bills that would have led "to a better quality of life for everyone."
For Kemp, any raise in the minimum wage would be a blessing, but the goal will always be for $15 an hour. He has worked at KFC for 14 years and has only received one raise in his time there. Even working full time, he makes hardly enough to provide the bare necessities for his 7 year old son. [Article continues after this video.]
 Video: Fight for $15 Illinois, by Earchiel Johnson and Michelle Zacarias.
In Illinois, 51 percent of fast food workers are forced to use public assistance because of the low wages paid by fast food corporations. This costs Illinois taxpayers $368 million dollars a year that could instead be used to fund public schools and social services. Some 2.5 million workers in the state are paid less than $15 an hour, and more than half of black and Latino working families are paid less than $15 an hour.
Anthony and over 500 others gathered in front of the Thompson Center in downtown Chicago for a speak-out and a die-in. After lying on the ground holding signs made to look like gravestones demanding Rauner step up for working people, dozens of black balloons were released inside the Thompson Center.
Those balloons floated to the top of the building bearing messages for the Governor who maintains an office on the top floor.
Rev. Emily Heitzman, a Lutheran pastor in the Chicago neighborhood of Edgewater, showed up representing One North Side and Fair Economy Illinois. Her message to Rauner is simply "listen to the people."
"We have the money. The one percent, our financial sector, they have the money and if we raise taxes, that is a small cut for them but would make a huge impact on the programs that the most underserved in our community are relying on.
"The cuts to our programs are killing people. We have the money to fix this problem, so fix it! It's a moral issue," she said.
Michelle Zacarias contributed reporting to this article.
Photo: Patrick J. Foote | People's World