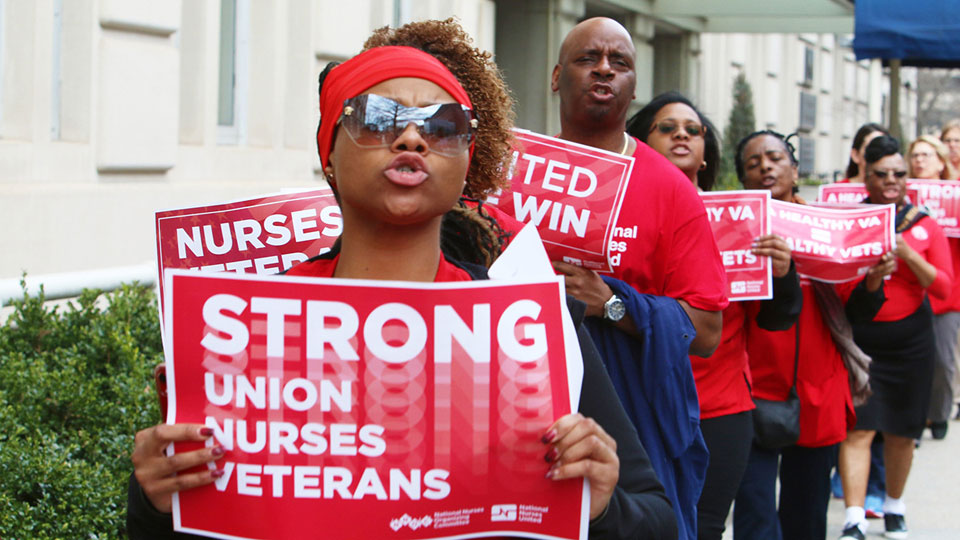 NEW YORK —National Nurses United added 42,000 new members on October 20, as the independent New York State Nurses Association joined it, both unions said. The unity, approved by NYSNA convention delegates, increases NNU to more than 220,000 RNs nationwide, cementing its status as the largest union for registered nurses in the U.S.
"Covid-19 has shown that nurses nationwide face the same issues and challenges at work," said NYSNA President Nancy Hagans, RN, using the official name for the coronavirus—which hit New York state hardest in its first stages.
"There is strength in numbers and our affiliation with NNU will strengthen our fight to protect nurses, our patients and our communities," Hagans continued. "We are thrilled this affiliation connects us more closely to the national and international labor movement, which is essential to improving the lives of working people."
NYSNA, which calls itself the nation's oldest nurses association and one of its most influential, "will gain greater resources and capacity" especially in contact with the federal government, through the merger, the association said. The move also brings NYSNA, as part of National Nurses United, into the AFL-CIO.
"The organizations are well aligned in their approaches to powerful representation on behalf of nurses and the profession, supporting efforts such as creating strong workplace standards to protect nurses from infectious diseases like Covid-19, establishing federal safe staffing laws, holding employers responsible for preventing workplace violence, and fighting for health care justice in our wider society," NNU said in a statement.
"This is a great day for nurses in New York and across the country," said Jean Ross, RN, an NNU president. "NYSNA is already a powerhouse in its own right and has done such an amazing job representing nurses in New York. We are honored they voted to join forces with us in building our national movement of nurses to fight for our profession, our patients, and the health of our communities."
The merger also didn't surprise NYSNA First Vice President Dr. Judith Cutchin, RN,  of the NYC Health and Hospitals Corporation's Woodhull Hospital. "Nurses throughout the country are rising up and demanding change. NNU is a trailblazing union that has a track record of winning respect for nurses and winning safe staffing ratios in California. Together, we will work to change policies and address important issues that affect nurses and our patients at the city, state, and national levels."
NYSNA Second Vice President Marion Enright, RN, of Nathan Littauer Hospital in upstate Gloversville, added her hospital is in an area "that once had low union density." That's changed. "I know firsthand how building union power helps nurses win better conditions and advocate more effectively for their patients. Together, NYSNA and NNU have the power to fix our broken health care system, protect our patients, and put an end to the staffing crisis," Enright concluded.